Who Knew Americans Cared So Much About National Parks?
Just like during the 1995 shutdown, the status of national monuments and landmarks like Yosemite is fodder for a partisan brawl.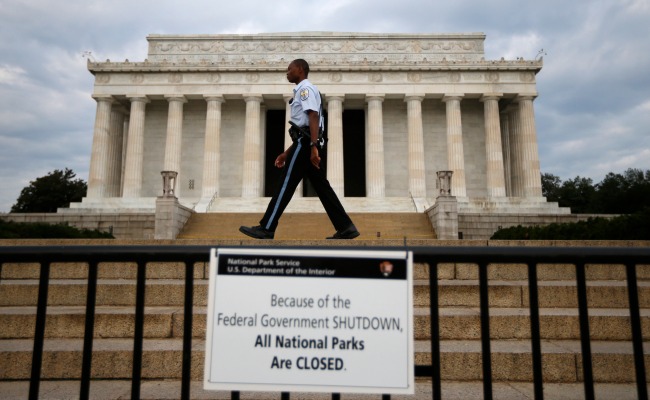 Republicans are keeping tourists from the grandeur of Yosemite — on its 123rd birthday, no less. Democrats are preventing World War II veterans from visiting their own memorial. No one, it seems, can agree on if or how to fund the government or who's to blame for the shutdown, but everyone wants credit for defending your right to go to the park.
Thanks to the shutdown, all national parks are closed, and they have become perhaps the foremost example of a dysfunctional government's cost to the average citizen.
At the World War II Memorial, dozens of veterans barged through barriers Tuesday to visit their states' pillars. Among those claiming credit for helping the heroes access their tribute site: Reps. Michele Bachmann, R-Minn., Bill Huizenga, R-Mich., Steve King, R-Iowa, and Steven Palazzo, R-Miss. Most Republicans at the site blamed Senate Democrats for the memorial's closure. The National Republican Congressional Committee took it a step further, sending out an email list-building petition that used the veterans to blame Democrats.
Republicans aren't the only ones who have found parks politically potent. "Yosemite National Park is lonely on its 123rd birthday, thanks to the #GOPShutdown," tweeted Rep. Paul Tonko, D-N.Y. The Democratic Party issued its own blame to the GOP for Yosemite's closure.
As the shutdown fight drags on, it seems likely parks will remain at the center of the battle. The House is set to vote on a bill to restore funding to the national parks, the District of Columbia, and the Department of Veterans Affairs. Senate Democrats seem unlikely to accept any measure except full government funding, so expect another round of the blame game when the House measure dies in the upper chamber.