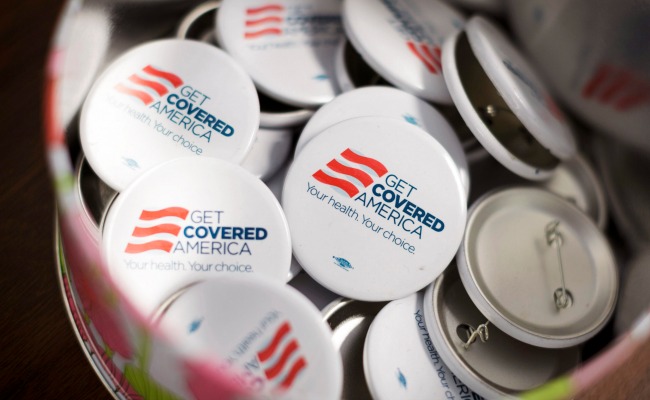 The big irony behind the scorched-earth Republican offensive against President Obama's health-care law is that its expansion of coverage to the uninsured would benefit House districts represented by Republicans nearly as much as those represented by Democrats.
In the confrontation that precipitated this week's government shutdown, the near-universal refrain of Republican House members has been that they will "do whatever we can, as much as we can, to protect the people of our districts from the harmful effects of this law," as Rep. James Lankford of Oklahoma put it. Regardless of what other provisions they consider harmful, that posture unavoidably means House Republicans are seeking to "protect" a surprisingly large number of their constituents from the right to obtain health insurance with federal assistance.
Recently released census data show that, on average, the share of residents without insurance is almost as high in districts represented by House Republicans as in those represented by Democrats. Slightly more Republicans (107) than Democrats (99) represent districts where the uninsured percentage is above the national average. Even about half of the 80 conservative members whose letter hatched the strategy of funding government only if Obama agreed to defund the 2010 Affordable Care Act represent districts where the uninsured share exceeds the national average.
This dynamic underscores how thoroughly ideology is trumping interest as Republicans convert the budget and debt showdowns into their Thermopylae for blocking Obamacare. Because so many House Republicans represent districts with low coverage levels, these members are effectively seeking to prevent a substantial flow of federal dollars not only to uninsured individuals in their communities but also to hospitals, doctors, and other providers who now are delivering significant levels of uncompensated care. "This is really an ideological stand — and in American politics, it [eventually] tends to be more about economic self-interest," says Robert Blendon, a Harvard School of Public Health professor who studies public opinion and health care.
---
The Uninsured by Congressional District
Congressional districts with the highest percentage of uninsured are in the Southwest and tend to be in areas with a large Hispanic population. Massachusetts has the lowest percentage of uninsured due to its state-run health insurance, which has been in place since 2006.
Interactive by Brian McGill; Source: Census Bureau, American Community Survey
---
The near-convergence of insurance availability in Democratic and Republican districts reflects American politics' ongoing class realignment. In Congress, Democrats represent an upstairs-downstairs coalition of well-educated, largely white suburban districts and heavily minority, mostly urbanized lower-income districts. Republicans represent many affluent places but rely increasingly on exurban and rural districts crowded with older and noncollege whites, many of whom lack insurance.
Using data from the Census Bureau's annual American Community Survey, released last month, my colleague Michael Mellody ranked all 435 districts by their share of uninsured residents. Heavily minority Democratic seats dominated the list's top rung, but many Republican districts in blue-collar and rural areas placed in the upper half, too. For instance, in the Appalachian-tinged North Carolina district of Republican Rep. Mark Meadows, who spearheaded the anti-Obamacare letter, nearly 27 percent of the working-age population (ages 18-64), and about 18 percent of the total, lack health insurance. In Lankford's Oklahoma City-based district, 28 percent of working-age people and 20 percent of all residents lack insurance. "We have organizers in Waco, Jacksonville, and the Cincinnati suburbs, and in those places they are doing the same things we are doing in more-urban areas," says Anne Filipic, president of Enroll America, a nonprofit group backing the law.
In all, census data show that 15.6 percent of residents in the average Democratic district are uninsured, compared with 14.1 percent in the average GOP district. Likewise, the share of working-age people who lack insurance is nearly as high in GOP districts (19.9 percent) as in Democratic ones (21.7 percent). On both measures, virtually identical numbers of Democrats and Republicans represent districts where the uninsured share of the population exceeds the national average by at least 10 percent. And, reflecting the GOP's growing downscale tilt, the share of whites without insurance is actually higher in the average Republican district (11.1 percent) than in the typical Democratic one (10.2 percent).
These numbers suggest that time is the pivot in this struggle. Republicans understandably feel emboldened now, while the law faces implementation challenges and broad public skepticism. But if Obama holds firm through 2016 — as top advisers insist he will — the incentive for more GOP members could gradually shift from ideology to interest. Hospitals, doctors, and the uninsured themselves in red districts may quickly grow accustomed to the federal dollars that will flood in to expand coverage after January 1. "Once they are in, it is going to be [almost] impossible to take insurance away from them," one senior White House aide predicts.
Most House Republicans represent such safe districts that their electoral calculations probably won't change much even if more of their voters receive federally assisted insurance. But it may be tougher to ignore the institutional demands from local medical interests benefiting from expanded insurance coverage that lightens their load of uncompensated care. "You have hospitals, doctors, and pharmacists who all say [to them], 'Take the money,' " Blendon notes.
That mounting pressure is why Blendon joins those who believe that if Republicans can't uproot the law soon, they never will. Judging by the ferocity of the confrontation, the key players on both ends of Pennsylvania Avenue share his conviction.
We want to hear what you think about this article. Submit a letter to the editor or write to letters@theatlantic.com.