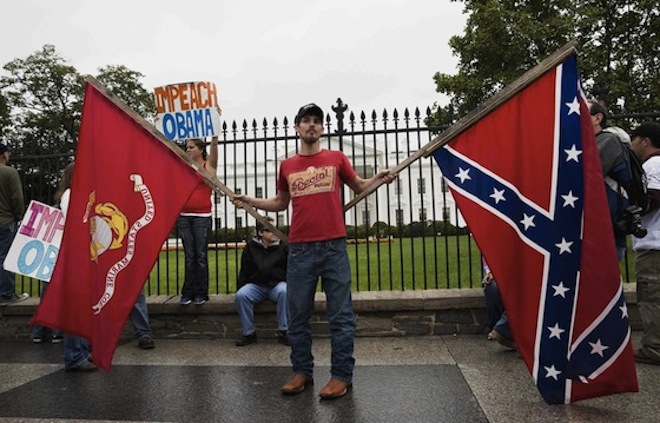 On Sunday, a group of conservative radicals held a protest in Washington. Eventually they walked to the White House. One of these radicals felt it was a good idea to wave the flag of slavery, treason, and terrorism in front of the home of America's first black president. Lone idiots are often drawn to protest action. The behavior of such idiots, while alarming, should not necessarily be taken as an indicator of the aims and thrust of the protest. On the contrary, it is not so much the behavior of the lone idiot that matters—but the tenor of the crowd around him.
If, for instance, you witness a march against military action in Syria and see a Nazi flag among the protestors this should disturb you. But you would be heartened to see the protesters snatch the lone idiot in their midst, eject him from their party with great vigor, and give him some blows for good measure. The flag would still disturb you, but perhaps you might be able to see it as a fringe action, and not the heart of the protest itself.
It is the wisdom of the crowd that matters. The wisdom that marked Sunday's crowd was the idea that the president "bows down to Allah" and needs to "put the Qu'ran down." The wisdom that marked Sunday's crowd was the notion that Obama was not the president of "the people" but the president of "his people." The wisdom of Sunday's crowd held that the police, doing their job, looked "like something out of Kenya." It's not so much that a man would fly a Confederate flag, as Jeff Goldberg notes, in front of the home of a black family. It's that a crowd would allow him the comfort of doing it.