West Virginia's Ghosts Haunt Fracking Boom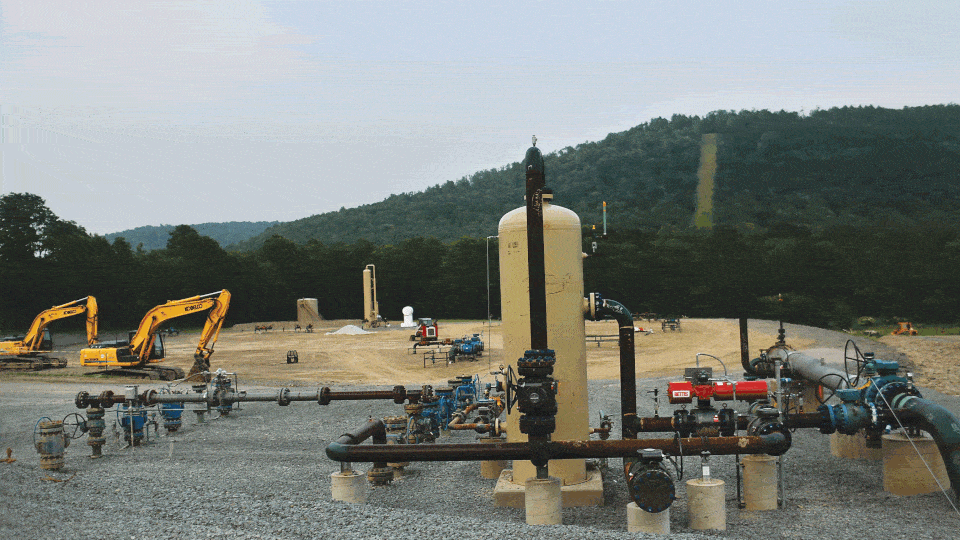 The natural-gas boom has West Virginia thinking big, with state officials betting on fracking to reverse the fortunes of one of the nation's poorest states. But this isn't the Mountain State's first energy boom — it has been swimming in coal money for a century — and if West Virginia is going to turn resources into riches this time around, it will have to learn from its past mistakes.
The first few years of the fracking boom reveal an uneven record, with anecdotal success stories mixed with troubling similarities from the last energy boom gone wrong.
Throughout its mining history, much of West Virginia's coal has come out of the ground but been quickly transported somewhere else, where it was processed and prepared for market by out-of-state companies. Even the companies that own the state's mines aren't based there. The nation gets more coal from West Virginia than from any other state save Wyoming, but none of the country's 10 largest coal producers have their headquarters in the state. West Virginia's largest coal producer by volume, Consol Energy, calls Pennsylvania home.
What's left for West Virginia, then, is an economy based heavily on resource development, where the state sees benefits from miners' wages and coal-extraction taxes but watches as the corporate profits go elsewhere. And after the coal runs out in a particular area, or the demand for it dips in a down economy, the state is left with little to show for it.
"They came in and bought the land, used the coal, and pulled out, and what used to be some of the richest counties are now some of the poorest. The towns pretty much shut down once the coal companies left," said Lynette Maselli, spokeswoman for West Virginia Senate President Jeff Kessler, a Democrat. "Let's not make the same mistake twice."
But can West Virginia capture more value from natural gas than it does from coal?
So far, the state has had little success attracting corporate headquarters. Of the top 10 natural-gas drillers in the state, only one — Chesapeake Appalachia — is headquartered in West Virginia. That is the state's largest producer, but it's also a subsidiary of a much larger company, Chesapeake Energy, which is based in Oklahoma.
In other areas, particularly in developing the industries that go along with natural-gas extraction, West Virginia appears to be making progress.
One drilling firm, Williams, is planning to spend $4.1 billion in West Virginia through 2014 — a significant investment in a state whose annual budget in 2013 totaled just under $12 billion. And not all of the money goes into buying mineral rights: $1.6 billion is to be spent on a pair of processing and refining facilities, as well as the infrastructure to support them, in the northern part of the state, according to Williams spokeswoman Sara Delgado.
And while out-of-state companies own a lot of the land they mined during the coal boom, much of the gas sits on privately held plots, forcing the drilling companies to lease mineral rights and make payments to landowners.
Overall, though, it is too soon to tell if West Virginia is going to have more success in its second energy boom than in its first.
The natural-gas revolution is just beginning in West Virginia. Gas production has been climbing for a decade, but the boom started in earnest in 2011, when the state's natural-gas extraction increased by more than 50 percent over 2010, according to Energy Information Administration statistics.
And there's plenty more gas left in the ground. The EIA estimates the state is still sitting on 10.5 trillion feet of proven gas reserves.
In Charleston, the state capital, the debate over how to best capitalize on the gas boom will sound familiar to anyone following the economic policy debate in Washington.
The state Republican Party is emphasizing regulatory certainty — GOP Chairman Conrad Lucas touted a recent bipartisan move to clarify the rules for obtaining drilling permits — and pushing for lower taxes. Lucas said the state's severance tax, currently set at 5 percent of revenue on all coal or gas sales, should be lowered in order to convince more drillers to come to West Virginia.
"Our severance tax is among the highest in the region — lowering that would always be a way to attract further development," Lucas said. "Lowering taxes in any way would help spur development."
Across the aisle, Kessler, the state Senate president, is pushing to create a "future fund" that would set aside revenue to earn interest and that would be off-limits from current spending. Kessler envisions the fund's revenues being spent on infrastructure, education, and other programs intended to benefit state residents.
"We've got what the world wants," Kessler said. "We've got the best gas, and there's no reason to give it away."