The Tortoise, the Hare, and the Massachusetts Lesson for Obamacare
It is much, much easier to sign people up for free health coverage than subsidized plans—especially in the first months of a rollout.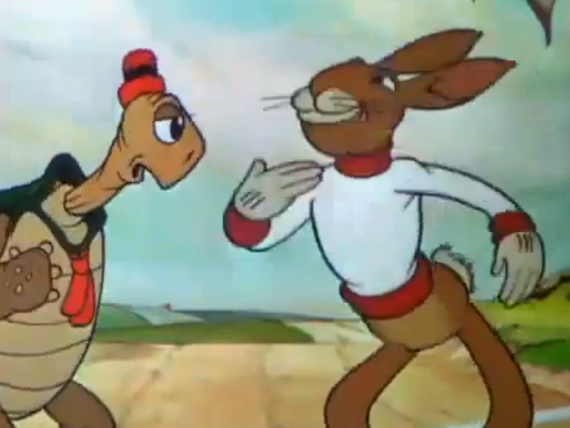 Slow and steady wins the race, according to the old Aesop fable, and that's also what happened in the state of Massachusetts, when it rolled out its new health-coverage plans in 2007. Today, 97 percent of people in the state have health insurance of one type or another. But when the state's bid for universal coverage got started, it launched to a very slow start, according to those oversaw the rollout in the state. And that's without all the website issues that have plagued Healthcare.gov.
"To my friends in the media, I have one message: please take a chill pill. You won't see 7 million enrollees for a while, and that's not failure, that's real world," John McDonough, a professor at the Harvard School of Public Health who was deeply involved in the passage and implementation of Massachusetts' 2006 health reform law, wrote of the new Obamacare program in mid-October. In Massachusetts, getting people signed up "was a slow crawl, not a sprint."
Data from the first full year of enrollment in the Commonwealth Care plans in Massachusetts shows that the number of people who purchased premium plans was minuscule at first, with a rate of increase of only 123 people in February 2007. That surged to 3,645 in April and then remained fairly steady all year, before spiking to 7,783 in the month before the penalty deadline for remaining uninsured kicked in.
In contrast, the plans that were basically free saw much more rapid growth in enrollment and a much higher total number of enrollees by the end of 2007.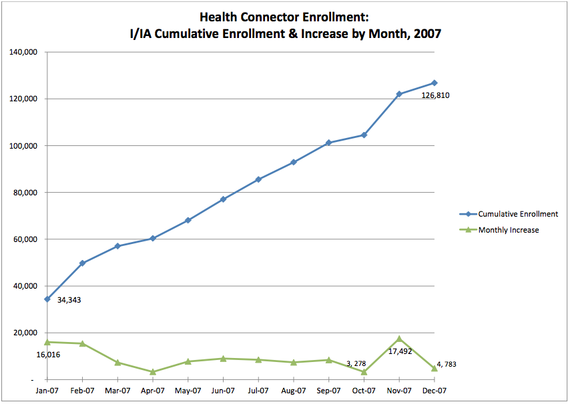 The lesson of this for the federal-health-insurance-exchange rollouts is clear: Lower-income people do not layaway shop for insurance, and they will take their time to make decisions when they have to pay for premiums themselves, even if the premiums are subsidized.
This is what CNN investigative reporter Drew Griffin found while visiting two Milwaukee clinics for low-income people this week, according to a summary on Mediate: 150 new people on Medicaid, "but not one under a health plan sponsored by the Affordable Care Act."
Part of that's likely due to the Healthcare.gov issues. But part of it is also to be expected. "When people must pay premiums that piece of enrollment is slow in the early months and it will accelerate and increase over time," McDonough told The Atlantic. "So regardless of the issues around the website, people should not be surprised to see slow enrollment—slower than some people might expect who don't have a lot of experience in this arena."
But it should pick up by mid-December, he predicted: "There's no advantage to signing up now as opposed to signing up [in] December except to get it out of the way."