The Shutdown Is the Fight Harry Reid Has Always Wanted
Senate Democrats think they got a raw deal in previous negotiations. This time around, their leader is driving the strategy for himself and the White House.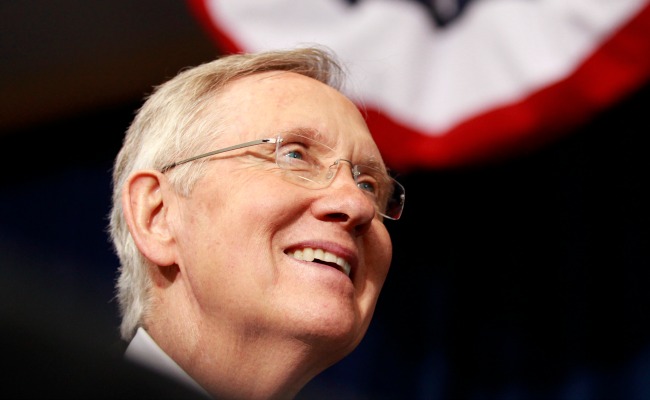 The deadline to keep open the federal government was only two weeks away, when the White House quietly floated plans for a summit between President Obama and the four congressional leaders. The idea was to show Obama, his sleeves rolled up, engaged as Congress lurched toward a shutdown.
But when top administration officials reached out to Capitol Hill, Senate Majority Leader Harry Reid's office had a message for them: Don't do it. Reid's team argued such a meeting would suggest the Democrats were willing to negotiate when they weren't.
The White House listened. The summit was nixed. And no serious talks have occurred since.
The episode marked a sharp contrast from the last budget showdown, in December 2012, when Vice President Joe Biden went behind Reid's back to cut a deal with Senate Minority Leader Mitch McConnell. Reid was so incensed by the administration's concessions during those talks that he crumpled up one White House offer and tossed it into his office's roaring fireplace in disgust.
These days, Reid is more likely to be writing the Democratic playbook than burning it. As the government shutdown stretches into its second week, the White House has embraced Reid's hard-line, no-negotiations stance--at least so far.
"They won't talk," Sen. Ted Cruz complained Sunday on CNN. "They have not moved one inch."
Cruz and allied conservatives in the House may have brought about the shutdown by insisting on dismantling or defunding Obama's signature health care law, but Reid is firm about making them pay for it.
Reid has called Republicans "anarchists" and "reckless"; he's said they've "lost their minds" and need to "get a life"; and his office has leaked private emails with House Speaker John Boehner's chief of staff. With polling showing Republicans likely to receive the bulk of public blame for the shutdown, he's refused any concessions conditioned on reopening the government.
"The thing about Harry Reid is he looks like the benign old man who runs the general store. But he is a pile driver," said David Axelrod, a former top White House strategist for Obama. "When he commits to doing something, he does it .... You come to appreciate someone like that and having someone like that on your side."
Thought He Could Do Better
In the last three big fiscal fights, Reid acquiesced to the White House's lead—last December, in the summer debt-limit bout of 2011, and in the December 2010 showdown that resulted in the Bush tax cuts being extended for two years. Reid still chafed in private at the outcomes of those past budget battles, according to those who know him.
Rohit Kumar, McConnell's former deputy chief of staff and his top negotiator for those past deals, said, "Every time the White House has gotten into a negotiation with Senator McConnell, from Reid's perspective, he thinks McConnell got the better deal."
A senior Senate Democratic aide, who spoke anonymously to offer a candid assessment, agreed: "2010, 2012—we definitely felt burned."
Unlike the 2011 debt-limit showdown, when Obama feared further tripping up an already stumbling economy ahead of his own reelection, or the December 2012 talks that promised to set the tone for Obama's second term, it's Reid's job on the line this time. Reid's fragile majority is at stake in 2014, with seven Democratic-held seats in solid GOP states up for grabs.
Reid is setting the unyielding tone and the White House is letting him. "It sure looks to me like this is exactly the fight Senator Reid has been looking for for the last couple years," said Jim Manley, Reid's former communications director.
Reid's stiff stance was encapsulated in an offer letter he sent last week to Boehner, asking him to reopen the government with no strings attached. In exchange, Reid said he would appoint lawmakers to a budget conference committee. It was really no offer at all. Reid wanted both those outcomes; Boehner wanted neither.
"We are willing to negotiate," Reid said on the floor on Monday. "But we won't negotiate with a gun to our heads."
Democrats are cheering from the sidelines.
"Many times over the last couple weeks friends have been thankful aloud that Harry Reid is in there hanging strong," said Bill Burton, a former spokesman for the Obama White House.
Reid's current power comes, in part, from the remarkable party discipline he and his team have imposed. Of the last 25 Senate roll call votes, Senate Democrats note that all the Dems have voted together 23 times--including rebuffing multiple Boehner offers to reopen the government with various GOP strings attached.
Another factor in the improved Reid and White House coordination—"a big factor," said the senior Democratic Senate aide—is Katie Beirne Fallon. She ran the Senate Democrats' war room until moving inside the White House earlier this year, helping smooth communications between both ends of Pennsylvania Avenue.
Not a Risk-Free Approach
There are risks to letting Reid take the reins. Reid's decision to leak private emails between his staff and that of the speaker has soured their reputation beyond repair. "It's incalculable," Kumar said of the damage. "This is not a venal sin. This is a cardinal sin."
Congressional Republicans say Reid is better suited to bomb-throwing than deal-making—and his prominent role will likely only extend the shutdown. "He never misses a chance to inject venom into the legislative process," Rep. Tom Graves, R-Ga., said in a statement on the first day of the shutdown.
Reid's and Obama's decision not to negotiate—period—on the shutdown or looming debt limit has also opened the door for Republicans to tag Democrats as the unreasonable ones. In his Sunday appearance on ABC's This Week, Boehner said he simply wanted to have a "conversation" with Democrats. He repeated the word more than 20 times for emphasis.
"It's time for us to sit down and have a conversation," he said. "That's what the American people expect."
Kumar, who has as much experience as any Republican in dealing with Reid and the Obama White House, said it is possible Obama is giving Reid freedom to negotiate without interference on the government shutdown but not on the fast-approaching October 17 debt-limit deadline, a far more serious fiscal event.
"We've gotten through shutdowns before; we've survived them," said Kumar, who is now in the private sector. "I don't believe that the president can just sit idly by and take a no-negotiating posture and let us hit the debt limit."
As for the scrapped White House summit, it did eventually occur. It came, with Reid's backing, on the second day after the government shutdown. Obama used the 90-minute gathering to reiterate his no-negotiating stance. Reid emerged pleased.
"Strong, strong, strong," Reid said of the president.
There have been no meetings since.
George E. Condon Jr. contributed to this article.