The Redemption of Clintonism
Remember when Slick Willie was controversial? Today, he's America's most powerful political brand, and he's not at all shy about it.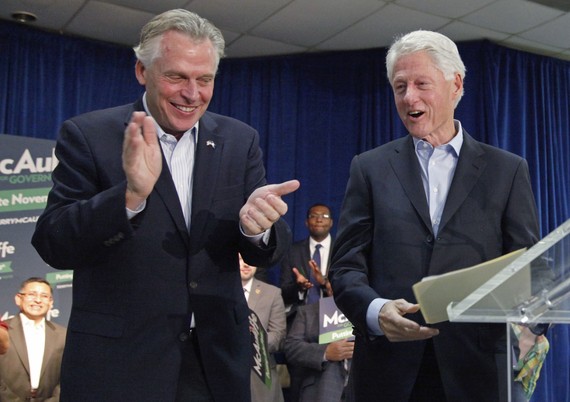 DALE CITY, Virginia — It's no secret that the post-presidential years have been exceedingly kind to Bill Clinton. The man who left the White House in a cloud of scandal, his party so divided that many rushed into the arms of Ralph Nader, is now so beloved that Republicans running for president invoke his example. At the Democratic convention, meanwhile, he threatens to overshadow the nominee. Women want him, men want to be him, as the saying goes; and pretty much everyone in politics wants whatever it is that he has.
This week, Clinton is on the campaign trail for his old buddy, Terry McAuliffe, the Democrat who is likely to be elected the next governor of Virginia next week. Yes, if you're just now Rip Van Winkling in from the 1990s, that last sentence was not a joke. Clinton campaigning for his former top fundraiser has been rightly portrayed as yet another chit called in by a man who's made a career of chit-seeking and -cashing. But it's also a striking reminder of the extent to which Clintonism, in all its triangulating glory, has been redeemed.
"Here's what I know from 12 years as governor and eight years as president—eight years that worked out pretty well for us," Clinton told a few hundred supporters who had gathered to hear him stump for McAuliffe at a Veterans of Foreign Wars hall here on Sunday, the first stop in an intensive four-day tour that would take him to virtually every corner of this large and diverse state.
"I gave you four surplus budgets, all those jobs, declining poverty, the lowest poverty rate we've had in 30 years, and the first time in more than 30 years that there has not been an increase in inequality," Clinton boasted. "We went forward together. We're supposed to grow together. We didn't do it by taking anybody down, we did it by lifting everybody up."
It was hard not to see a veiled critique of the current president in Clinton's paean to himself, one that veered perilously close to the "Green Lanternism" that liberal commentators so detest—the view that if the current president just tried hard enough, he could overcome the Republican intransigence and structural impossibility that have doomed his agenda. Indeed, Obama went totally, glaringly unmentioned in Clinton's 18-minute speech. (On Monday, Clinton's implicit critique became more pointed: "When people sneeringly say McAuliffe is a dealmaker, I say, 'Oh, if only we had one in Washington during that shutdown," he reportedly said, adding that it was "exhausting seeing politicians waste time with all these arguments. People deserve somebody who will get this show on the road.")
This is some chutzpah on Clinton's part. After all, the Clinton years featured their own government shutdowns, one of which was longer than the recent closure, along with such polarizing doings as his impeachment hearings. But either things now are so much worse, or hindsight has sufficiently colored the memory, that Clinton can recast those days as a heyday of mutual respect and comity.
"If we become ideological, then we're blind to evidence. We can only hear people who already agree with us," Clinton said. "We think we know everything right now, we've got nothing to learn from anybody, and most important thing we  can do is impose our views on everybody else. And you can choose that course here. But I'm telling you ... it doesn't work .... The only thing that works is cooperation."
The campaign of McAuliffe's opponent, Ken Cuccinelli, bombarded reporters with "Back to the Baggage" press releases slamming Clinton, complete with a Photoshopped header graphic of McAuliffe as Marty McFly and Clinton as Doc Brown. "From renting out the Lincoln Bedroom to selling tickets on Air Force One, the former president and his 'professional best friend' have accumulated a lot of baggage," one representative example noted. But Clinton's campaign schedule on behalf of McAuliffe showed that he is that rare politician who plays to every crowd—urban or rural, white or black, liberal enclave or hardscrabble town. No other former president has this sort of appeal, nor has any remained in the political fray to this degree—especially not Clinton's successor, George W. Bush. Bush's approval ratings have markedly rebounded since he left office, but—or perhaps because—he has kept a determinedly low profile.
McAuliffe's campaign has relentlessly sold him as a politician in the Clinton mold. Even as he hammers Cuccinelli as an ideologue, McAuliffe constantly sells himself as devoted to bipartisanship. He has embraced the transportation proposal of the current Republican governor, Bob McDonnell, and constantly touts his endorsements from Republicans. For this, Democratic voters appear to have punished him not at all. The centrist pose Clinton represents, once so controversial within the party, is now the official line.
Clinton closed by warning the crowd that "political extremism" has one virtue: It gets its supporters out to vote. "I believe with all my heart that Terry McAuliffe will be a great governor of Virginia," he testified. "I believe that within a year people who didn't vote for him will wonder what they were thinking on election day." That those words likely constitute the most powerful endorsement in American politics today tells you just how far Bill Clinton has come.