The Pepper-Spraying Cop Got a Bigger Payout Than His Victims
Lt. John Pike reached a $38,000 settlement in a worker's-compensation claim. The UC Davis students he assaulted got $30,000 each.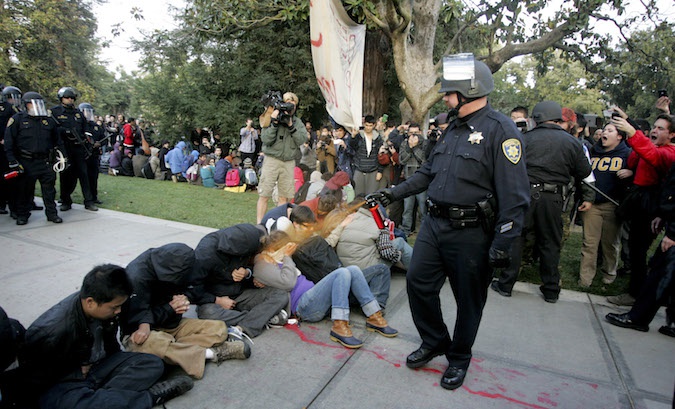 Remember Lt. John Pike?
The UC Davis police officer is infamous for turning highly pressurized pepper spray on nonviolent student protesters at point-blank range as they sat on a campus path. The assault was captured on camera and video and inspired a web meme.
Thankfully, Pike is no longer employed by the UC system. His long goodbye was nevertheless a scandal in itself. An official investigation suggested that there was no legal basis for the raid on the students that day and that Pike violated policy. But California public-employee rules prevented the pepper-spray cop from being fired.
After five months, an independent investigation found that "Lt. Pike Bears Primary Responsibility for the Objectively Unreasonable Decision to Use Pepper Spray on the Students Sitting in a Line and for the Manner in Which the Pepper Spray Was Used." Yet he remained on administrative leave eight months after the incident. By my calculations, Pike received more than $70,000 in salary between the pepper-spray incident and the day he ceased to be employed at UC Davis, though he did no work in that time. And when his employment finally ended?
"The internal affairs investigation into last November's pepper-spraying controversy at UC Davis concluded that Lt. John Pike acted reasonably, with a subsequent review concluding he should have faced demotion or a suspension at worst," The Sacramento Bee reported in August 2012. Think of what that means, I urged readers:
Lt. Pike was caught on video pepper-spraying seated, non-violent protesters in the face, using a device he was not authorized to carry and that he held closer to their bodies than is recommended. Those viewing his actions on the Internet regarded them as needless and abusive in sufficient numbers that he became a figure of national attention. Two independent reports commissioned by UC Davis concluded that he had acted unacceptably that day in numerous ways. But the internal affairs process used to discipline police officers concluded that he acted reasonably. It is only because new Police Chief Matthew Carmichael overruled its findings, possibly opening UC Davis up to a wrongful termination suit, that Lt. Pike was reportedly terminated. So I ask again. Is there any doubt that this system prioritizes the job security of campus police officers above the safety and well being of students?
That's where the matter rested until this week.
As noted by The Atlantic Wire:
Former UC Davis officer John Pike, famous for casually pepper spraying a group of students in the face during a 2011 protest, was awarded a $38,000 settlement for psychiatric injuries for the way he was treated afterwards. Pike, who was eventually fired, filed a workers compensation claim this summer. That means that Pike, who walked up to a group of sitting, passive students and pepper sprayed their faces, will get a comparable compensation from the university to that awarded to the students he targeted. UC Davis has also settled with the students actually targeted by Pike's pepper spray, agreeing to pay out $1 million total to 21 plaintiffs. That breaks down to a bit less per student than Pike himself will get: $30,000 per plaintiff, plus a $250,000 sum for their lawyers to split and a handful of other delegated portions of the award. The university also formally apologized ... Pike's settlement includes $5,700 in legal fees for his lawyer in the case. 

Pike was eligible for worker's comp from the incident after a psychiatrist found that the former officer has a "moderate" disability, ABC affiliate KXTV explains. He claimed to have "suffered depression and anxiety over the way he was treated in the wake of the incident," they note.
This is the outcome of the rules California has established for dealing with public-safety employees and worker's compensation. Does anyone else think it's time for reforms?