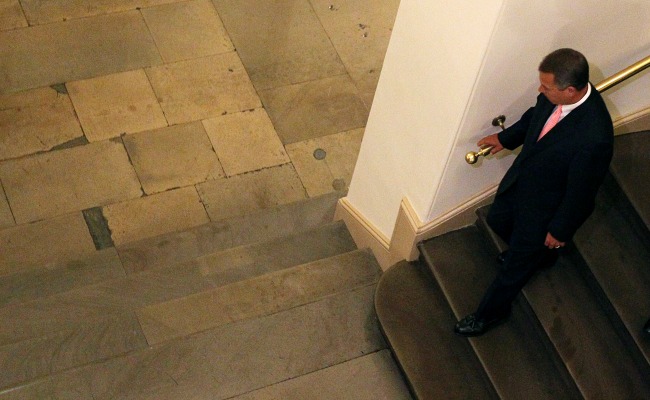 Monday was a frantic day on Capitol Hill, though all the activity ultimately came to nought: A flurry of last-minute legislative feints failed to prevent the government from shutting down at midnight. But in the process, House Republicans' total crackup was on full, public display.
The breaking point was Speaker John Boehner's penultimate proposal, a bill that would have funded the government -- and Obamacare -- while delaying the health-care law's individual mandate and canceling congressional staffers' insurance subsidies. To Boehner, this was a major concession from the House's previous offering -- a delay of the entire law. To the White House and Senate Democrats, it was just as unacceptable and no concession at all.
But within the GOP, it provoked a freakout on both Boehner's right and left flanks. Moderate Republicans, long silent for fear of the party's angry base, correctly viewed the proposal as inexorably leading to shutdown, and threatened to rise up and block it. "This is going nowhere," New York Representative Peter King told National Review. He claimed to have 25 members on his side and demanded that Boehner instead put a "clean" government-funding bill -- one that didn't touch health care -- on the floor of the House.