The Government Shutdown Is Terrible for Transparency
There's not just a shutdown. There's a blackout, and it makes journalism suffer.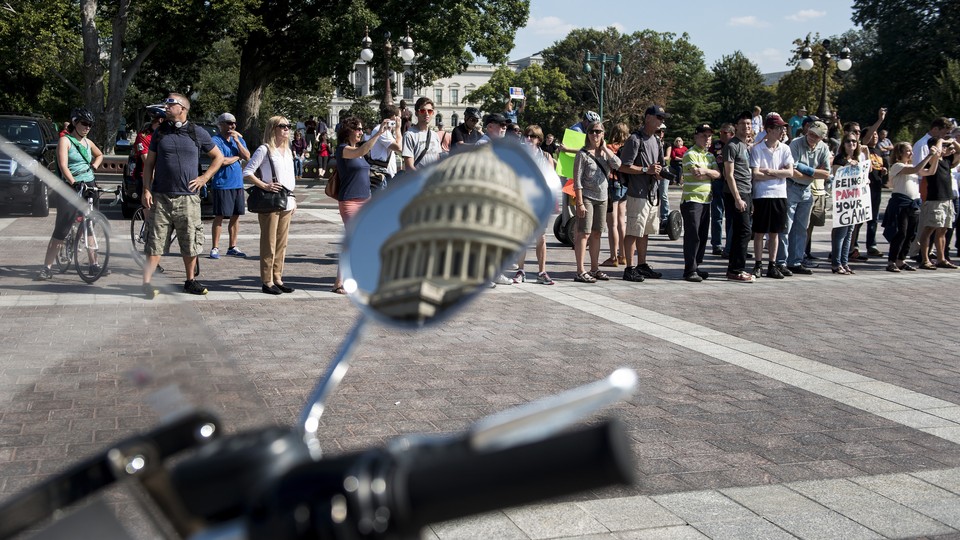 Thursday morning's New York Times starts with a blockbuster story on Obamacare:
"A sweeping national effort to extend health coverage to millions of Americans will leave out two-thirds of the poor blacks and single mothers and more than half of the low-wage workers who do not have insurance, they very kinds of people that the program was intended to help, according to an analysis of census data by The New York Times."
It's a major revelation for the nation's hotly contested policy, but it wouldn't have come to light without publicly available census data. But right now, because of the government shutdown, that's data that you can't find online.
The government shutdown comes at a major cost to journalism and government transparency. It may not seem like a big deal, and it's definitely not as obviously detrimental as the nearly 1 million federal workers out of work without pay, but right now, when the public needs detailed, un-spun information most, it's incredibly hard to find.
This in many ways should be a time for political journalism to flourish. Millions of Americans are likely paying attention to what their government is doing right now in a way they typically have not. We await polling on that point, but it's obvious in terms of website traffic. As hazardous as a shutdown is, it's an exciting time in politics. Things are actually happening. On that measure alone, the government shutdown is pretty great for journalism.
But with a massive trove of government data offline, the underlying product suffers. The Bureau of Labor Statistics — the government arm the produces invaluable data on the employment situation, including the monthly jobs report — is down to just three employees during the shutdown. You can access old BLS reports online right now, but the site won't update with new research during the shutdown. The BLS September jobs report is due Friday, and it's currently unclear as to whether or not we'll be seeing anything. Why unclear? Because, during the shutdown, most government agencies — including, it seems, the Labor Department which oversees the BLS — have declared public-relations officials nonessential.
Which gets to another journalism casualty of the shutdown: telephones. Almost all phone calls to communications staff in government, or to congressional offices on the Hill, result in a prerecorded voice message saying that during the shutdown, no one is around to receive or return your calls or emails. One Senate aide told National Journal that "we're monitoring phone messages, but we're not answering the phones." That may not sound like a big deal, but what it effectively means is that, unless you are on the Hill in person, the only communication you're likely to receive from Congress is an often-useless press release. That obviously also hurts more general constituent services.
And while the branches in charge of explaining the government shutdown have largely gone dark, the ones in change of spinning it for political purposes remain intact. Both parties' congressional committees, the ones tasked with getting their members into seats and knocking the other parties' members out of them, are in hyper-drive. Multiple times an hour, they're blasting out press releases to reporters, spitting half-truths as they attempt to fire up the outrage machine.
The net result: Congress's shrill conversation is as easy as ever to cover, but information about the real-world impacts of that impasse are harder than ever to understand.
In this way, the people essential enough to be able to stick through the shutdown are able to virtually dictate frames of debate. It is, in part, why we've seen so many stories about members of Congress' pay, or their stands at Washington's World War II Memorial (which occasionally backfire). And with fewer government sources around to talk to, it turns them into even more of a commodity, giving them even more power.
This isn't just about it being more difficult to get some data or quotes. It's an issue of transparency. During the shutdown, Freedom of Information Act requests are not being processed. The Federal Election Commission "will be unable to provide any services during the government shutdown," and its electronic filing system for political-donation disclosures may not be getting updated. That's despite political fundraising going bananas since the shutdown, with the Democratic National Committee seeing its best fundraising day since the election occurring Monday. On Wednesday, the Republican National Committee said it had raised more than $1 million in the previous 48 hours.
Without a budget, government is failing in its core responsibilities to the public, including the responsibility to let the public know what it's up to.