The Glorious, Futile Progressive Policy Agenda
The left is unified and full of exciting ideas. What's the point?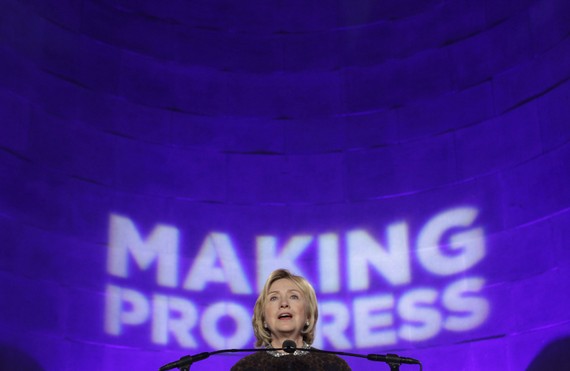 A few months ago, Terry O'Neill, the president of the National Organization for Women, summed up the state of the left. "We're winning the politics," she told me. "But on policy, we're just getting killed."
On the one hand, a handily reelected liberal president; demographic trends turning more and more states blue, with no end in sight; growing public support for liberal causes like gay marriage; and a fractured, warring, dismally unpopular opposition. On the other hand, a failure on the national level to consider even modest changes to environmental, immigration, or gun policy; a federal government that, rather than growing to serve more people, has been subject to draconian cuts. On the state level, a drumbeat of assaults on collective bargaining, restrictions on access to abortion, cuts to education, taxes, and social services, and curbs to voting rights. After 20 elementary-school children died in last year's gun massacre in Newtown, Connecticut, more states sought to expand access to guns than to constrain it.
Progressives are trapped in a frustrating dichotomy: a feeling that even though they're winning the public argument, their policy ideas are largely an irrelevant pipe dream.
Nowhere was this more evident than at a policy summit convened Thursday by the Center for American Progress, a liberal think-tank hatched by Clinton Administration alums during the dark days of the first George W. Bush Administration. A star-studded lineup of Democratic power players took the stage: former Vice President Al Gore, Secretary of State John Kerry, Chicago Mayor Rahm Emanuel, former Secretary of State Hillary Clinton. And yet their speeches and discussions were suffused with a sense of futility.
"We know what we have to do. It's pretty straightforward," Glenn Hutchins, a private-equity investor and former Clinton White House adviser, said from the dais toward the end of a panel on economic growth. Investments in education, infrastructure, research and development—all the types of government outlays that have been slashed by the recent federal "sequestration" cuts. "But we can't do it," Hutchins added. "We have a huge governing problem. So we're stuck .... Some of these discussions have the air of surrealism. We know what we have to do; we can't do it."
Question after question from the audience echoed Hutchins's angst. "I'm looking for hope given the obstruction we face from this conservative Congress," pleaded one. "How can this message get out in the public debate and be accepted?" asked a second. Larry Summers, the former Obama economic adviser and Federal Reserve runner-up, said of the sputtering recovery, "I don't think the problem is with financial engineering. The problem is political will."
Some of the speakers chose to ignore political reality and simply blaze ahead with their audacious dreams. Treasury Secretary Jacob Lew made a pitch for pro-growth economic policies, saying hopefully, "I remain convinced that the tradition of compromise, bipartisanship, and building consensus is not a thing of the past." Senator Kirsten Gillibrand of New York gave a passionate presentation of her five-point agenda to advance the standing of women and children, from universal pre-kindergarten ("something so obvious, so clear!") to paid family leave and a hike in the minimum wage. The proposals, she said, were so commonsensical, "It's surprising these ideas are not part of the dominant political dialogue today."
Others chose to rage against the obstacles. "A self-inflicted wound like the shutdown that we just endured can never happen again," warned Kerry, who said the nation's political turmoil emboldened America's enemies and diminished its credibility as a world leader. Gore, speaking in loud, folksy Southern-populist tones, thundered against the forces of "denial," whether it be global warming, debt default, or President Obama's American birthplace that the deniers refuse to acknowledge. "Why are we failing to act? Well, why are we failing to act on a lot of things?" he fumed. "Our democracy has been hacked! It no longer operates according to the public interest." Gore got the only standing ovation of the day's program.
State and local executives were cited as examples of the dreamed-of alternative, the world where Democrats are actually fully in charge and get to run things. "We are really seeing progress at the state level in making progressive change," CAP President Neera Tanden said while introducing California Governor Jerry Brown. He illustrated, she said, "proof progressive governance works," and exemplified "the possibility of actually making progress toward our goals."
Brown's speech was a doozy, a vivid portrait of frustrated liberals' fever-dream bizarro world. He boasted of the way he'd won public passage of a series of government-reform and tax-raising ballot initiatives. He spoke of protecting undocumented immigrants from harassment and giving them rights and driver's licenses. He talked about raising the minimum wage, tackling climate change, reducing the prison population, and running a health-care-exchange website that's enrolling people by the tens of thousands—all while righting the state's once-disastrous finances. Californians, Brown speculated, are progressive because the state's beautiful landscapes make them "spiritual." "How can these people in Washington not rise to the occasion?" he implored.
The conference featured an impressive amount of dissenting views, albeit within a somewhat narrow band. Gore inveighed against the proposed Keystone XL oil pipeline, calling it "an atrocity" and "a threat to our future," but Hutchins and another speaker, Canadian Liberal Party leader Justin Trudeau, spoke of the project favorably. Hutchins spoke of the need for fiscal discipline; former Secretary of State Madeleine Albright said progressives must have more respect for the role of the private sector as "promoters of trade and creators of jobs," adding, "We have to see them much more as partners than just as people that are exploiting [workers]. This is not an easy message to deliver in our circles." Emanuel defended his record of seeking public-pension cuts and closing underperforming public schools. None of these speakers were booed or heckled for their heresy.
Despite the various sins against progressivism of the Obama presidency, from its prosecution of the war on terror to its endorsement of entitlement cuts, the Democratic coalition today is remarkably unified—the result, no doubt, of an opposition singularly determined to thwart its program at all costs. And yet a reckoning is surely coming as the post-Obama era dawns, the 2016 primaries draw nigh, and liberals' frustrations finally come to the fore. It was fitting that the day should end with Hillary Clinton, who stands as the avatar of both the Democratic Party's past and, should she seek the presidential nomination, its potential future.
Clinton took the stage at the gala party that concluded the conference, following a slick greatest-hits video touting the center's 10-year history. Speakers in the video recalled the bad old days under Bush and hailed the progress already made, from ending the Iraq war to winning health-care reform. Clinton, striding to the lectern amid riotous applause, said, "We share a set of values—the values of justice, of freedom, of opportunity and equality."
And yet, she noted, the fight remains. "When you look at these values and how much the United States had to do with thrusting them into human history," she said, "it's always a little surprising that we have to keep fighting so hard on behalf of them—to make the case over and over and over again."