The Cheneys Will Stop at Nothing to Get Liz Elected to the Senate
The Wyoming GOP primary campaign is already shaping up to be a scorched-earth affair, demonstrating the kind of senator Liz Cheney would likely be.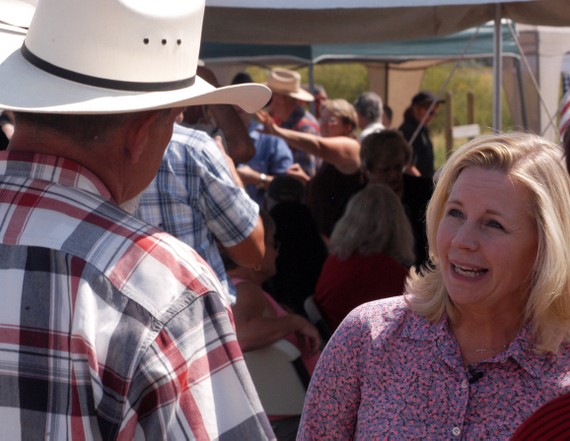 When Liz Cheney, the daughter of the former vice president, decided to run against a sitting Republican senator in Wyoming, her target, Mike Enzi, pleaded, "I thought we were friends."
But if Enzi thought his long relationship with the Cheneys might ensure a gentle, collegial contest of ideas, it's increasingly clear he thought wrong. The Cheney clan has undertaken a scorched-earth campaign against the well-liked, low-key conservative and his allies, demonstrating a seemingly limitless appetite for conflict—and leaving innocent bystanders as stunned casualties in their wake.
Dick Cheney, who has been giving media interviews to promote his new memoir, spent part of his airtime on ABC's This Week last Sunday slamming Enzi for taking out-of-state donations. Even Enzi's seemingly innocuous claim that he and Cheney were once fishing buddies came under attack: "Simply not true," the former vice president said.
Enzi defended himself to Politico under a rather expanded definition of "fishing buddies," seeming to admit that the pair had never actually been fishing together: "I anchored the One Fly fishing contest with him one time, and I was asked to speak at his induction in the fly fishing hall of fame," Enzi said. "And we've talked about fishing when we've been together."
Other Wyoming politicos who've tried to stay above the fray have found themselves drawn into the feud, notably Alan Simpson, the former Republican senator known for his crotchety demeanor. The Cheneys and the Simpsons were at a charity gala in Cody, Wyoming, when Lynne Cheney—Liz's mother, Dick's wife, and a writer of racy novels—allegedly approached Simpson and told him to "shut your mouth." Simpson's daughter-in-law posted about the incident on her Facebook page, and the local press picked up the story. Lynne issued a statement asserting that the interaction "simply did not happen."
This denial apparently sent Simpson into a rage. He penned a remarkable 2,200-word letter to the Cody Enterprise recounting the whole shaggy-dog story from beginning to end: his admiration for Dick Cheney, his loyalty to Enzi, his repeated attempts to avoid getting dragged into conflict between the two camps. A literal political football is involved, as well as an organization called Cowboys Against Cancer and an invocation of the delightfully named late Wyoming Senator Malcolm Wallop. Simpson reaffirms the scene with Cheney—in his telling, she is holding a drink, and bursts out, "Oh, I've heard enough of that and I don't want to hear anymore. I just want to tell you something, 'Shut up—just shut up —shut up.'"
True to intemperate form, Simpson concludes by noting that he will not be called a liar by anyone. "I've been called fool, idiot, boob, bonehead, dink, slob, greenie, soot-covered slob, all the rest—and that is 'fair,' believe it or not, in politics," Simpson writes. But in four decades, he adds, "I have never been called a liar before and it sure as hell won't work this time."
Prior to that fracas, Liz Cheney had broken with other family members to come out against gay marriage, antagonizing her own sister. And she feuded with the editor of the Jackson Hole News & Guide after that newspaper reported that Cheney had paid a fine for lying on her Wyoming fishing-license application. (Cheney sought a cheaper "resident" license, even though she didn't meet its requirement of having lived in the state for over a year.) At a Tea Party rally, Cheney singled out the editor—"His name is Angus," she told the crowd—and accused him of bias. When the Cody Enterprise wrote about those comments, its own reporter was barred from Cheney's next event.
The editor of the Casper Star-Tribune decried Cheney's shoot-the-messenger tactics as "tacky," "over the top," "un-American," and a "little hissy fit." The episode, Darrell Ehrlick noted, epitomized the rap on Cheney: "that she's nothing more than an attack candidate meant to embody the political frustration that so many people feel, solutions be damned." This, to Enzi's allies, is what the race comes down to: a senator who's plenty conservative but lacks the pugilistic style of a Ted Cruz versus an upstart whose principal offering isn't policy differences but an appetite for constant public conflict.
It's this difference of style, not substance, that has split the GOP nationally and in many states—including Wyoming, where a far-right faction has lately disrupted the normally staid, Republican-dominated state legislature. But will it get Cheney elected? Internal polling done on Enzi's behalf shows the senator with a "strong double-digit" lead over Cheney, a GOP source told me; the senator has also shown a new aptitude for fundraising, though Cheney outraised him during the last reporting period, $1 million to $850,000.
Enzi's allies say the senator is proving he's up to the task. "When you have a senator who hasn't faced a real challenge in years and one comes out of blue, the concern is he gets caught asleep at the wheel," said Brad Dayspring, spokesman for the National Republican Senatorial Committee, which supports GOP incumbents. But that's not the case with Enzi, who's shown he isn't taking Cheney's assault lying down, he said: "He's worked his ass off."