Staying Out of Syria Didn't Sink Obama's Presidency After All
Remember when America's credibility and the president's legacy all depended on dropping bombs? Neither do the pundits who made those confident predictions.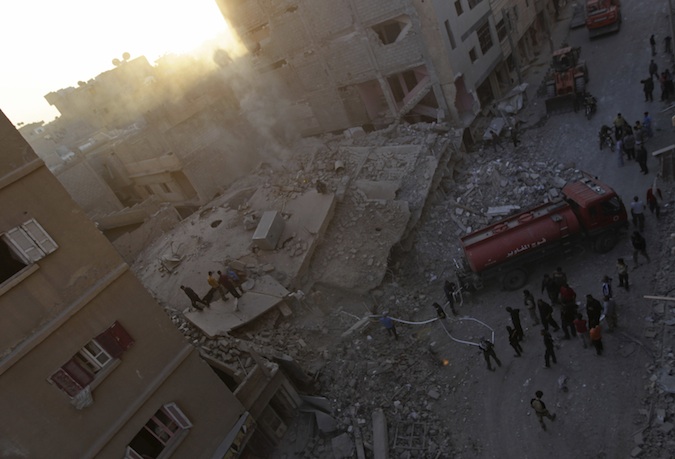 We now interrupt this news cycle for a lesson in public-affairs journalism and its biases. The headlines in recent days have been all about the government shutdown and the debt ceiling. The ongoing fight is being covered as if its outcome will do more than anything else to determine the political strength and trajectory of Tea Party Republicans, congressional Democrats, and the Obama Administration.
Perhaps that is so.
But it's worth remembering that just a few dozen news cycles ago, the political press was focused on the debate over intervention in Syria. And conventional wisdom briefly held that failure to intervene would transform the political landscape. Politico treated seriously the argument that Obama's presidency depended upon a military intervention in Syria. The Wall Street Journal said that when history judged John Kerry's four decades in public life, the Syria question would be the one that defined the secretary of state's diplomatic legacy.
Those arguments were dubious at the time.
Now they're definitively disproved. President Obama did not intervene militarily, despite his "red line" comments. Instead, he pursued a diplomatic solution. As a result, the political landscape hasn't been transformed, Obama's presidency has not been compromised, and Kerry's legacy has not been much affected. The fact that the U.S. didn't drop bombs has not ruined our global credibility.
Many of the publications and journalists who asserted otherwise have themselves stopped talking about Syria, as if they now regard its importance as fleeting, if they even remember the extravagant claims they made about the issue at all.
Conventional wisdom often turns out to be wrong in hindsight, and the political press often inflates the importance of events as they happen, even though a moment's reflection would make clear the likelihood of their fading away. This instance of those pathologies is particularly worth dwelling upon because the erroneous assumptions at issue nearly pushed the United States into a war of choice. The next time a president is pondering military intervention, hawkish claims about the importance of dropping bombs should be treated with far more skepticism.