Someone Is Lying About NSA Surveillance of Angela Merkel*
Is it the person who told a German tabloid that President Obama knew? Or the person who told the Wall Street Journal he didn't?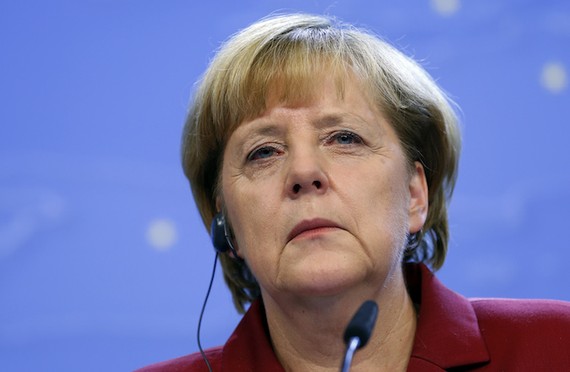 Someone in the U.S. government is lying about the NSA spying on Angela Merkel. Is it the source who told a German newspaper that President Obama knowingly spied on her mobile phone? Or is it the U.S. officials who assured the Wall Street Journal that President Obama was ignorant of the NSA's spying activities?
Either way, the president deserves censure.
If he knew, he signed off on surveillance that would damage America's relationship with a close ally if discovered, and presided over its discovery. D'oh. And if he really didn't know, he has presided over an NSA that is alarmingly unaccountable. It raises the question of what else the NSA is doing on its own initiative, and cuts against the Obama Administration narrative of a spy agency so closely watched within the executive branch that Americans need not worry about it.
Since the NSA and the White House both have a track record of egregiously misleading the public about surveillance, the truth is basically unknowable at this point.
But even the story U.S. officials are telling doesn't inspire confidence:
The National Security Agency ended a program used to spy on German Chancellor Angela Merkel and a number of other world leaders after an internal Obama administration review started this summer revealed to the White House the existence of the operation, U.S. officials said .... The account suggests President Barack Obama went nearly five years without knowing his own spies were bugging the phones of world leaders. Officials said the NSA has so many eavesdropping operations under way that it wouldn't have been practical to brief him on all of them.
That excuse is impossible to take seriously.
Spying on the personal phones of foreign leaders is extremely fraught. As we're seeing, to get caught is to cause major diplomatic problems. Informing the president about this particularly sensitive type of spying would've taken just seconds. "Mr. President, we're monitoring the phones of a few dozen heads of state." If I had to bet, I'd put my money on Obama having known all along. But if he didn't know, it's absurd to insist that it would've been too impractical to tell him.
* UPDATE: The original headline on this post was "At Least One U.S. Official Is Lying About NSA Surveillance of Angela Merkel." An email correspondent argues that there's another possibility—that the German publication is lying about its source—and although I have no reason to think that's the case, it's worth mentioning. The "a U.S. official is lying" argument is indeed contingent on the German publication not making up a U.S. government official. I should've noted that originally, and I thank my correspondent for prompting the headline change and update.