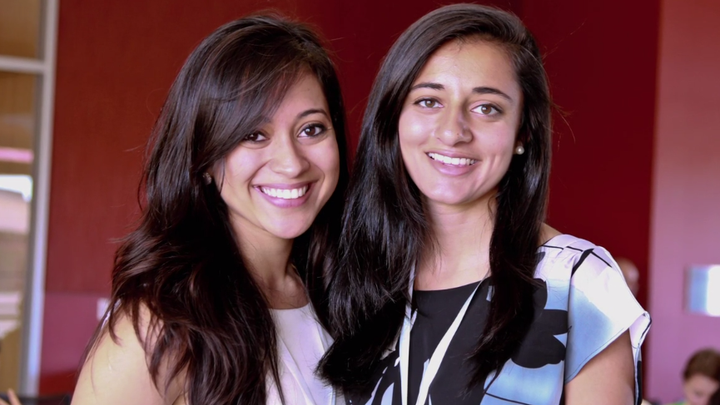 Like many Stanford millenials, Ellora Israni and Ayna Agarwal entered college, wanting to make the world a better place. Israni, raised in nearby Portola Valley, Calif., and Agarwal, from Edison, N.J., saw Intro to Computer Science as a practical if unexpected choice as a pre-req for many classes in their expected majors.
The incoming freshmen met socially after being assigned to the same dorm, but took the CS course in separate quarters, with similar results.
Their ambitions changed.
Still determined to make their mark on the world, they instead were inspired to do it in a different way. They set out to address the significant gender inequities and to infuse a thirsty job market with technologists offering a female perspective.
As sophomores, they launched She++, an initiative that has grown from its initial daylong conference to include a mentoring program involving many women of color and, starting in November, a more robust website and forthcoming fellowships.
Now, both turning 21 in November and set to graduate in spring , they are hailed worldwide as "tech gurus" by The New Indian Express, are backed by some of Silicon Valley's elite firms, and appear at tech conferences as catalysts.
According to The New York Times, in 1990-91, women earned almost 30 percent of the bachelor's degrees in computer science; by 2010, that share had declined to 18 percent. In May, the National Science Foundation and the College Board funded a high school program geared to churn out more computer scientists. According to their figures:
"Though computing is among the fastest-growing areas of projected job growth, the industry is failing to attract our nation's most talented students. Of the 1.6 million bachelor's degrees conferred in 2009-10, only 38,500 (2.4 percent) were earned in computer science — and only 6,894 (slightly over one quarter) of those were conferred to female students. White students earned 60 percent of computer-science degrees in 2009-10, while black/African-American and Hispanic students accounted for 10 percent and 8 percent, respectively, of those earning computer-science degrees during the same period."
Israni shares her perspective of universal computer literacy and of driving more women into technology, including women of color, based on email exchanges, remarks at a Munich conference she appeared at with Agarwal, a She++ documentary, in a joint Changemakers post, and in an interview with the duo in The Women's Eye:
This interview, conducted by Jody Brannon, has been edited for length and clarity.
Anya and I never really intended to be where we are today. We didn't aspire to be nerds. I came to Stanford "¦ as a psychology major, and Ellora as a pre-vet, and then we decided to take our first computer-science class, and our fates were almost decided for us from there. We changed our minds because of some wonderful females in tech who came to campus and inspired us to pursue other paths. We wanted to bring some more mentors and role models (together) so that high school and college students could have the chance to derive the same inspiration we did. Our goal is not to force tech upon women, but rather to provide them a holistic view of what it is to be a woman in tech and let them decide for themselves. And I think coming up with the name "she++" was all the nerdy affirmation we needed.
And it was important to me to give a lot of girls the opportunity to kind of fall in love with what they did the way that I had. I came to realize that whatever I wanted to do with my life I was going to have a bigger impact on the world if technology was part of my toolkit.
As women learning to program, we're not just more computer scientists. We're what we like to call "femgineers." Femgineers have not been coding since they were 2 years old. We are not hackers in the traditional sense. We want to marry life and love and laughter with the most groundbreaking technologies of today in helping make our world a better place.
By 2020, the United States will only have a third of the computer scientists it needs. U.S. business will need 1.4 million computer scientists. These people are solving the most interesting, significant problems we have today, and they will be in dangerously short supply. Women — and minorities in general — are the greatest untapped brain trust of engineering potential. I'd hate to think that women are being excluded from such a rewarding career, and from an industry who will really benefit from having them, because of something as superficial as a stereotype. If women were represented in computer science in the same proportional that they are represented in the undergraduate population, we would double the number of computer scientists we are producing.
I will say though that it's intimidating to walk into a room and be the only woman. But I don't think that means I've had to work harder — just that I've had to develop as a person. It has given me a "tougher skin," but I believe that tougher skin has actually benefited me immensely inside and outside of work, and thus I'm grateful for it. I do hope that someday women won't need a tougher skin to be technical professionals, because for some women that's actually the most intimidating part of it, but for now I'm grateful for having it.
CS is hard — we never said it wasn't — but it's also rewarding. The products technologists touch improve the lives of billions of people on a daily basis""that's really not an exaggeration. Girls see computer programming as the work of nerds and brogrammers, not realizing it's a field that could actually empower them to do whatever they want to do better. Computer science teaches you a really unique way of solving problems and designing solutions""and those are problems inside and outside technology""that you can't get anywhere else. That way of thinking really resonated with me.
[At first], it terrified me. I felt completely incompetent — still do a lot of the time. I think talking about the fact that I still feel underqualified on a daily basis is one of the best things I can do to dispel that fear of inadequacy in other women. I wish someone had forced me to take a CS class — just like they made me learn math and English and all the other skills I was going to need for my future — because that would have pushed me out of my comfort zone and helped me discover something I really love a lot sooner.
[It teaches you] how to fail. CS is a really iterative process, and you're not supposed to get it right the first time. That's a really valuable life lesson as well — to see mistakes as progress. Personally, I have a lot of dreams as a technologist — projects I want to work on, causes I want to explore — and as a person. I'm so grateful for the support she++ has given me thus far, and I look forward to carrying that forward in whatever I do.
We've focused more on gender than on race or ethnicity in our efforts. Because our goal is inclusivity, we always try to ensure we are reaching out to a diverse range of universities, high schools, and companies. The mentors on our page are representative of who has chosen to respond — nothing more.
If we can get to the point where She++ is irrelevant — where there is no paucity of women in tech — that would be phenomenal. Our long-term goal would be for organizations such as She++ to be superfluous due to gender equity in the tech industry, but that's a long way off.
'MY VIEW' OF THE NEXT AMERICA
Are you part of the demographic that is the Next America? Are you a catalyst who fosters change for the next generation? Or do you know someone who is? The Next America welcomes first-person perspectives from activists, thought leaders and people representative of a diverse nation. Email us. And please follow us on Twitter and Facebook.
'MY VIEW' OF THE NEXT AMERICA
Are you part of the demographic that is the Next America? Are you a catalyst who fosters change for the next generation? Or do you know someone who is? The Next America welcomes first-person perspectives from activists, thought leaders and people representative of a diverse nation. Email us. And please follow us on Twitter and Facebook.
---
Jody Brannon contributed to this article
We want to hear what you think about this article. Submit a letter to the editor or write to letters@theatlantic.com.