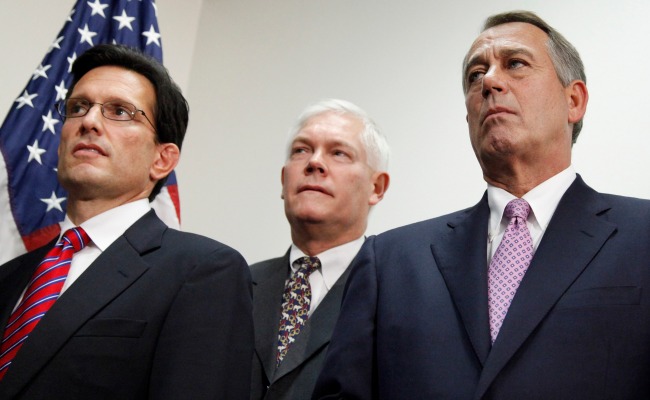 "There may be a back room somewhere, but there's nobody in it," Speaker John Boehner told ABC on Sunday — a good way to describe the stalemate that has set in on the government shutdown and rapidly approaching debt ceiling.
In the absence of negotiation, one might think Republicans would spend their time huddling and coordinating their demands and approach for the next round. For the Democrats, this is easy: Their strategy may have political risks, but they know exactly what they want — a clean continuing resolution to fund the government and a clean debt-ceiling increase.
For Republicans, it's a different matter. A fight that began over Obamacare is now about ... well, what exactly? Last Wednesday, the Washington Examiner quoted Rep. Marlin Stutzman of Indiana saying, "We're not going to be disrespected. We have to get something out of this. And I don't know what that even is."
Five days later, there's no sign they're any closer to figuring it out. Take this quote from Rep. Dennis Ross, a Florida Republican, in the New York Times:
"Republicans have to realize how many significant gains we've made over the last three years — and we have, not only in cutting spending but in really turning the tide on other things," Mr. Ross said. "We can't lose all that when there's no connection now between the shutdown and the funding of Obamacare."

"I think now it's a lot about pride," he said.
Like Stutzman's, Ross's take is striking in its desperate machismo. He admits Republicans have lost the ACA fight that inspired them, but sees this as no reason to stop the fight. The problem is that you can't ask for "pride" in return for raising the debt ceiling. When it comes to specific ideas, the GOP agenda ranges from non-existent to vague to mercurial, and since the party leadership is now taking its cues from a small conservative faction, there's no one who can step forward and unite the party under a single, coherent banner.