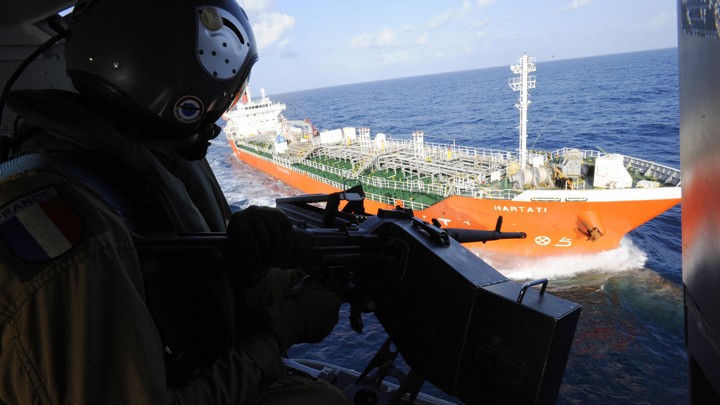 This article is from the archive of our partner

Pirates off the coast of Nigeria kidnapped two Americans early Wednesday, adding to an increasing trend seen in that region.
A report from Reuters shows that pirates attacked a U.S.-flagged oil vessel, kidnapping the captain and chief engineer, both of whom are U.S. citizens.
The FBI and the State Department are leading the American response to the pirate attack. Reuters also reports that there is a small U.S. Marine unit in the region that might be called to respond.
While piracy on the world's seas is at its lowest levels in the last seven years, according to the International Chamber of Commerce's International Maritime Bureau, Nigeria continues to be the main source of piracy in the Gulf of Guinea. In the first nine months of 2013, there were 29 incidents of piracy off the Nigerian coast.
Reuters explains why this region is such a hot spot for recent pirate attacks:
Unlike the dangerous waters off Somalia and the Horn of Africa on the east coast of Africa, through which ships now speed with armed guards on board, many vessels have to anchor to do business off West African countries, with little protection.
Overall, piracy is decreasing worldwide. Here are some of the numbers from the International Maritime Bureau, as of Oct. 17, accounting for the first nine months of 2013:
There have been 188 piracy incidents. By comparison, there were 233 incidents in the first nine months of 2012.
The number of people taken hostage has dropped by 192 since last year, sitting at 266 people.
Thirty-four people were kidnapped.
Pirates hijacked 10 vessels, fired at 17 vessels, and boarded 140 vessels.
One seafarer was killed. Additionally, 20 people were injured and one person is still missing. 
This article is from the archive of our partner National Journal.
We want to hear what you think about this article. Submit a letter to the editor or write to letters@theatlantic.com.