Only 23% of Republicans Want More Women Elected to Congress
The partisan gap on the importance of electing women is enormous.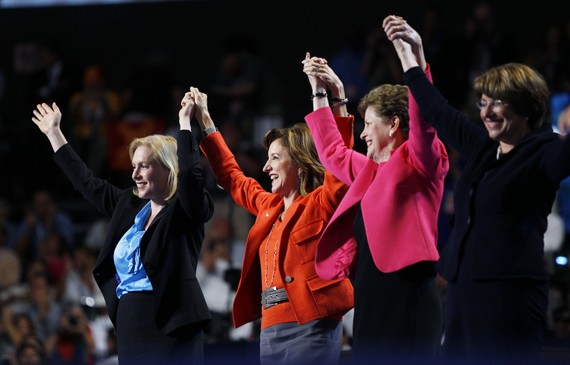 New polling from ABC News-Fusion reveals a startling partisan divide on whether there should be more women in the House and Senate.
Just 23 percent of Republicans surveyed in the poll agreed that "it would be a good thing if more women were elected to Congress." Meanwhile, 60 percent of Democrats agreed with the statement.
The Rutgers Center for American Women and Politics highlighted the results of the poll, which was released October 28 and produced by Langer Research Associates, in a graphic.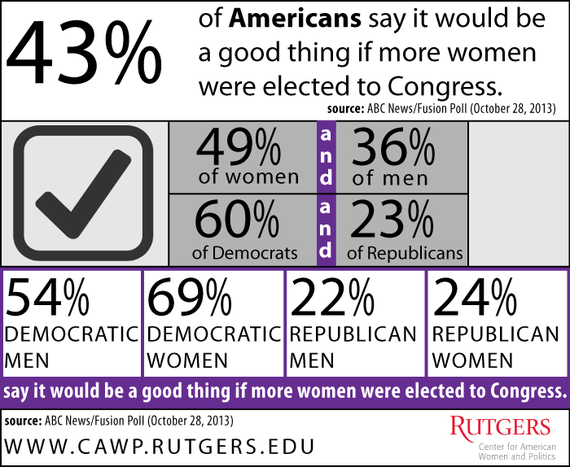 As you can see, there's a bit of a gender divide, with Democratic women being the most supportive of the idea of more women in Congress. Democratic men support the idea by 15 fewer points, but they're still much more likely to think having women in office is something positive than Republican men or women are.
"Another interesting result is that, among Republicans, partisanship trumps gender in views on electing women to Congress," observed pollster Gary Langer in an accompanying article. "There's essentially no difference between Republican men and GOP women in calling this a good thing, 22 vs. 24 percent."
The major alternative to thinking that it's a "good thing" to have women in office was not opposing it, but feeling it didn't matter one way or the other, according to the pollsters.
Also interesting was that 68 percent of Democrats agreed that "women have fewer opportunities than men in the workplace," while just 38 percent of Republicans think that.
The worldviews on display here are starkly disparate: Republicans of both genders are likely to believe women have already achieved equal footing with men and that it doesn't matter if they are elected to Congress. Democrats, meanwhile, believe both that women have fewer opportunities than men and that it's important for them to be elected to Congress.
The vast majority of women who have been elected to the House and Senate are Democrats.