Money Hasn't Bought Boehner Love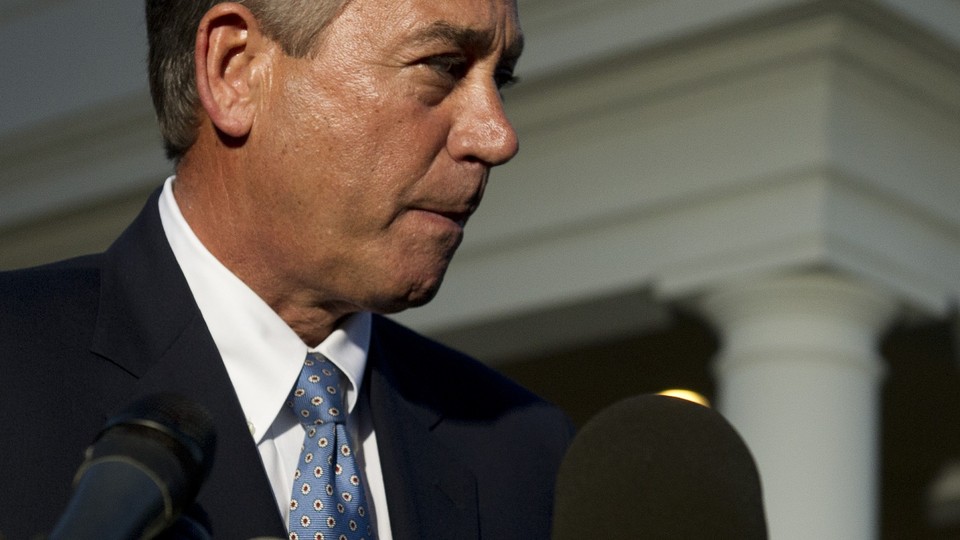 There was a little more to John Boehner's cross-country August road trip than the usual middle-aged summer hijinks, even beyond the fact that one of his golf buddies was Donald Trump and his bus came with a security detail. The 15-state swing let the speaker flex his muscles and exert one of his last-remaining powers to influence his conference: his ability to raise money. Turns out, it wasn't a complete success.
Boehner did raise money, presumably gobs of it. (Rep. Mike Simpson, R-Idaho, reportedly raked in more than $95,000 during the speaker's stop in Boise.) Yet it wasn't enough to keep the team together. Just weeks later, four of the people Boehner spent his summer raising money for bucked his wishes, helping lead to the government shutdown. If Boehner's money talks, some of its recipients weren't listening.
Eighty members of Boehner's restive GOP conference signed a letter in August asking the speaker to include provisions defunding Obamacare in any bill funding other parts of the government. That wasn't the House leadership's original plan, but the drumbeat that built during the August recess was impossible to ignore, and some of the clamor was coming from districts and representatives Boehner had just visited.
"We weren't really in agreement with the original plan," said Rep. Scott Perry, a freshman from Pennsylvania who had held a $500-per-person fundraising event with the speaker. That plan, one in which Republicans would hold off on a major fight over health care until the debt ceiling, could have avoided the current government shutdown.
Kevin Madden, a political consultant who formerly served as a Boehner spokesman, says the rank-and-file simply isn't as beholden to party leaders to raise cash as before. "You have networks of conservative grassroots activists that at the click of the mouse can organize and support a particular candidate," he said.
Rep. Kerry Bentivolio, the reindeer farmer-turned-congressman, says he has been happy that the likes of Boehner and House Majority Leader Eric Cantor have come to his Michigan district to help him with his fundraising. (With a Republican primary opponent already declared and pulling in more than $425,000 in seed money, Bentivolio's going to need all the cash he can get.) He says that he's never heard a peep from the speaker about his decision to take a hard line on the continuing resolution.
"Angry? I have never seen him angry. He is one cool guy," Bentivolio said Wednesday between votes to fund small parts of the government piecemeal. "That's what I like about him. He's like--he's like Eisenhower. He has all these different groups to discuss with and plan strategy. And like Eisenhower, he's raising the right agenda for the right reasons."
Boehner's team doesn't see the fundraisers as wasted effort. Cory Fritz, a spokesman for Boehner's political office, emailed: "The Speaker's August road trip was a success, bringing in much-needed resources for House Republicans as we stand united in working to keep the government running and protect all Americans from the president's unworkable health care law." Even before the trip, Boehner had reportedly donated more than $5.5 million to the National Republican Congressional Committee, the arm of the party charged with winning House elections.
Conservatives such as Rep. Dan Benishek, R-Mich., say that doesn't mean their votes are bought and paid for: "I don't know what one thing has to do with the other," he said with a laugh.
That Boehner lacks power over his conference has become a truism: He can't offer them earmarks because they are banned, he can't punish members because they don't care as much about committee positions, and he can't exploit their insecurities, because many of them represent districts that hail their martyrdom for a cause.
That leaves money as a wedge, but the spigot flows everywhere now. Boehner may have raised $93 million for himself and other Republicans last election, but the Senate Conservatives Fund, the political action committee founded by the Heritage Foundation's Jim DeMint, managed to pull in $1.5 million during the "Defund Obamacare" push in August alone. Even so, there are no signs from Boehner that he's about to be any less generous with his fundraising.
"I spoke with him on the floor last night," Perry said. "I think the relationship is solid and strong. If it wasn't, that would be petty, and I don't think he's that kind of individual. He hasn't shown himself to be that kind of individual."
Maybe that's the problem.