Mike Lee Just Ticked Off Utah on His Crusade With Ted Cruz
The Utah senator has suffered from following his Texas colleague—and so has his state.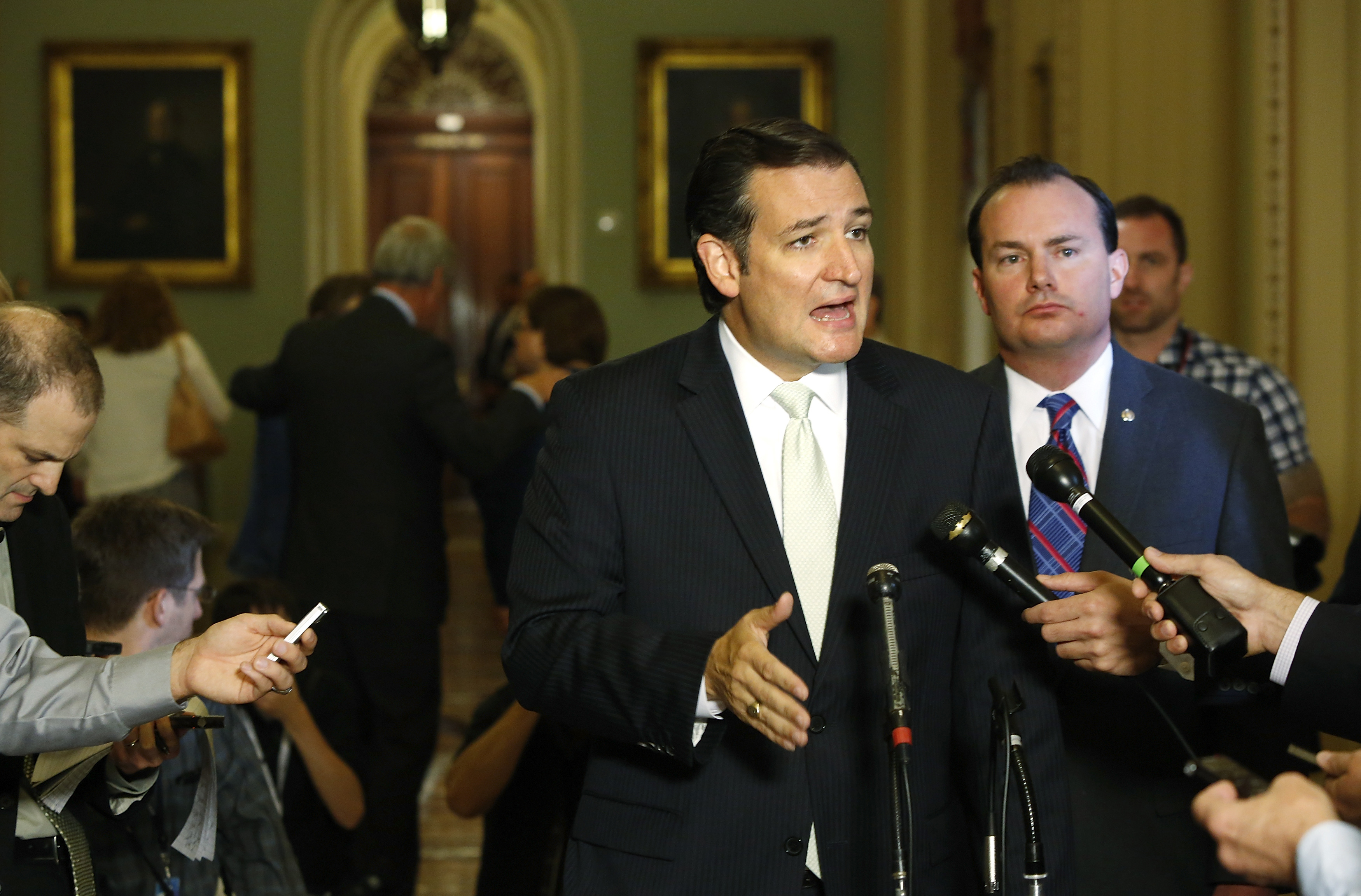 Poor Utah.
Nine counties declared states of emergency since the federal government shutdown began 11 days ago. "We definitely need to get [the national parks] reopened. It's been a huge financial impact on us already," commissioner of Washington County, which is 75 percent federal land, Alan Gardner told KSL.com this week. The ongoing shutdown has had a devastating impact on the tourism sector in Western states. So it came as a huge relief when the Department of the Interior reached an agreement with the states on Thursday allowing them to reopen national parks using funds from state coffers.
Utah Governor Gary Herbert quickly wired the federal government enough to keep the parks open for the next 10 days, and Zion National Park in Washington County reopened Friday. Others are set to reopen over the weekend.
But the fact that the state was so hard hit by the shutdown can't have helped its Tea Party-affiliated U.S. senator, Mike Lee, whose polls numbers have taken a huge hit in his home state as he's made common cause with Texas Sen. Ted Cruz over the shutdown.
Writing at Utah Data Points, Quin Monson, director of the Center for the Study of Elections and Democracy at Brigham Young University, outlines the results of University's latest Utah Voter Poll, conducted post-shutdown:
First of all, 57% of Utahns overall would like Senator Lee to be "more willing to compromise" versus 43% who prefer that he "stand by his principles." That result is not possible in Republican-dominated Utah without at least some Republicans preferring compromise.  In fact, 38% of all self-identified Republicans prefer that Lee compromise compared to 99% of all Democrats.  Independents side heavily with compromise at 65%.

A look at this question by active support for the Tea Party support yields absolutely stunning conclusions.  Among the 13% of respondents who identify as active Tea Party supporters, 90% say that Lee should stick to his principles and not compromise.  Among those who say they are not active supporters (74% of the sample), 73% say he should compromise.

All told, then, Lee has overwhelming support from the quarter of the population that doesn't reject the Tea Party.  But the three-quarters of Utahns who do not identify with the Tea Party come to the exact opposite conclusion....

 

Compared to our June 2013 Utah Voter Poll, Senator Lee's favorability fortunes have reversed course.  In October the favorability to unfavorability ratio is 40/51 while back in June 2013 it was 50/41.  More Utah voters now have an unfavorable impression of him....

 

Back in June he was a rock star with a 71/22 favorable to unfavorable rating.  That's now fallen off quite a bit, but it's still at a respectable 57/33.  Is Senator Lee vulnerable to a challenge from the moderate wing of the Republican Party?  Maybe.  Check out former Senator Bennett's numbers among Republicans in March 2010.  At 57/38 they look a lot like Lee's do now.  If Lee draws a strong Republican challenger, it would be difficult to predict the outcome right now....

 

A strong general election challenger presents a real danger spot for Senator Lee. 

 
Cruz has been trying to move the poles of political debate in Washington, knowing even if he loses the battle he has redefined the battleground. As a newcomer to the capital, he feels he doesn't owe anyone anything and should be shaking things up rather than accepting things as they have always been, quietly keeping his head down like many first-term senators do and biding his time in office. Like Lee, he's also still a hero to his Tea Party base. But
Gallup polling
 Thursday showed a brutal drop in his poll numbers nationwide since he undertook his crusade against Obamacare. Cruz doesn't face reelection for quite some time, but for a politician who might have national ambitions in the near future, his introduction on the national stage has been devastating.
From Gallup
:
He is now much better known -- 62% of Americans have an opinion of him now, compared with 42% in June. But his higher profile has put him in a much less positive light among Americans, with his net favorable rating down 16 points, from a +6 net favorable (24% favorable, 18% unfavorable) in June to -10 (26% favorable, 36% unfavorable) today.
That might be hard for him to overcome, and will certainly restrict his options in the future. People with national negative/positive profiles like the one Cruz now has do not win presidential primaries—even if they have a base on their side in Iowa.