Mike Lee: 'Anger Is Not an Agenda'
The Utah Republican, elected with Tea Party help, went to the Heritage Foundation to call for major changes in the GOP message.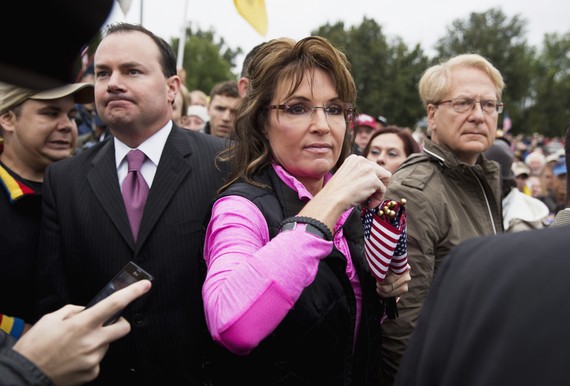 Utah's Mike Lee must have looked at his image in the polling out of his state and not liked what he saw reflected back. On Tuesday, the U.S. senator who Stood with Ted to Make America Listen on Obamacare stood before an audience at the Heritage Foundation and gave a fascinating speech calling for the Republican Party to take a course different from the one he'd just taken.
"Especially in the wake of recent controversies, many conservatives are more frustrated with the establishment than ever before," Lee said. "And we have every reason to be. But however justified, frustration is not a platform. Anger is not an agenda. And outrage, as a habit, is not even conservative."
Instead of "outrage, resentment, and intolerance," the party should project a message—and more than a message, a principle—of "optimism," he said.
"American conservatism, at its core, is about gratitude, and cooperation, and trust, and above all hope," Lee said. "It is also about inclusion. Successful political movements are about identifying converts, not heretics."
His comments are entirely unlike any recent speeches from Tea Party-backed senators, calling not for an ever-more-public fight with the Democrats but for reflection and a turn inward. "[A] month like the one we have been through should lead us not only to re-commit to this essential, ongoing struggle, but also to step back and ask ourselves where we should be headed more generally," he said, asking: "What's next for conservatives?"
Lee looked back to the last great era of conservative reinvention, the 1970s, as he sketched out an agenda that seemed to marry the compassionate conservatism of the Bushes and the anti-cronyism cries of fellow Tea Party leader Sarah Palin.
"What that generation did—comprehensively re-expressing conservative convictions to fit the time—has not been done since," Lee said of the Reagan revolutionaries. "Yet as the decades pass and a new generation of Americans faces a new generation of problems, the party establishment clings to its 1970s agenda like a security blanket."
Where conservatives of the 1970s confronted inflation, poor growth, and "Soviet aggression," the party now, he said, should take on "America's growing crisis of stagnation and sclerosis—a crisis that comes down to a shortage of opportunities."
"This opportunity crisis," he continued, "presents itself in three principal ways: immobility among the poor, trapped in poverty; insecurity in the middle class, where families just can't seem to get ahead; and cronyist privilege at the top, where political and economic elites unfairly profit at everyone else's expense. The Republican Party should tackle these three crises head on."
Tackling poverty, aiding the middle class, confronting entrenched privilege: Those goals, and the array of legislative initiatives Lee proposes to get at them, are enough of a detour from the usual Republican message coming out of Washington that Lee just made himself, once again, one of the most interesting figures in town.
You can—and should—read the full speech here.