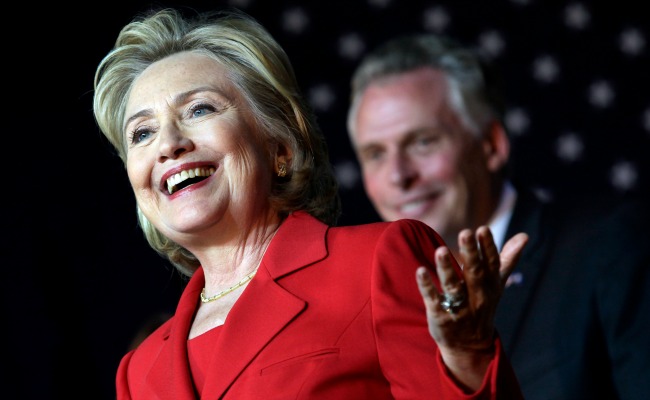 FALLS CHURCH, Virginia — On Saturday, Hillary Clinton was a campaigner again.
It had been five years since the former secretary of state last took to the stump when she appeared here on behalf of her former fundraiser and presidential campaign chairman, Terry McAuliffe, who is the Democratic nominee in the Virginia gubernatorial election scheduled for November 5. And her pointedly political speech showed both the new candidate she will be if she runs again and the old tendencies that remain.
Is she running for president in 2016? Who knows? But if she does, Saturday will have been, in retrospect, a sort of soft launch for that effort—a test drive of the New Hillary.
Clinton could have stuck to personal testimonials about her decades-long friendship with the McAuliffes, or the sort of gauzy, aspirational fluff that has marked her paid speechmaking ("Leadership is a team sport!"). Instead, she undertook a sharply critical look at the state of politics in America.
In her years out of politics, Clinton has, she said, had a chance to meditate on "what makes our country so great—what kind of leadership is required to keep it great." ("Yours!" someone shouted from the audience, eliciting cheering from others and a smile from Clinton.)