Meet the New Hillary
Back on the campaign trail for the first time since 2008, the former secretary of state has a new celebrity and gravitas—but some of the same old flaws.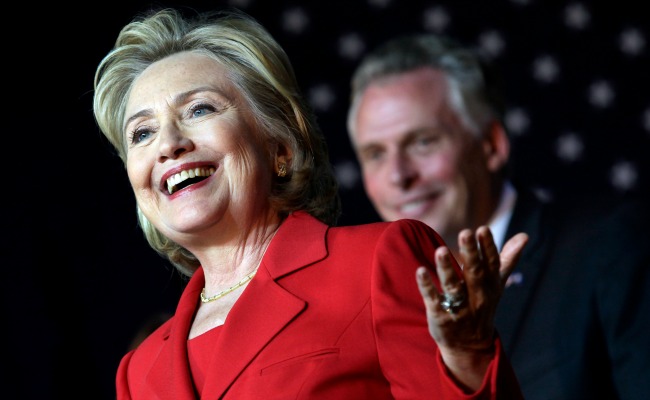 FALLS CHURCH, Virginia — On Saturday, Hillary Clinton was a campaigner again.
It had been five years since the former secretary of state last took to the stump when she appeared here on behalf of her former fundraiser and presidential campaign chairman, Terry McAuliffe, who is the Democratic nominee in the Virginia gubernatorial election scheduled for November 5. And her pointedly political speech showed both the new candidate she will be if she runs again and the old tendencies that remain.
Is she running for president in 2016? Who knows? But if she does, Saturday will have been, in retrospect, a sort of soft launch for that effort—a test drive of the New Hillary.
Clinton could have stuck to personal testimonials about her decades-long friendship with the McAuliffes, or the sort of gauzy, aspirational fluff that has marked her paid speechmaking ("Leadership is a team sport!"). Instead, she undertook a sharply critical look at the state of politics in America.
In her years out of politics, Clinton has, she said, had a chance to meditate on "what makes our country so great—what kind of leadership is required to keep it great." ("Yours!" someone shouted from the audience, eliciting cheering from others and a smile from Clinton.)
"Recently in Washington, unfortunately, we've seen examples of the wrong kind of leadership," she added, "when politicians choose scorched earth over common ground; when they operate in what I call the evidence-free zone." The crowd whooped its appreciation. Families, businesses, women, and children felt the consequences, Clinton said.
The crowd of more than 600 that had crammed into an ornate jewel box of a theater on the main drag of this Washington suburb hung, adoring, on her every word. Many in the crowd sported "Ready for Hillary" shirts and buttons produced by the independent political committee with that name, whose preemptive campaign on her behalf Clinton has notably done nothing to discourage. An attendee I chatted with afterwards, Barbara Micale, made a halfhearted attempt to tout McAuliffe's plans for education before saying, sheepishly, "OK, I have to admit—I came to see Hillary."
After a paean to McAuliffe's qualities of tolerance and business-friendliness, Clinton mused on "why people run for office in these times." She added: "If it's only about yourself—if it's only about you wanting to get a job and get the perks that go with it, you know, have people stand up when you come into a room—that's not enough anymore, because it's hard. Politics is hard ... because people are wary. They're wondering, if I give this person my vote, will he then remember me? If I vote for him or her, will they do what I heard them say they will do?"
For anyone who covered Clinton's 2007 primary campaign, the distance she has traveled with the Democratic base is remarkable. The candidate whose hopes once ran aground on Barack Obama's superior ability to enthrall liberal voters now has rabid grassroots loyalty to go with her new sense of gravitas. Her style was measured and assured; speaking in an even cadence, she seemed relaxed and natural, trusting that she didn't need to get worked up to keep the audience in her grip.
Clinton closed with a paean to McAuliffe's compassion that ended in a dagger to her political enemies. "We cannot let those who do not believe in America's progress hijack this great experiment and substitute for the habits of the heart," she said. "Viciousness, hatred, anger, anxiety, insecurity: That's not who we are as a people."
And yet the naked transactionalism of the event was a reminder of the other side of Clintonism, which has also reemerged as the pre-presidential buzz around Clinton has intensified. (The campaign of McAuliffe's opponent, Ken Cuccinelli, put out a canned statement referencing the Lincoln Bedroom scandal, an allusion sure to warm the hearts of everyone who just picked up the new Pearl Jam CD; outside the event, I ran into a protester concerned about the New World Order, which struck me as similarly quaint.)
Despite the existence of Democratic candidates in other elections this year, McAuliffe, her former moneyman, is the only one to coax her onto the campaign trail, the latest iteration of the favors done and favors owed that have always been the coin of the Clinton realm. There's something very refreshing about the New Hillary, and there's also something stale.