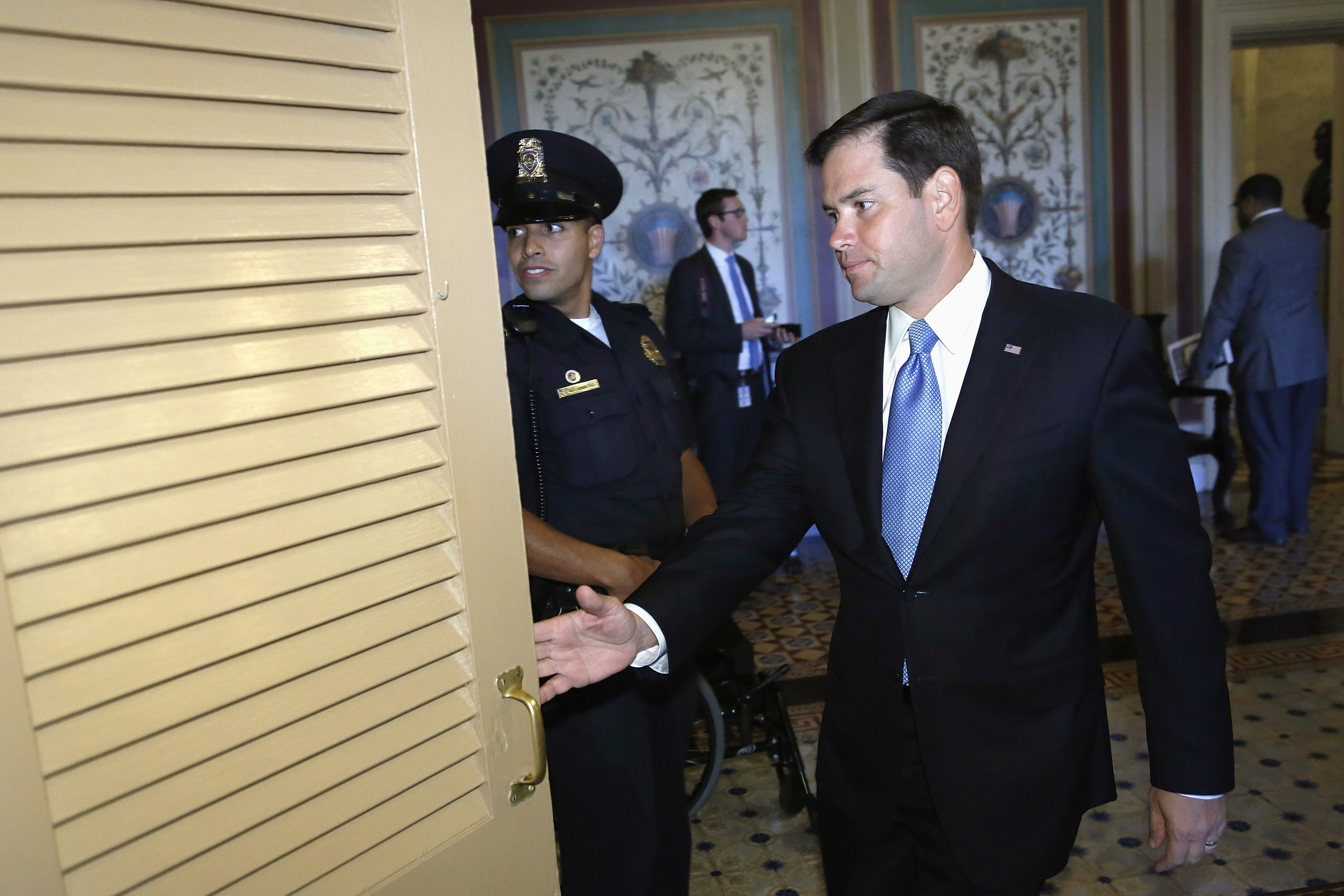 Ted Cruz convinced the Republican Party to shut down the federal government in a bid to defund Obamacare. The result: 120,000 lost jobs, a $24 billion hit to GDP, and a complete cratering of support for the Republican Party in national polls. But it wasn't all bad news—at least for Cruz personally. He raised quite a bit of money off his stunt, and he's a hero to Tea Party types who can lift a politician to a victory in the Iowa caucuses.
Now Marco Rubio, who mainly stayed invisible during Cruz's crusade, is picking up the baton in the anti-Obamacare fight with a proposal that seems, in comparison, logical, moderate, and oriented toward the practical goal of improving the lives of his constituents as they struggle with a federal enrollment system that's proved as unready for prime-time as Republicans warned. Unlike Cruz's bid, it's unlikely to provoke either a national political backlash nor do much to make him a hero to activists.
"It's unfair that on the one hand you are telling people that if they don't buy insurance next year the IRS is going to come after them with a fine," the Florida Republican senator told Bill O'Reilly on Fox News Tuesday. "It's unfair to say that to them and then turn around and make it so difficult, or impossible, for them to buy that health insurance."
Rubio said he plans to introduce a bill on Monday, when the Senate is back in session, to "basically say ... that the Obamacare website has to be up and functioning for six consecutive months before they can begin to enforce this individual mandate on people."
"How you can punish people for not buying something that is impossible to buy because of the inability of this website to function because of government incompetence?" he asked.
It's a fair question. According to the law, anyone who is uninsured for more than nine months in 2014 would have to pay a tax penalty in 2015, but it's not totally clear that a bill is needed. The Department of Health and Human Services and the White House have repeatedly pointed to provisions in the law that already allow for exemptions from the penalty if an individual has been unable to obtain insurance for a variety of reasons. So it's still an open question if there needs to be a new law introduced or whether HHS can just issue additional guidance later in the year if it's not possible to get Healthcare.gov to a high enough level of functionality in time for people to use it to access the exchanges in the 36 states, including Florida, before the end of open enrollment.
Republicans have objected to the White House's use of administrative flexibility in the law to tweak certain provisions, and they have argued that earlier delays, such as of the mandate for large employers, were not legal. But they also have not been able to build a bipartisan coalition for legislation taking alternative approaches.
O'Reilly rightly questioned whether Rubio's proposal could get any support from Democrats, who showed enormous party unity in standing firm in defense of Obamacare during the recent government shutdown and showdown over the debt limit. The answer so far is no. The one Democrat who broke with the White House on the question of an individual mandate delay, West Virginia Senator Joe Manchin, will not back Rubio's bill, according to a spokesman.
"We are not going to support the Rubio bill," said Manchin communications director Jonathan Kott. "We are going to release our own bill." Manchin's bill, also likely to be introduced on Monday, would create a "delay in the individual mandate penalty for one year"—a move that would actually delay it longer than Rubio appears to be proposing to do.
Meanwhile, Democratic Senator Jeanne Shaheen of New Hamsphire has called on Obama to extend open enrollment in the exchanges and to clarify whether people who want to enroll but can't because of Healthcare.gov glitches will be assessed a penalty if they stay uninsured for more than three months next year.
"Given the existing problems with the website, I urge you to consider extending open enrollment beyond the current end date of March 31, 2014," she wrote in a letter to the president. "Allowing extra time for consumers is critically important so they have the opportunity to become familiar with the website, survey their options and enroll."
"If an individual is unable to purchase health insurance due to technical problems with enrollment, they should not be penalized because of lack of coverage," she said.
Arkansas Senator Mark Pryor, a Democrat who will face a tough challenger in GOP Rep. Tom Cotton in 2014, has also called for an extension of the open-enrollment period.
All of which is to say: Get ready for the next round of congressional wrangling over Obamacare. If you thought the shutdown's negative consequences for the party might have killed the Republican fixation with it, you thought wrong.