Janet Yellen's Showdown With Congress
President Obama's nominee for Fed chair would never have had an easy time, but with tensions in the Senate at a high, her path is especially steep.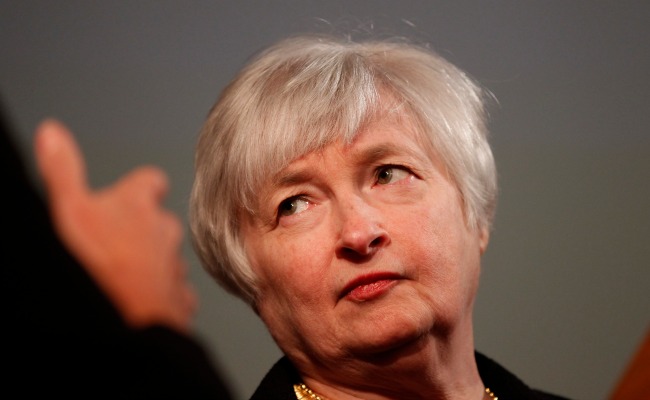 President Obama never had an easy path to winning confirmation for the next head of the Federal Reserve. But he's decided to make it all the more difficult by introducing Janet Yellen at a time when congressional ire has hit new heights—and his opponents are already touting plans to make the nominee's life difficult.
Obama is reportedly planning to send Yellen's name to the Senate Wednesday, asking the chamber to confirm her as the next head of the world's most powerful central bank.
More than most nominees, the pick for Fed director has traditionally been the prerogative of the president, as senators have been reticent to risk the market turmoil that could result from a prolonged battle over the bank's leader. But at a time when Republicans have demonstrated their willingness to use any and all means available to leverage policy concessions, there's no reason to believe that that precedent will be enough to usher Yellen through an easy confirmation.
Indeed, Senator Ted Cruz, R-Texas, has already said he'll use the nomination to look for leverage to pass legislation requiring a deeper audit of the Federal Reserve, a long-time dream of former Rep. Ron Paul, another Republican from Texas, that has become a mainstream goal of the modern GOP.
Yellen's nomination also comes at the nadir of relations between Republicans and the Federal Reserve. Chairman Ben Bernanke was first picked by former President George W. Bush, but his efforts to shock the economy into a stronger recovery have stretched his ties with Republicans well beyond their breaking point.
Conservative critics argue Bernanke's hyperactive bank has put the country at risk of investment bubbles and inflation shocks while providing limited return in terms of economic growth. And with the rise of the Tea Party, Bernanke's visits to the Hill have grown more contentious. At a July hearing in the House, Bernanke begged the House Financial Services Committee Republicans to avoid drama over the debt limit, only to be told by a pair of legislators that he was overstepping his bounds.
Yellen is now being thrown into the middle of that debate, and there's no indication she plans to move the bank in a direction that will garner GOP approval. Yellen is viewed as—if anything—more aggressive than Bernanke in her monetary policy, and she has staunchly defended the Fed's efforts to use easy money to fight unemployment.
As with all nomination fights, the most likely outcome is that the Senate will eventually confirm Yellen to to head the Fed, handing her Bernanke's place when his term expires in 2014. But given the current political climate, her path will be neither quick nor painless.
Matt Berman contributed to this article.