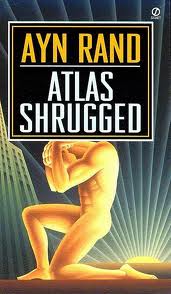 Nearly a year ago, just before Election Day in the Romney-Obama contest, I began receiving emails from a person I eventually referred to as the Atlas Shrugged Guy. The name of course referred to his threat-and-promise that if the American public returned Barack Obama to the White House, this man would, like Atlas Shrugged's John Galt, withdraw his labor and creativity from a leveling, confiscatory society that didn't realize its true dependence on its productive class.
You can read his series of explanations from last year, along with responses, support, and jibes from other readers, in the compendium here.
Since then people have kept writing in asking what became of the man and his threat. For months I just didn't get around to collecting his messages; as you will see, they are voluminous. But now I have, and my purpose is to provide an archive of an extended, detailed expression of what, as the shutdown fight showed, is obviously a significant point of view.
This post is extremely long. I don't expect anyone to read it in one crack. But it may be a useful political/cultural reference source about this element in our current politics.
The hard-line GOP forces in our latest shutdown fight felt that the Obama healthcare plan, and Obama policies generally, were such dire threats that extreme steps in opposition were justified. The man I'm quoting here was not recommending resistance, a la Ted Cruz, but withdrawal, a la John Galt; yet both responses spring from the shared sense that the country has become something alien to them.  You'll see the depths of that outlook expressed here.