In Virginia, a Swing State Turns Against the Tea Party
The Republican divisions laid bare by the government shutdown are playing out in the gubernatorial race, and the result appears to be a Democratic rout.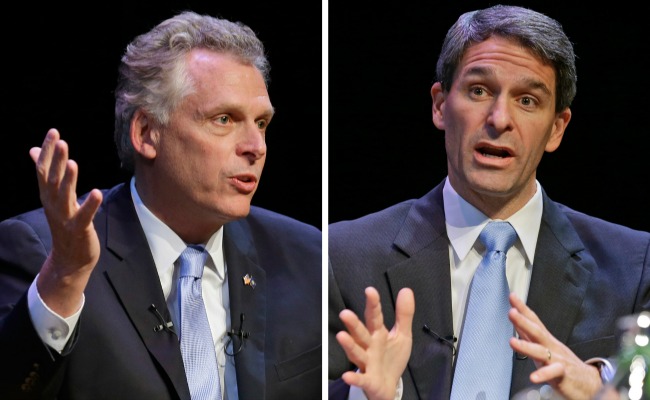 STERLING, Virginia — Surely the greatest irony of the recent federal government shutdown was this: Some furloughed federal workers, finding themselves with time on their hands and presumably angry at what Congress had done to their livelihoods, used their unscheduled leisure to cast their ballots early in the state's gubernatorial race.
"Election officials are reporting an uptick in in-person-absentee voting since the government shutdown hit," the Arlington Sun Gazette reported on October 4, and "furloughed federal workers" were thought to be the cause. Once in the ballot booth, did they take the occasion to vent their annoyance with national Republicans on the GOP's candidate for governor, state Attorney General Ken Cuccinelli? As a parable of Tea Party brinkmanship in Washington hurting the party nationally, it could hardly have been more apt.
Journalists always seize upon Virginia's odd-year gubernatorial elections as bellwethers of the national mood, a leading indicator of potential voter backlash against a new or newly reelected president. The state's governors serve only one term, and for the last 36 years, Virginia voters have never once chosen a governor of the party of the sitting president.
Sometimes the "bellwether" gloss is a cheap journalistic device. But this year, the trope fits absurdly well. Seemingly every aspect of the race exemplifies America's national political currents: An ideologically driven Republican candidate tied to the Tea Party emerges from a primary process controlled by the right-wing base. Democrats look to solidify control in an electoral off-year of a swing state where demographic change has helped them compete in presidential politics. A deeply flawed Democratic candidate bases his campaign on appeals to women, moderates, and disaffected Republicans; the GOP hard-liner focuses on turning out his base.
And if the polls are right, the result is a Democratic blowout.
Those polls have been remarkably consistent for months now, putting Democrat Terry McAuliffe ahead by an average of nearly 10 percentage points. Despite McAuliffe's many questionable qualities, voters seem to prefer him to Cuccinelli and his vision of ideologically pure conservatism. As Republican factions vie for control of the party nationally and the Ted Cruz wing calls the shots in Congress, it's a result that has profound implications in elections across the country in the years ahead.
On Monday, Cuccinelli stood before a cluster of microphones in a cavernous campaign field office, located behind a mattress store in a strip mall in this D.C. exurb. The reporters who had gathered in a ring for an impromptu press conference wanted to know if he supported the legislative deal that brought the government back to life last week. "I don't know whether I would have voted for it," Cuccinelli replied.
He had just finished rallying a crowd of supporters alongside some out-of-state allies, the Republican attorneys general of Alabama, Florida, Georgia, and West Virginia. That morning, President Obama had given a defensive speech at the White House, insisting that the widespread problems plaguing the website for the new health-care law were being addressed and didn't reflect on the law's underlying virtues.
Cuccinelli, to put it mildly, was not buying this. He was the first state attorney general to challenge the Affordable Care Act in court—five minutes after it was signed into law—an effort eventually joined by virtually every Republican AG in the country. And though the Supreme Court eventually upheld the bulk of the law, he pointed Monday to the high court's rejection of the mandatory Medicaid expansion as a partial victory.
Cuccinelli called the rollout a "national embarrassment," and he called on the president to fire Health and Human Services Secretary Kathleen Sebelius and delay the individual mandate a year. "It is tearing up opportunity across America," he said of the law, as the 100 or so supporters who had crammed into the room murmured their approval.
Cuccinelli spoke for 21 minutes. After three minutes of introduction and generic exhortations of liberty, he spent nine minutes bashing Obamacare. Six minutes were then spent recalling other fights he'd undertaken as attorney general, including battling human trafficking and seeking exonerations of the wrongly convicted. The remaining three minutes were devoted to whipping up the volunteers to get out the vote in the final stretch.
Not a word was about the policies Cuccinelli would pursue as governor. There wasn't even a boilerplate sentence about education or transportation or energy or creating jobs. Asked about this omission later, a Cuccinelli aide told me the event was not representative—it was "a rally," as opposed to the "million policy rollouts" the candidate had previously performed. But the subject matter seemed telling of a candidate who critics say has failed to market himself to the middle of the electorate or present a coherent positive vision.
Democratic campaigners love to try to depict Republican candidates as Tea Partiers, even when the label is laughably inapt. Bill de Blasio, for example, the Democratic candidate for New York mayor, has wielded the term like a buggy whip against his opponent, the pro-choice, pro-gay marriage Republican Joe Lhota. But in Cuccinelli's case, the label fits. He's filed briefs on behalf of Arizona's controversial SB1070 immigration law and sued the Environmental Protection Agency, which he calls the "employment prevention agency." His book laments the dependency created by Social Security, Medicare, and Medicaid. He has defended sodomy laws, compared abortion to slavery, and attempted to investigate a University of Virginia climate scientist for fraud.
Cuccinelli's legal gambits as attorney general have earned him acclaim from conservatives across the nation, even as they sparked heartburn in more moderate precincts of the GOP. In the run-up to this year's elections, his main rival was supposed to be Bill Bolling, the Republican lieutenant governor. But Cuccinelli's allies maneuvered to turn the state's primary election into a nominating convention attended by a few hundred hard-core activists. (The convention also produced a surprise lieutenant-governor nominee in E.W. Jackson, a pastor and political newcomer notable for such unusual beliefs as the idea that yoga promotes satanism.) Bolling saw the writing on the wall and withdrew. He has spent the intervening months pointedly lamenting the rightward tilt of the party, both nationally and in his home state.
Like most states, Virginia's Republican Party is home to a vibrant Tea Party faction as well as a traditional country-club-and-chamber-of-commerce wing. Though the latter recoiled at Cuccinelli's nomination, some hopeful observers wondered whether Cuccinelli, an articulate speaker and personable campaigner, might offer an alternative model to Mitt Romney Republicanism: a populist-libertarian Republicanism for the little guy that resonated with the working and middle classes who feel culturally disenfranchised in the Obama era.
But an early attempt to reposition Cuccinelli squarely in the mainstream—his first TV ad featured his wife talking about how he'd volunteered at a homeless shelter and helped victims of sexual assault—appears to have fallen by the wayside in favor of base-stirring red meat. (Meanwhile, the sitting Republican governor, Bob McDonnell, who should have been an asset to Cuccinelli's campaign, has instead been sidelined by a gift-taking scandal and related federal investigation. Cuccinelli has repaid $18,000 in gifts he took from the donor, Jonnie Williams—and McDonnell remains more well-liked than Cucccinelli, according to recent polls.)
Cuccinelli aides say they believe the polls showing him behind aren't right because turnout in an odd year tends to be confined to the most committed voters—chiefly the bases of both parties. They also believe the approximately 10 percent of voters who have been telling pollsters they support a third-party candidate, Libertarian Robert Sarvis, are conservatives who will come home to Cuccinelli when they go to vote. Beneath it all, they evince a certain amount of disbelief that they could really be losing to McAuliffe.
If Cuccinelli made his party squeamish, McAuliffe threatened to give Democrats ulcers. A longtime Bill Clinton fundraiser and close friend, he has a flamboyant manner, a salesman's somewhat oily zeal, and a tendency to exaggerate. The liberal base was particularly cool to him, having rejected him four years earlier in a primary he lost despite outspending his opponent many times over. McAuliffe boasted of his business credentials, but they quickly fell apart under scrutiny. His much-ballyhooed electric-car company turned out to be a barely functioning Potemkin assembly line that was allegedly also a visa-purchasing scheme for Chinese investors. The company, GreenTech, is the subject of scrutiny from both federal investigators and the Securities and Exchange Commission.
On Saturday, McAuliffe called in one of his many chits to bring Hillary Clinton to the D.C. suburb of Falls Church, the first political event the former secretary of state has held since 2008. He railed against gender-based wage discrimination; he vowed to veto any legislation that would restrict birth control and to oppose restrictions on abortion. The overt appeal to women appears to be working for McAuliffe: While polls show the candidates basically tied among male voters, McAuliffe is up by double digits among women.
"We cannot afford to go backwards in Virginia!" McAuliffe said. "We must make Virginia a leader in higher education. We must attract the best jobs in the world. We must expand health coverage for 400,000 Virginians. We must invest in education." Clinton, speaking next, lauded McAuliffe's "common-sense" approach and friendliness to business, while noting, without irony, that with McAuliffe, "what you see is truly what he is all the time."
As Election Day nears, many Virginians have lamented having to choose between the sleazeball and the extremist. The conservative editorial page of the Richmond Times-Dispatch declined to endorse any candidate for the first time in its history; the Charlottesville Daily Progress endorsed Bolling, who remains a noncandidate. The high level of support for Sarvis is thought to be a protest vote, and creates the distinct possibility that the winning candidate will finish with less than 50 percent of the vote.
Yet Republicans who see the race slipping away warn the GOP must take a lesson from Virginia if it wants to win more competitive elections nationally. Tom Davis, a Cuccinelli-supporting former seven-term Republican congressman representing Northern Virginia, has taken to venting to the press about this phenomenon. "You couldn't ask for a better setup for Republicans," he told me. "It's one of the weakest Democrats you could find, a target-rich environment who's lost a Democratic primary before." The Cuccinelli ticket, he said, has "taken a great opportunity for victory and run it into the ground."
Choosing not to see Virginia as a national indicator, Davis said, would be a mistake for Republicans. "This is a national battle. The party's having this bloodletting nationally," he said. "It's already cost us control of the U.S. Senate." The Tea Party, he said, is a valuable part of the GOP coalition, but their vision tends to be "very exclusionary. And the end result is a losing strategy."