In Fracking, West Virginia Sees a Second Chance
Despite a century of lucrative coal mining, West Virginia remains among the nation's poorest states. Now, natural gas represents a new hope for turning resources into riches.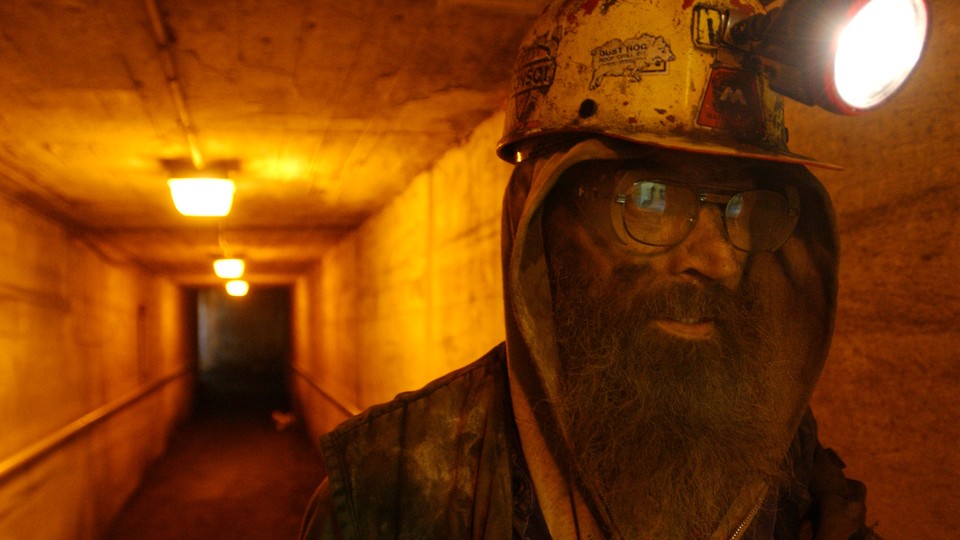 West Virginia's coal built America. It fired its steel mills, lit its homes, and provided the cheap energy to create the wealthiest nation in the world.
But West Virginia's coal has failed West Virginians.
The state remains among the poorest in the U.S., with a median household income of just under $40,000. That's $13,000 less than the national median, more than $20,000 less than that of Virginia, and more than $30,000 less than neighboring Maryland.
The poverty takes its toll: The Kaiser Family Foundation ranked West Virginia 48th in life expectancy, with a projected life span of 75.4 years that exceeded only Alabama and Mississippi and was well below the national average of 78.9. Under an alternative measure of life expectancy used by the Centers for Disease Control, West Virginia was dead last.
But now — after failing to capitalize on its first fossil-fuel boom — West Virginia is getting a second chance to turn resource riches into lasting wealth: Natural-gas development is exploding there.
Through newly available fracking technologies, the state produced nearly 400,000 million cubic feet of gas in 2011 — the latest year for which federal data are available. That's an increase of 50 percent over 2010, and more than twice what the state was producing a decade ago.
And the shale revolution is yielding big dividends for the state government. Producers pay 5 percent of their gas sales to state coffers in the form of a severance tax. For fiscal 2012, that amounted to more than $90 million — up from $40 million in 2004.
But all that revenue is no guarantee of lasting prosperity. West Virginia has been has been collecting taxes on coal since 1921 — the 5 percent severance tax on it raised more than $500 million in 2012 — without those receipts translating into widespread wealth.
Some of the state's most prominent political figures lament it as a missed opportunity.
"If you could have a do-over, go back 100 years, my God, I think we'd be the most prosperous and wealthy state in the nation," said Democratic Sen. Joe Manchin, the state's former governor. "In a perfect world, you would have laws in place that would have prevented the extraction without leaving anything behind."
But state lawmakers are determined that this time will be different.
Jeff Kessler, president of the state Senate, is pushing a plan to set aside a full quarter of the natural-gas severance tax revenue into a "future fund," money that would sit and collect interest while being off-limits to current spending. Kessler envisions the fund's revenues being spent on infrastructure, education, and other programs intended to make the state more competitive.
"Hopefully we'll have the good discipline, foresight, and courage to do something for future generations, instead of spending every penny when we get it," he said. "We've done that for 100 years. It's time to do something different."
Kessler is modeling his effort on a plan recently put in place by North Dakota, which is undergoing an energy boom of its own thanks to shale oil development in the Bakken oil field. North Dakota has already squirreled away $1.3 billion into their fund, which will be off limits through 2017, Kessler said.
Kessler is hoping to pass legislation starting a similar fund during his state's next legislative session, which kicks off in January. It will be his third try at passing the bill, which last session passed through a few committees but couldn't make it to the floor before the session ended.
It is, after all, not easy to convince politicians to pass legislation that by design will not benefit their constituents until after well after their next election. Kessler said his initial plan was to put money away for 20 years, but he has since revised his expectations.
"It'll probably be around 8 years," he said. "I don't think politicians have the patience to wait 20 years for much of anything."
Even that vision, however, may not be an easy sell, given the ongoing need for social services in West Virginia. In a state where nearly one in five people lives below the poverty line, it's difficult for politicians to explain why they are spending on the future when so many are desperate in the present.
The need for social services could grow if coal — whose contribution to the state's economy still dwarfs that of gas — begins to falter. The fuel currently faces a dual threat of increasingly cheap natural gas and an unfriendly climate in Washington, where the Obama administration's new rules on mountaintop removal mining have made mine permits much harder to come by.
But that hand-to-mouth mentality is what landed the state in its current dire straits, Kessler said.
"I don't necessarily blame the coal companies," Kessler said. "It wasn't their obligation or duty or role to come in and say, 'How can we create wealth for this state?' It was a lack of foresight on the part of the politicians. I think maybe they were just so certain that coal would be forever and so they didn't have to worry about tomorrow."
---
Amy Harder contributed to this article