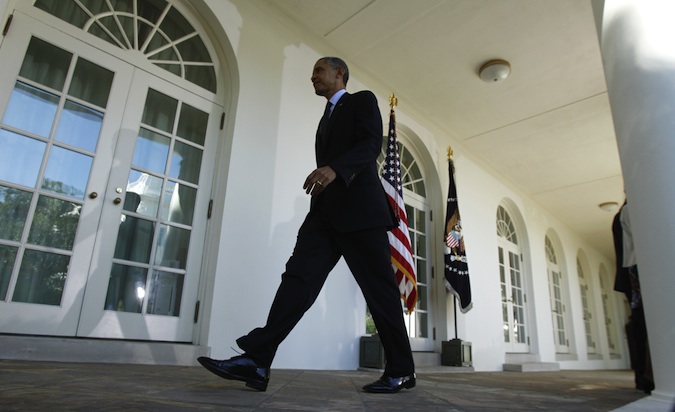 President Obama was wise to avoid military intervention in Syria, despite intense pressure from hawkish advisers and a curiously pro-war press to attack the country. His reluctance to do so saved the United States from a risky war of choice. The whole debate is laid out in a New York Times story that conveys just how eager Hillary Clinton, John Kerry, and others were to "put skin in the game."
The newspaper doesn't seem to agree that avoiding war was a good thing. But the part of its writeup that piqued my attention most concerns the decision to arm Syrian rebels. The noteworthy passage:
... debate had shifted from whether to arm Syrian rebels to how to do it. Discussions about putting the Pentagon in charge of the program—and publicly acknowledging the arming and training program—were eventually shelved when it was decided that too many legal hurdles stood in the way of the United States' openly supporting the overthrow of a sovereign government.

Instead, Mr. Obama decided to make the rebel training program a "covert action" run by the C.I.A. He signed a secret finding allowing the agency to begin preparing to train and arm small groups of rebels in Jordan, a move that circumvented the legal issues and allowed the White House to officially deny it was giving the lethal aid. Besides the legal worries, there were other concerns driving the decision to make the program a secret. As one former senior administration official put it, "We needed plausible deniability in case the arms got into the hands of Al Nusra."         
So according to the Times, Team Obama decided to act covertly instead of transparently in order (a) to circumvent the law; and (b) to escape accountability if their policy resulted in arming an al-Qaeda affiliate. Are those now acceptable justifications for secrecy? Perhaps we'd be better off if secrecy didn't facilitate our entry into civil wars. Incentives might be better aligned if, when folks funnel weapons that end up in the hands of terrorists, they can't plausibly deny that it happened. 
As it turned out, the plan to aid the rebels didn't go forward for some time after that, and was ultimately made public for complicated reasons. I just can't get over how uncontroversial it has become to decide to act in secret almost regardless of the justifications.