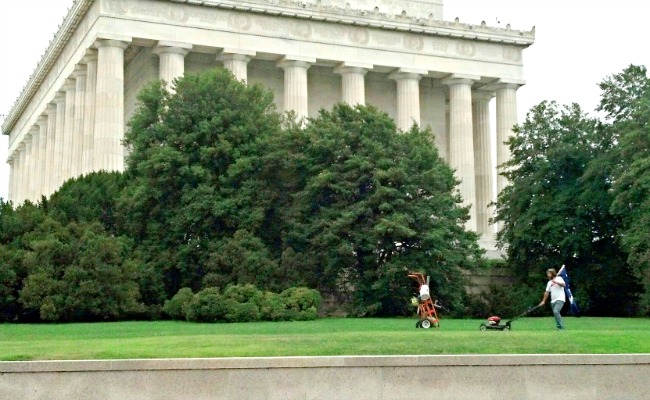 Christopher Cox decided the nation's capital was looking ratty and he was going to do something about it.
On Wednesday, the chain-saw sculptor from South Carolina planted himself on a patch of thick lawn abutting the Lincoln Memorial and started to cut the overgrown grass with a gas-powered mower. A passerby took his picture and tweeted it out. It quickly went viral. The Weekly Standard—whose Jonathan Last editorialized in a cover story that "the conduct of the National Park Service over the last week might be the biggest scandal of the Obama administration"—covered it on the magazine's website, where Jim Swift reported that Park Police officers asked Cox to stop his act of civic-minded volunteerism. Others, such as the The Kansas City Star, picked up the story online. The local Washington CBS News affiliate did a post, interviewing Cox. Columnist Michael Barone at the Washington Examiner blogged about him, calling the fact that a South Carolinian was mowing the Lincoln Memorial grass a sign the Civil War was well and truly over.
The incident encapsulates how National Park Service closures have become the most visible face of the shutdown, now in its second week. Members of Congress who backed the government shutdown and fiercely oppose Obamacare and the president flocked to the World War II Memorial to chastise park rangers and stand with elderly veterans who feared being shut out of planned visits to the site on the National Mall, prompting NPS spokeswoman Carol Johnson to eventually offer a First Amendment-based reason to give the veterans access despite the shutdown.