How Can You Run the Economy Without Any Data?
The government shutdown means no federal reports about inflation, employment, and a raft of other crucial metrics. Look out for uninformed decision-making.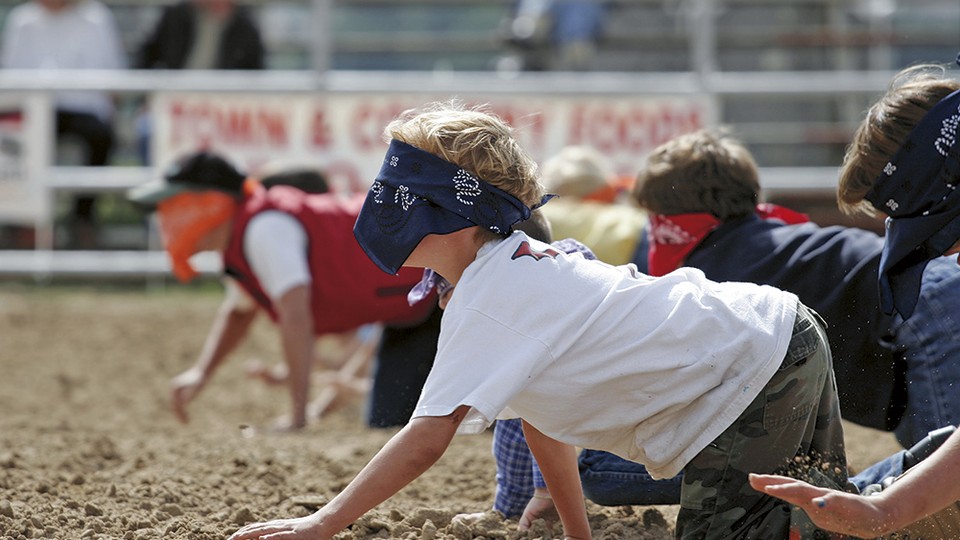 Lawmakers are walking a dangerous path in the debt-ceiling standoff, and thanks to the government shutdown, they're walking it in the dark.
When Republicans last danced with default in 2011, they did so accompanied by a steady stream of federal data to keep them apprised of the economy's progress. But this time, the government economists and analysts who produce that data are furloughed, leaving Washington and Wall Street unable to accurately judge the health and value of the American economy.
The first big, market-sensitive report that never showed up was last week's September jobs report. But it's hardly the only one. Since the shutdown began Oct. 1, the federal government has been unable to issue one Census Bureau trade report, the bureau's retail-sales report, a Labor Department release on imports and exports, the producer price index, and inventories data. Next up: the closely watched inflation assessment known as the consumer price index (a report from the Bureau of Labor Statistics that tracks the value of Americans' paychecks) and data on home building that can offer an early sign of coming booms or busts.
Wait, there's more — and it's worse. Next week is when the Census Bureau and BLS would be busy collecting data to measure jobs and unemployment in October, but because the government is shuttered, there will probably be a two-month disruption in knowledge on the health of the job market. It would also be crunch time for economists at the Bureau of Economic Analysis, who are working to deliver the gross domestic product estimate by Oct. 30. "We are losing touch," says Keith Hall, a former BLS commissioner. "Good, comprehensive data make decisions better and help people make fewer mistakes. As this goes on, I think there's a real chance of mistakes."
It's not just Congress that will suffer for flying blind: Federal data underpin decisions that affect every aspect of American economic life, from Wall Street and the Federal Reserve to farm fields and garage-based tech start-ups. (Demand for this stuff trickles down from white-shoe banks and up from public high schools: The single most-viewed information on the BLS website has always been the occupation data, Hall says, a favorite of high school guidance counselors looking to get their students off to a good start in the job market.)
But perhaps most important, the reports help keep the global financial system reliably functional. While missing a week of numbers is not apocalyptic, business leaders will get nervous if the data blackout continues. "It really paralyzes decision making," says Joseph LaVorgna, chief U.S. economist for Deutsche Bank. "In the absence of the federal reports, people have to rely on lower-quality information, and they likely don't transact as much, they don't invest as much." How does a bank hedge against a subprime-mortgage crisis when it can't know how many risky home loans were issued?
The sudden vacuum comes at a particularly inopportune time, as Washington's dual crises have the potential to drive major changes to the U.S. economy — and drive them quickly. This has happened before. In 2011's debt-ceiling battle, the stock market, seeing a default threat in the United States and a sovereign-debt crisis in Europe, plunged as the Aug. 2 debt-ceiling deadline approached and Washington remained deadlocked. The Dow Jones industrial average began sliding July 22, and the losses weren't erased until this January. (See "Breaking Bernanke's Heart.")
So far, Congress has been getting mixed feedback on the economic consequences of its brinkmanship. Stock indexes haven't repeated their 2011 plunge yet, but buyers are flocking to Treasury bills, a stable but low-yield asset whose renewed popularity suggests that investors are getting increasingly nervous. Meanwhile, on consumer confidence, the consequences are as clear as they are discouraging: A Gallup Poll released last week found confidence had cratered since the shutdown, falling to its lowest level since 2009, when Americans were experiencing mass layoffs and the financial crisis put the economy on the brink of collapse.
None of these signals come close to adequately replacing federal reports on the economy's underlying fundamentals. "It's definitely a partial substitute," says Tara Sinclair, a George Washington University economist. "We all look at the government numbers as the gold standard. Some of these private-sector reports come in more quickly, but then they have to go back and benchmark to the government numbers."
Some data remain available — the Treasury Department is still issuing the Daily Treasury Statement, for example. But it's not nearly enough to flesh out a picture of the state of the U.S. economy. Even the still-operating Federal Reserve will have a problem analyzing because much of its input comes from data produced by federal agencies.
That means politicians and investors are left to stitch together scraps of information and guesstimate the economy's size and well-being, creating the possibility (probability, even) that a sizable gap emerges between perception and reality. And the longer the government is shut down, the wider that gap could grow.