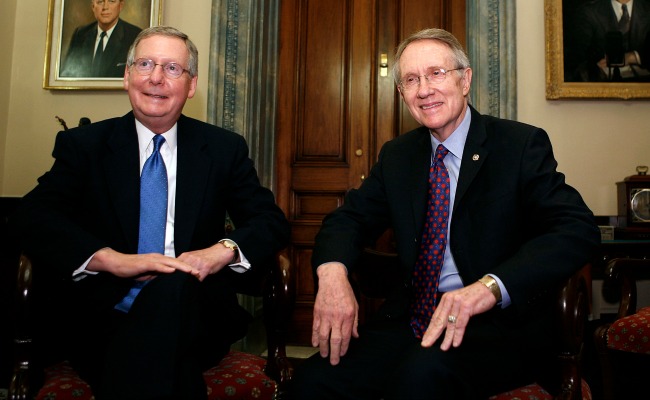 Stop us if you've heard this one before, but it sure looks like a deal to end the shutdown and raise the debt ceiling is in sight.
Here's the basic outline of the plan, according to reports from multiple outlets:
The government is funded through January 15.
The debt ceiling is raised through February 7.
There are two minor changes to Obamacare: There will be stronger verification of incomes for those applying for insurance subsidies, a Republican wish; and a reinsurance fee in the law will be delayed for one year, a Democratic desire.
A bipartisan conference committee on the budget is supposed to finish formal negotiations on a long-term plan to fund the government and reform the tax code by mid-December, with the goal of replacing further planned cuts from sequestration.
The deal is the product of talks between Senate Majority Leader Harry Reid, who has been the enforcer of Democratic Party unity throughout the crisis, and Minority Leader Mitch McConnell, who had appeared to be mostly on the sidelines.
Is this deal good for the country? It depends what you mean. Assuming the plan succeeds, it's certainly preferable to shutdown and default, but it looks a lot like another punt by Congress, pushing the issues just a little bit down the road. How optimistic are you about a bipartisan, bicameral budget committee's chances, given the Supercommittee's showing? How excited are you for another shutdown in January? Or another debt-ceiling crisis in February?