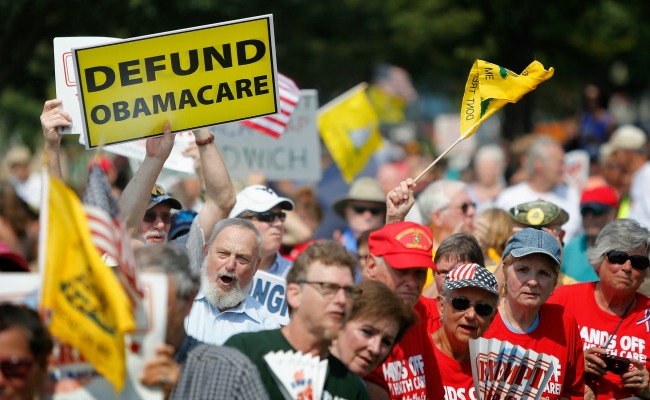 The march toward government shutdown got its start in mid-July with a meeting in the office of Senator Mike Lee of Utah. Lee and his colleagues Ted Cruz of Texas and Marco Rubio of Florida huddled with representatives of Tea Party groups like Heritage Action, ForAmerica, and the Tea Party Patriots. Their mission: to turn defunding Obamacare from a fringe idea with little congressional support into a popular movement.
It worked. The groundswell the conservative groups helped create over the summer make conservatives in Congress aware of the fight, in turn forcing the hand of Republican leaders. Obamacare has not, of course, been defunded, but it was House Republicans' insistence on crippling the health-care bill as a condition of funding the government that brought about this week's shutdown.
The real reason the House GOP hasn't backed down and passed a government-funding bill isn't because of 30-some intractable Tea Party members in their ranks or because Cruz refused to play along. It's because their loudest, most engaged constituents demanded it, amplified by the savvy, coordinated tactics of the right-wing pressure groups that have proved adept at leveraging grassroots pressure into Washington results. As Representative Greg Walden recently told a group of Republican donors, according to the Daily Beast: "We have to do this because of the Tea Party .... The Tea Party gets involved at the local level."