Former CIA Employee: Spying on Angela Merkel Was a Misuse of Scarce Resources
Targeting the German leader showed poor judgment, according to the former vice chairman of the CIA's National Intelligence Council.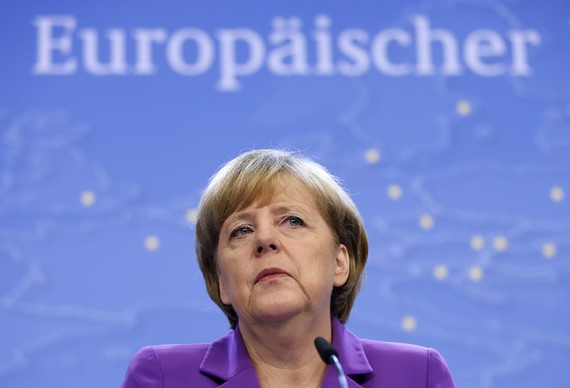 In the 1980s, Herbert E. Meyer served as special assistant to the director of central intelligence, as well as vice chairman of the CIA's National Intelligence Council. On Monday, he participated in the debate about U.S. surveillance on German Chancellor Angela Merkel. Commentators who say that it's no big deal are missing something important, he argued—what it says about America's choice of targets.
Intelligence analysts are in limited supply, he explained, and if they try to monitor everything, the most likely result will be a system that doesn't know anything useful. Thus his frustration:
An effective intelligence service must pick and choose its targets very—very—carefully. And that's a matter of judgment. What could we possibly hope to learn from Angela Merkel's cellphone conversations that's worth the risk of offending one of our country's most important allies? Is she likely to be calling China's president to co-ordinate an invasion of Russia? Is she on the phone with the head of Pakistan's army to secretly purchase one of that country's nuclear bombs for the Luftwaffe? Are you kidding? This is Angela Merkel, one of the world's most capable, serious, head-screwed-on-straight leaders. There isn't a chance she would do something to start a world war or fracture the Western alliance. 

It's more than likely the most interesting call we'd pick up from the German chancellor is a conversation with her husband saying she'll be home late for supper because a delegation of Greek bankers has unexpectedly arrived in Berlin to beg for yet another Euro loan. And you don't need spies or wiretaps to have predicted this—or to predict Merkel's response to their pleas.
Is he right?