Democrats Go Nuclear on John Boehner
Leaked emails show that before the House speaker demanded an end to health-care subsidies for congressional staffers, he worked behind the scenes to procure them.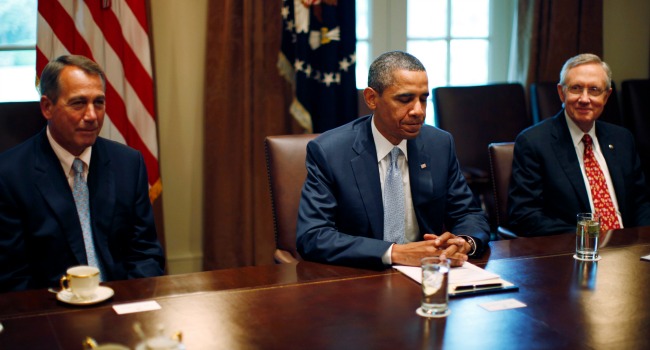 Harry Reid has been Democrats' steel spine throughout the shutdown fight, steadfastly refusing to budge an inch from his demand for a budget resolution that doesn't touch Obamacare and even insisting President Obama not negotiate with Republicans. And it looks like the shutdown has only made him more eager to fight.
Democrats were, and are, incensed at a Republican proposal late Monday to pass a resolution funding the government while eliminating subsidies for congressional staffers to pay for insurance. While canceling the subsidies doesn't make much sense on a practical level, it seemed like good politics: Speaker John Boehner and his caucus  argued they didn't want Congress to get any kind of special treatment under the health-care law.
But it turns out Boehner knew just how impractical such a proposal would be. Politico scoops:
Yet behind-the-scenes, Boehner and his aides worked for months with Senate Majority Leader Harry Reid (D-Nev.), House Minority Whip Steny Hoyer (D-Md.), and others, to save these very same, long-standing subsidies, according to documents and e-mails provided to POLITICO. Senate Minority Leader Mitch McConnell (R-Ky.) was also aware of these discussions, the documents show ....

Boehner and Reid, in fact, went so far as to ask to meet with President Barack Obama to lobby him personally for help -- using a cover story in order to protect the secrecy of the discussions, according to these documents.
The story also has some juicy quotes:
But according to several sources in attendance at a mid-July meeting with Reid, Boehner wondered aloud at one point whether he and the Nevada Democrat could quietly slip some language into a bill to end the problem without it receiving any public attention.

"When I was in the state legislature, we used to stick things in [bills] and no one would notice," Boehner said during a private meeting with Reid in July to discuss this issue, the sources said ....

"We can't let it get out there that this is for [Boehner] and [Reid] to ask the President to carve us out of the requirement of Obamacare," Sommers told David Krone, Reid's top aide in a July 17 e-mail obtained by POLITICO.
The Politico story doesn't say that Reid leaked those "documents and emails," but the story has Reid's fingerprints all over it. Of the parties privy to the communications, it's doubtful Boehner or McConnell wanted this story out. And Roll Call reported early Tuesday morning that Senate Democrats were considering the leak.
This revelation puts Boehner in a very tight spot. To the public, he looks like a hypocrite for trying to have it both ways. To conservative activists, he looks like a sell-out who's squishy on Obamacare and can't be trusted -- confirming all their worst suspicions about him.
Does this make a resolution to the shutdown any harder? That's tough to say. If personal and behind-the-scenes communications like this are subject to leaks, it's sure to increase paranoia and make both sides cagier about what they say in conversations about the shutdown and the debt-ceiling. But it certainly shows just how bad the relationship between House and Senate leaders has become.