D.C. Leaders: Give Us Our Money or Give Us Handcuffs
The shutdown's put a spotlight on the District's fight for autonomy, and some City Council members are ready to break the law.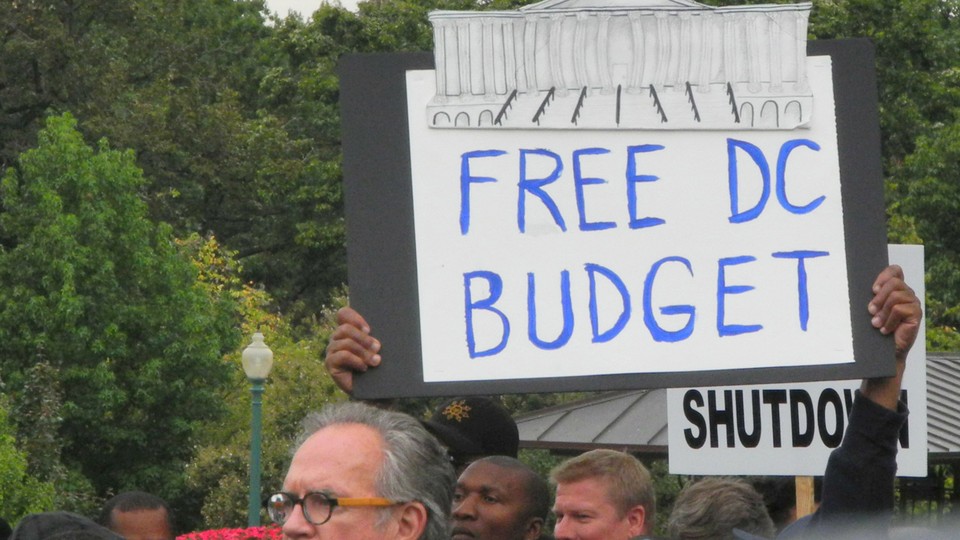 The federal shutdown has put the District of Columbia in the familiar position of political prop. This time, however, city leaders won't sit for it.
"It's a new attitude in D.C.," councilmember David Grosso told National Journal at an event hosted by the voting-rights advocacy group DC Vote earlier this week. "We're no longer going to ask for permission. We're going to stand up for our rights and spend our local money."
The problem is that even while the city runs its own municipal government, it's the only jurisdiction in the United States whose budget and revenues are controlled by Congress. For the past two weeks, the city has gotten by by tapping an emergency reserve, but those funds will run dry as early as Tuesday of next week, leaving city services such as schools, police, and trash collection in the lurch.
Republicans have used D.C.'s appropriations as a political wedge issue, voting to allow the city to spend its own funds after Democrats opposed any piecemeal bills to restore funding to the government. The mayor has sought to negotiate with congressional leaders, and even took a more aggressive approach Wednesday, confronting Senate Majority Harry Reid on the steps of the Capitol.
But Grosso says D.C. should not be asking for permission to spend its own money anymore, a move that would violate the federal Antideficiency Act. He put D.C.'s fight for autonomy in a historical context. "The biggest most violent debates we've had in this country are separation of state and federal powers," he said. "That's been debated even prior to the birth of this country."
Mayor Vincent Gray dismissed Grosso's approach in an address Thursday night, arguing that violating the Antideficiency Act undermines D.C.'s moral authority in negotiations with Congress. He also said such a move could make District underlings vulnerable. "Anyone who has a role in obligating the District to pay funds or disbursing those funds--people who let contracts, or accountants, or payroll officers--could potentially be at risk of conviction for a federal felony that carries a maximum of two years in federal prison and a $5,000 fine," the mayor said Thursday. Gray added that while he has "no problem taking these legal risks myself," he's not comfortable putting his employees in legal jeopardy.
Grosso isn't buying it. "When you stand up for yourself and you stand up for what's right no matter what, you have greater moral authority," he said in a follow-up interview Friday. "I don't think it's a very hard choice there," Grosso said. "I'm willing to break that law."
So far his position has won the support of half a dozen or so D.C. councilmembers, including David Catania, Anita Bonds, Kenyan McDuffie, Mary Cheh, and Tommy Wells.
"Who would they send to arrest us?" Grosso continued. "The Capitol Hill police? Who would arrest the people of the District of Columbia for spending their own money? I can't figure it out."
Correction: an earlier version of this story misspelled a councilmember's name.