Day 3 of the Shutdown: House Passes Partial Funding Bills, Senate Holds the Line
Shutdown closes military grocery stores, Rep. retreats from controversial remark.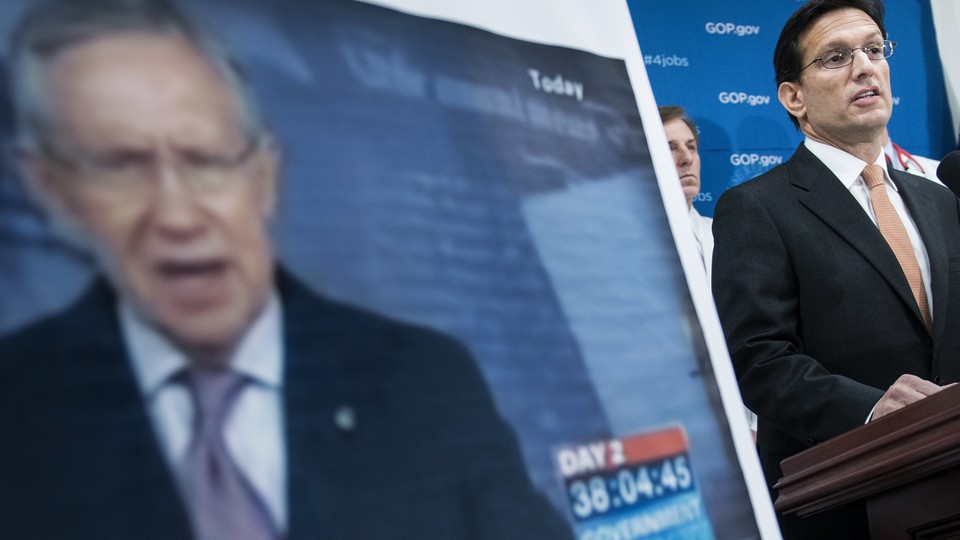 BREAKING NOW: Congressional action was suspended after an incident at the White House led to a car chase ending at the Capitol building. The suspect has reportedly been shot and killed. The Capitol is no longer on lockdown. The House has resumed action, but the Senate plans to adjourn for the day, according to multiple reports. More updates here.
Before the gunshots shut down Congress, congressional Democrats were holding the line on their demand that Republicans pass their bill to reopen the government, but House Republicans were making every effort determined to make that position painful.
The House is holding a series of votes Thursday aimed at restoring government funding for the some of the country's most popular programs. The latest came Thursday afternoon the House passed legislation to restore funding for certain payments to National Guard and National Reserve members, adding to a cue of bills in the Senate that already includes measures passed Wednesday that would restore funding for National Parks, the Veterans Affairs Department, and the government of the District of Columbia.
But Majority Leader Harry Reid has said he and his caucus have no intention of backing off their original demand: that the House pass the Senate bill that would extend funding for the entire government without making any policy changes. And so when Minority Leader Mitch McConnell requested the Senate pass the House measures by unanimous consent Wednesday morning, Reid blocked the move.
We'll keep you updated throughout the day as the action progresses.
UPDATE: 2:31 p.m. — Government Shutdown Puts Congress Between Soldiers and Their Groceries
America's soldiers may be earning their pay during the government shutdown showdown, but they aren't able to buy groceries at military commissaries. All 175 commissaries in 46 states and the District of Columbia were closed indefinitely on Wednesday, a Defense Commissary Agency spokesman confirmed.
The commissaries are military grocery stores that sell food items to soldiers, retirees, and their families at cost plus a modest surcharge. Patrons save about 30 percent on their food bill compared with commercial groceries; little wonder the commissary benefit is consistently rated the most popular perk of military service in customer surveys.
UPDATE: 1:13 p.m. — With Debt-Ceiling Deadline Fast Approaching, Boehner May Be Getting Desperate
House Speaker John Boehner, R-Ohio, has told colleagues that he is dead-set on preventing the government from defaulting on its bills, a risk that becomes reality when the debt ceiling is reached on Oct. 17, reports The New York Times. One House Republican said Boehner is willing to violate what's called the Hastert Rule, which keeps any measure that doesn't have a majority of Republican votes off the floor, to avoid federal default. (By Marina Koren)
UPDATE: 1:03 p.m. — Senate Republican Skepticism About a Grand Bargain
There is no sign yet of a breakthrough among congressional leaders over ending the shutdown.
Even so, rumors about a grand bargain swarm around the Capitol, as Billy House reported yesterday.
But Republican senators don't see that happening. We've been here before, they say and leaders have come up short.
"No doubt about it," said Sen. John McCain, R-Ariz. "That approach has failed so many times that no one can have a lot optimism about it.
Senate Majority Leader Harry Reid, D-Nev., also said that he expects the Senate to be in session this weekend. (By Michael Catalini)
UPDATE: 12:10 p.m. — Oops! He takes it back.
Rep. Marlin Stutzman, R-Ind., has issued an apology for a Wednesday remark that suggested he and other House Republicans don't know what they are trying to accomplish in the government-funding standoff.
"We're not going to be disrespected," Stutzman said in an interview with the Washington Examiner. "We have to get something out of this. And I don't know what that even is."
But on Thursday, Stutzman's office released a follow-up statement, amid criticism that his comment perfectly sums up why a solution to the crisis is so hard to find.
"Yesterday, I carelessly misrepresented the ongoing budget debate and Speaker Boehner's work on behalf of the American people," said Stutzman. "Despite my remarks it's clear that the American people want both parties to come to the table to reopen the government, tackle this nation's debt crisis, and stop ObamaCare's pain." (By Billy House)
UPDATE: 11:48 a.m. — Obama: Boehner Is Keeping the Government Shut Down
Speaking from a construction company in Rockville, Md., President Obama said that Speaker John Boehner is the only one keeping the government shut down, urging him to bring a clean CR to the house floor. There are enough votes to pass that bill, Obama said. "You don't negotiate by putting a gun to the other person's head," Obama said. "Since they've taken over the House of Representatives we've had one of these crises every three months."¦ I'm tired of it."
Obama, who called the dismantling of the Affordable Care Act an "obsession" of Republicans," struck a defiant tone on that law itself. "The government's now shut down, but the Affordable Care Act is still open for business," Obama said. "There will be no negotiations. The American people are not some sort of pawns in a political game." (By Matt Vasilogambros)
UPDATE 11:30 a.m. — Ted Cruz to Donate Salary to Education Program for Low-Income Students
Sen. Ted Cruz, R-Texas, will donate his salary to YES Prep, a group of charter schools that provide education to low-income children in the Houston area, a press assistant told National Journal. One of the first to announce he would donate his pay for the duration of the shutdown, Cruz had kept quiet about which organization he chose for two days, despite "hundreds, maybe even thousands" of calls to his office. (Marina Koren)
UPDATE 10:58 — Here Come the Shutdown Ads
Heritage Action for America announced Thursday it was purchasing $400,000 in digital ads targeting vulnerable Senate Democrats up for reelection in 2014 for supporting Obamacare. The buy targets Mark Begich of Alaska, Mark Pryor of Arkansas, Mary Landrieu of Louisiana, and Kay Hagan of North Carolina — all states that Mitt Romney won.
The 15-second ads can be seen here. (By Shane Goldmacher)
UPDATE: 10:55 a.m. — Day 3 in the Senate Looks Like More of the Same
Senate leaders took to the floor Thursday morning to repeat similar talking points and hint that the now-three-day-old government shutdown will not likely end for several days. Majority Leader Harry Reid's target: Sen. Ted Cruz, R-Texas. "It's time to defy your tea-party overlord," Reid said. He continued a trope used by the Democratic National Committee during his remarks, saying, "Sen. Cruz is now joint speaker. He lectures the House like he sometimes lectures here."
For his part, Minority Leader Mitch McConnell, R-Ky., focused on the supposed failures of the exchange rollout of Obamacare, and said the meeting between congressional leaders and the president "wasn't particularly encouraging." He also took a shot at President Obama, who he said was "campaigning" on Thursday. The president is in neighboring Rockville, Md., visiting a construction company. (By Matt Vasilogambros)
---
Shane Goldmacher, Matt Vasilogambros, Billy House, Michael Catalini, and Marina Koren contributed contributed to this article