Cory Booker Is a Senator-Elect—What Kind of Senator Will He Be?
As expected, he won a New Jersey special election Wednesday night, but the path ahead is far from clear for Washington's newest political celebrity.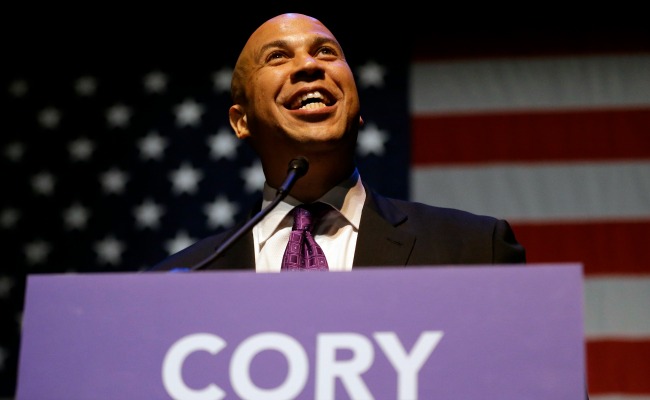 American political life has been disturbingly rife with surprises lately, but there were no surprises in Wednesday night's Senate special election in New Jersey. Democrat Cory Booker, the mayor of Newark, won it easily; with 94 percent of precincts reporting, Booker claimed 55 percent of the vote to Republican Steve Lonegan's 44 percent.
Booker will come to Washington a celebrity thanks to his social-media savvy, his zeal for hands-on constituent service, and his jet-set connections. But what kind of senator he'll be remains something of a mystery. Many elite liberals distrust Booker, reading in his consensus-oriented tone an unsavory coziness with Wall Street corporatism. Remember when he defended Bain Capital against the Obama campaign's attacks? (Not helping Booker's case in this regard, before the election had even been called, he had been booked on Morning Joe for Thursday.)
Booker insists that his record is that of a selfless anti-poverty crusader. Remember when he lived for eight years in a housing project? Republicans, meanwhile, have depicted him as an erratic and untrustworthy self-promoter. Remember when he couldn't quite substantiate his much-discussed friendship with a local drug dealer?
Booker's Senate campaign took some of the sheen off his golden persona. His record in Newark came in for tough scrutiny, and he was often thrown off balance. It didn't matter; he still won. It falls to Booker now to shake off the web of competing expectations and make his mark in an institution where digging people out of the snow doesn't get you far.