Congress Was Warned the Shutdown Would Delay Military Death Benefits
The House GOP's shutdown strategy: responding to pain points after causing them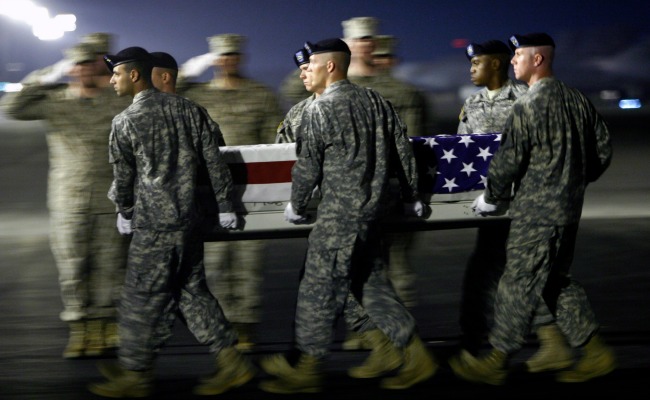 Pentagon Comptroller Robert Hale warned in late September that military death-benefit payments would be delayed for families of troops who were killed during a government shutdown, but it took until the second week of the crisis for members of Congress to propose doing anything about it.
"We would also be required to do some ... bad things to our people," Hale warned during a briefing on September 27, detailing the negative effects of a shutdown on the military. "We couldn't immediately pay death gratuities to those who die on active duty during the lapse."
Hale said the situation
"is ghoulish, but it's the law, not policy. Remember that."
Now that NBC News reports that families of five servicemembers killed over the weekend in Afghanistan won't get their benefits, there is outrage. Republican members of Congress announced plans to legislatively address the problem, which Speaker John Boehner called "disgraceful," on Wednesday. Senate Majority Leader Harry Reid also expressed outrage over this consequence of the funding lapse, calling the situation "appalling."
"Your government has let you down in a time of need. There's no excuse for this," Senator Lindsay Graham of South Carolina, a heavily military state, said Tuesday of the foreseen, announced, and unaddressed delay in death benefits caused by the shutdown.
The military "death gratuity" provides $100,000 to families of troops killed in action. The burial benefit and survivor housing allowance are also suspended.
As the nation has settled into the government shutdown, Republicans have settled into a strategy of focusing on highly visible pain points caused by the shutdown to argue for piecemeal fixes of problems that officials warned of in advance. They've also begun to use these pain points as fodder for their argument that the government as a whole is out of touch with the needs of the American people, as if each painful shutdown problem were an example of the terrible policies set by an out-of-control government, rather than a direct consequence of the law mandating that the federal government cease all non-essential activities funded through the appropriations process during a shutdown.