Coal Country's Decline Has a Long History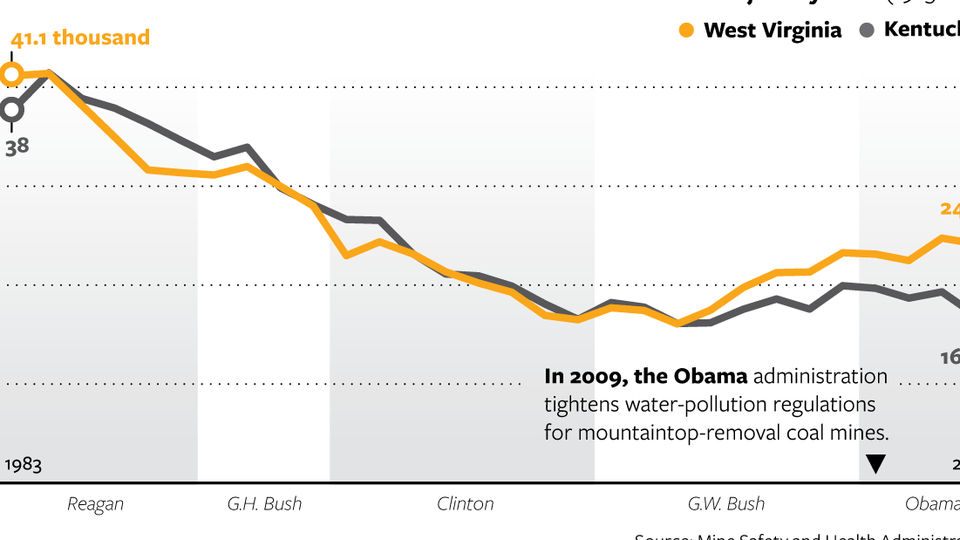 Sen. Rand Paul sees a "depression" in Appalachia's coal country, and he says there's one man to blame for it: President Obama.
The Kentucky Republican isn't alone in his fury over Obama's treatment of the coal industry. A bipartisan bloc of elected officials from across the region shares his views, including two influential West Virginia Democrats, Sen. Joe Manchin and Rep. Nick Rahall. The critics argue that by tightening rules on mountaintop-removal coal mining and imposing greenhouse-gas emission limits on coal-fired power plants, Obama and his allies are regulating the industry out of business — and putting legions of coal miners out of work.
The president's regulatory push has left him and his party deeply unpopular across the region: Bill Clinton won Kentucky and West Virginia in both of his presidential elections; Obama lost both states, twice, in landslides.
But for all the rage over Obama's environmental agenda, mining jobs began disappearing in the region long before he entered the White House, for reasons that have nothing to do with regulations now coming out of Washington.
In fact, coal mining jobs in Appalachia fared far worse under the Reagan, Clinton, and George H.W. Bush administrations than they have under Obama.
According to employment counts from the Mine Safety and Health Administration, from 1983 — the earliest year for which MSHA had data — to 1989, combined coal jobs in West Virginia and Kentucky fell from 79,000 to 64,000.
In the following four years under the first President Bush, coal jobs in the two states fell to 56,000. And by the final year of the Clinton administration, the states' combined total of mining jobs had fallen to a nadir of 33,000.
By comparison, West Virginia and Kentucky coal-mining payrolls have been relatively stable during Obama's first four years in office: In 2009, there were just under 43,000 coal miners in the two states combined. In 2012, the latest year for which MSHA has final data, the count totaled just over 41,000.
So what's driving the decline? First and foremost: changes in the industry.
Despite mining employment being cut nearly in half since 1983, the two states' combined coal output has basically held steady, dropping from 245 million short tons in 1983 to 240 million short tons in 2011.
Advances in mining technology have made miners more efficient.
Indeed, the traditional images of coal mines — dark holes filled with men swinging pickaxes and pushing carts — are no more. Today, it is machines that are ripping coal from the mines' walls, and then automatic conveyor belts whipping the fuel back to the surface.
And much of the production has moved above ground entirely, thanks to a practice known as mountaintop-removal mining, in which miners use controlled explosions to open mountains and mine the newly exposed coal seams.
For the miners and other industry employees who still hold jobs, the increased productivity has paid off. According to the Bureau of Labor Statistics, nominal average annual coal industry employee wages in West Virginia sat at $54,000. By 2012, the average employee was taking home nearly $85,000.
The starring role of mechanization, however, does not mean that federal policies have no effect on the number of coal jobs.
The region saw its fortunes reverse under President George W. Bush, who in 2002 relaxed rules on mountaintop-removal mining to give companies more leeway to dump their leftovers into the region's waterways. From 2001 to 2008, West Virginia and Kentucky's combined coal industry experienced a mini-revival, adding an average of about 1,000 mining jobs per year.
But as industry officials argue they could experience another such revival, they face a new hurdle that had not yet fully taken off in the early 2000s. Today, they face stiffer competition from natural gas, which is both more abundant and less expensive due to the fracking boom.