Coal Backers Hold Major Rally to Protest EPA Regulations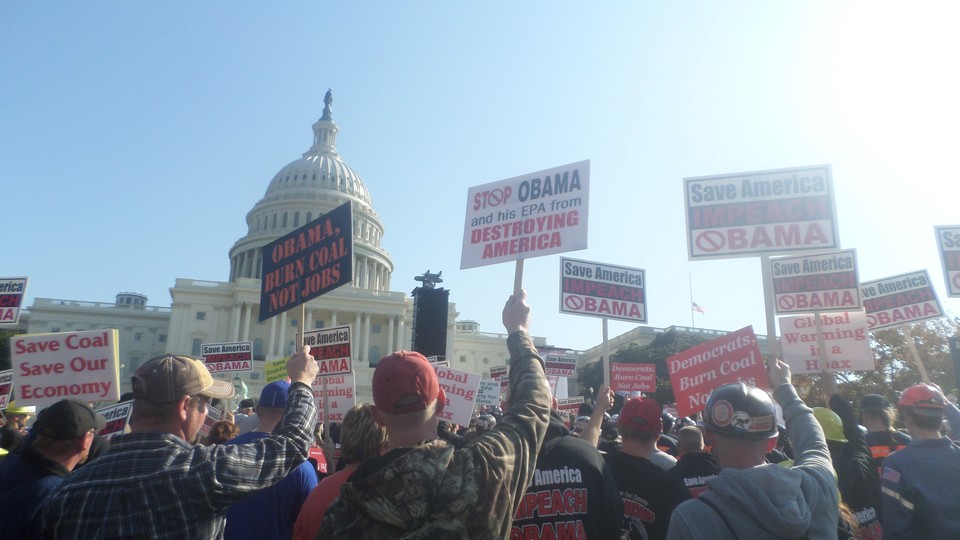 Several thousand workers from the coal and mining industry and their families converged on the west lawn of the Capitol building Tuesday to protest the Environmental Protection Agency's greenhouse-gas regulations.
The event, organized by Count on Coal, a grassroots coal-advocacy group, brought together lawmakers and coal workers from states like West Virginia, Kentucky, and Ohio, which are likely to be hard hit by EPA's regulations on coal-fired power plants.
"The coal business is really hurting because of what Obama's done and we're just trying to make a statement," said Steve Morton, a 62-year-old worker at a preparation plant for a coal mine operated by KenAmerican Resources in Kentucky.
"They want to put coal out of business is what they want to do," he added. "They're doing their best to put regulations in place that nobody can afford."
A number of lawmakers spoke at the rally, including Reps. Shelley Moore Capito, R-W.Va., and Nick Rahall, D-W.Va., along with Sens. Rand Paul, R-Ky., Joe Manchin, D-W.Va., and Senate Minority Leader Mitch McConnell, R-Ky.
Many of them, including Capito, Paul, and McConnell, rallied around what has now become a well-worn battle cry of the coal industry — the idea that President Obama is waging a war on coal.
"When coal suffers, it's not just the miners who suffer "¦ it's the truck driver, it's the waiter, it's the teacher, it's our railroads," Capito said, to cheers. "Make no mistake: This is a war on coal. This is a war on American jobs."
Paul similarly slammed the White House when he took to the stage amid considerable applause.
"I just got back from the mountains of Kentucky," he said. "It's not a recession. It's a depression out there and I blame one man for this — President Barack Obama."
Others, such as Rahall, were critical of proposed regulations to limit carbon emissions from coal-fired power plants, but stopped short of pointing the finger directly at the administration.
"You know, where I come from in the heart of West Virginia coal country, if you step across the line in someone else's backyard and you challenge them to a fight, you stick around and you duke it out," Rahall said. "We believe in a fair fight. But not this EPA, that's not what they believe in. This EPA has been throwing regulatory stones, circumventing the Congress and snubbing its nose at the legal process."
The rally comes as part of a major push this week against the EPA regulations, including draft legislation released by Rep. Ed Whitfield, R-Ky., and Manchin to block proposed EPA regulations on greenhouse-gas emissions from new power plants and grant Congress authority to decide when a rule-making for existing plants would take effect. A separate hearing will examine the impact of EPA regulations on coal communities.