Barack Obama, Insurance Salesman in Chief
The president finally acknowledged the deep problems with Healthcare.gov, but rather that explain or dwell on them, he urged Americans to keep trying.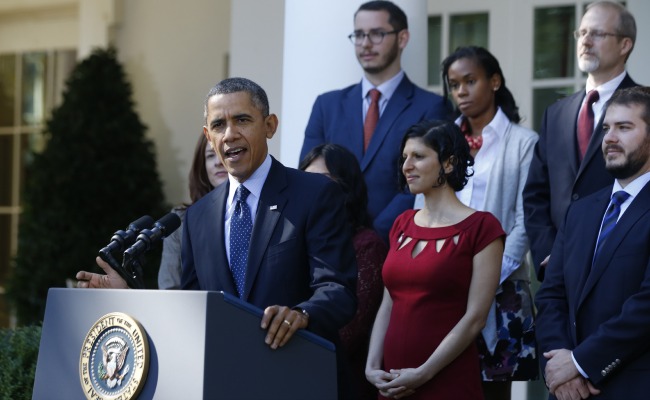 Of all the things Barack Obama ever expected to be during the course of his life, a television insurance salesman is probably not one of them.
But that's the role he took on Monday morning in a Rose Garden speech pitching insurance through the Affordable Care Act's online marketplaces and acknowledging for the first time just how troubled the website to access them is. His remarks failed to address many of the specific concerns raised by reporters and technologists about the gargantuan Healthcare.gov website, and he and provided no new information about what went wrong or how, specifically, it will be fixed.
Instead, his message was more like an infomercial designed for the general public: We know there are problems with the site and we are on it. Meanwhile, we're offering a great product that will save you money, so keep on trying, even if it's a little frustrating.
Obama was introduced by Janice Baker, the first woman to enroll through the exchanges in Delaware and owner of the Heavenly Hound Hotel dog kennel in Selbyville. She said she got insured after making "a number of frustrating attempts."
That was the same word Obama used to describe his own feeling about the website. "There's no sugarcoating it. The website has been too slow. People have getting stuck during the application process," the president said. "And I think it's fair to say that nobody's more frustrated by that than I am."
But, he continued, "the product is good" and while "there's no excuse for the problems ... these problems are getting fixed."
He also described a letter from a Pennsylvania man that "pretty much sums my message today: Yes, the website really stank for the first week. But instead of paying $1,600 per month for a group insurance plan, we have a plan that will only cost us $692 a month, savings of $900 per month."
The man was "frustrated by the website. But he's feeling a little less frustrated once he found out that he was saving 900 bucks a month on his health insurance," the president said.
"The website's going to get fixed," Obama assured. "We are doing everything we can possibly do to get the websites working better, faster, sooner. We got people working overtime, 24/7, to boost capacity and address the problems. Experts from some of America's top private-sector tech companies, who've, by the way, have seen things like this happen before, they want it to work," he explained, in the most specific section of his remarks about what is happening to address the site.
"They're reaching out," he said. "They're offering to send help. We've had some of the best IT talent in the entire country join the team. And we're well into a tech surge to fix the problem."
Obama also reminded listeners that "the Affordable Care Act is not just a website"—it's a set of policy changes that alter how insurance is regulated and what sort of coverage is available. And he pitched the call center people can used to enroll if they can't get the website to work, or if they just prefer to use the phone.
"We've also added more staff to the call centers where you can apply for insurance over the phone .... But keep in mind, these call centers are already up and running. And you can get your questions answered by real people 24 hours a day in 150 different languages," Obama said.
"The phone number for these call centers is 1-800-318-2596," he continued. "I want to repeat that: 1-800-318-2596. Wait times have averaged less than one minute so far on the call centers, although I admit that the wait times probably might go up a little bit now that I've read the number out loud on national television."
The only thing missing was the classic infomercial promise of operators standing by.