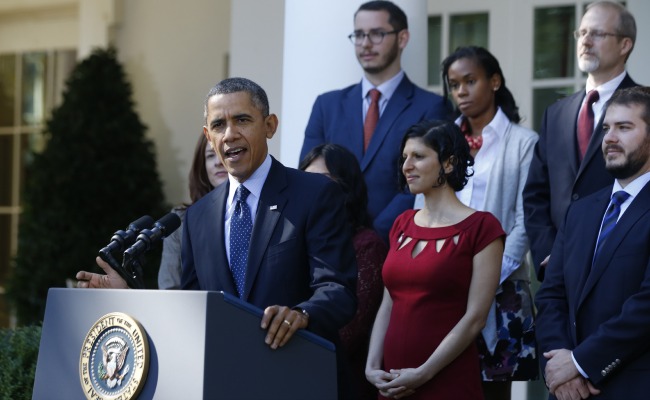 Of all the things Barack Obama ever expected to be during the course of his life, a television insurance salesman is probably not one of them.
But that's the role he took on Monday morning in a Rose Garden speech pitching insurance through the Affordable Care Act's online marketplaces and acknowledging for the first time just how troubled the website to access them is. His remarks failed to address many of the specific concerns raised by reporters and technologists about the gargantuan Healthcare.gov website, and he and provided no new information about what went wrong or how, specifically, it will be fixed.
Instead, his message was more like an infomercial designed for the general public: We know there are problems with the site and we are on it. Meanwhile, we're offering a great product that will save you money, so keep on trying, even if it's a little frustrating.
Obama was introduced by Janice Baker, the first woman to enroll through the exchanges in Delaware and owner of the Heavenly Hound Hotel dog kennel in Selbyville. She said she got insured after making "a number of frustrating attempts."
That was the same word Obama used to describe his own feeling about the website. "There's no sugarcoating it. The website has been too slow. People have getting stuck during the application process," the president said. "And I think it's fair to say that nobody's more frustrated by that than I am."