Actually, Obama Has Been Terrible for Immigrants
The first black president has deported more brown people than anyone before him.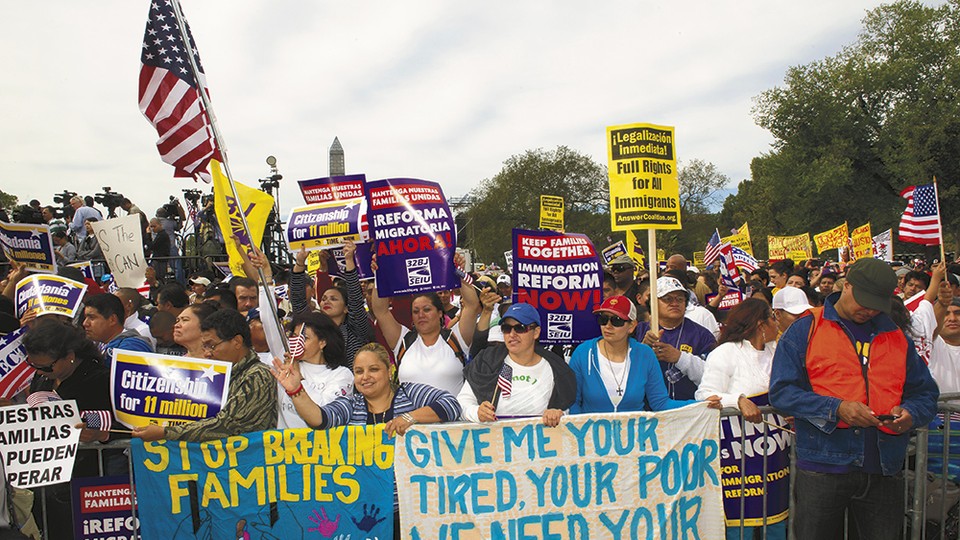 The first black president could be the one who detains and deports the most brown people in U.S. history. Without a course correction, that's the legacy President Obama is building, and it could put him and his Democratic allies at odds with the fastest-growing demographic in the country.
Obama is on track to deport 3 million immigrants without papers by the end of his second term, more than any other president. George W. Bush deported about 2 million over two terms. Obama will likely hit that mark this month. Bill Clinton didn't even get to 1 million. The average daily count of immigrants in detention now is about 33,000. In 2001, it was 19,000. In 1994, it was 5,000, according to the Detention Watch Network. Almost all of the detainees and deportees are Latino. True, the population of illegal immigrants has also doubled in that time to more than 11 million. But the detainee and deportee counts have escalated more than twice as fast.
"He could go down as the worst president in history toward immigrants," said Arturo Carmona, executive director of the liberal activist group Presente.org.
Carmona is willing to say publicly what many in the Hispanic community have been saying privately for years: They can't count on Obama. Yes, the president supports a major overhaul of immigration, but when Congress can't achieve it, he continues to lock up or forcibly remove their people when it's not necessary. They see the policy as a continual reminder that they aren't welcome when the president could, if he wanted to, slow the deportations to about half the current rate.
To be fair, this White House is not any different from its predecessors. Major immigration legislation didn't happen under Bush either, despite support from him and many in Congress. Administratively, Obama is simply following a course that was put into place in the Clinton administration and solidified by Bush. Under Clinton, a harsh immigration law passed in 1996 that mandated detention for unauthorized immigrants who had any kind of brush with the law. During the Bush years, Congress starting using its annual appropriations to require that the detention centers remain full, and lawmakers even mandated an additional 8,000 detention beds. As a result, about 40 percent of the detainees don't need to be there.
The problem for Obama is that he promised Latinos he would be their champion. He guaranteed an immigration bill in the first year of his presidency. He decried deportations that separated families. Then he failed to deliver. "He made the broadest, biggest promises. You didn't expect that much from George Bush," said Rep. Luis Gutierrez, D-Ill., who campaigned for Obama in 2008 and has since cried foul over the growing deportations.
Could Obama wind up being the worst president ever for immigrants? "In the absence of Barack Obama signing a comprehensive immigration-reform bill, God, I think the case can be made," Gutierrez said.
This administration has shown it can be lenient toward the unauthorized population. In 2012, Obama deferred deportations for young adults who were brought here illegally as children. But that was after he spent two years insisting he didn't have the legal authority. He is now using the same argument to explain why he can't stop deportations for other noncriminals. In 2011, the president told immigration authorities to make pregnant women or family breadwinners a low priority in deportations. But last year, the Homeland Security Department deported 17,000 unauthorized immigrants who had no criminal background.
The flip-flops give fodder to Republican critiques. "Fourteen hundred a day," said Rep. Mario Diaz-Balart, R-Fla., of Obama's running deportation tally. "There are not 1,400 criminals a day."¦ This is a president who selectively enforces the law."
DHS officials say they are focusing on deporting undocumented lawbreakers. Fifty-five percent of the 409,000 deportees in 2012 fell under the category of "convicted criminals." But not all of those crimes were rape, murder, or theft. They also included using a forged ID, a common practice by immigrants looking for work, and one that employers tacitly sanction.
None of this will be a problem for Obama if legislation passes that creates a path to citizenship for a sizable chunk of the undocumented population. If that doesn't happen, though, he will be stuck with his deportation numbers. Politically, Obama was fortunate in 2012 that Hispanic voters didn't see another option. "The only explanation as to why so many Latino voters keep going Democratic is because the other offering is worse," said Oscar Chacon, executive director of the National Alliance of Latin American and Caribbean Communities. "We need to become, formally, independents."For the next Democratic presidential candidate, the luck may not hold. "Republicans are being boneheaded on immigration," says Alfonso Aguilar, who ran DHS's Citizenship and Immigration Services under Bush. Aguilar believes 40 percent of the Hispanic electorate is up for grabs if Republicans become more friendly toward immigrants — say, along the lines of Sen. Marco Rubio of Florida or Rep. Paul Ryan of Wisconsin.
But many House Republicans disagree. They say at least two-thirds of Hispanics will always vote Democratic, so why bother? Those members could be enough to stop a major immigration bill — and leave Hispanics with little reason to support the GOP. Signs of disaffection from both parties are already apparent, however. Latino turnout was 2 percentage points lower in 2012 than in 2008, according to the Census Bureau. The looming question for Democrats, then, is whether Latinos will continue to vote for them or choose not to vote at all.