A New Front in the Abortion War
Convinced Roe v. Wade can't be overturned now, pro-life activists have passed laws in 12 states restricting termination after 20 weeks—about the time some fetal defects emerge.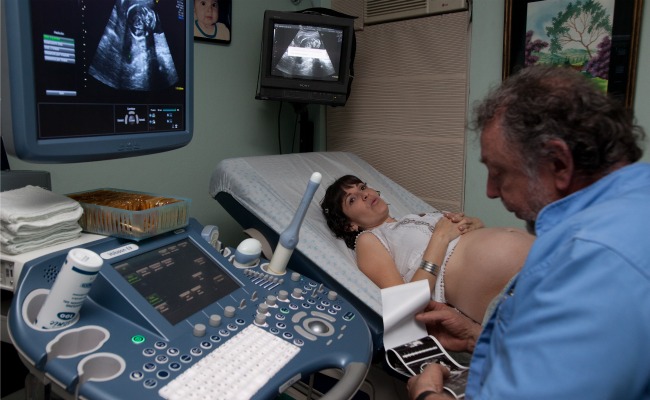 LITTLE ROCK, Ark. — On their way to the ultrasound exam, Abbey and Kyle Sanders stopped at Babies"R"Us. They picked out a navy sundress with white flowers for a girl, navy shorts with white stripes for a boy. Close friends were invited over for a "gender reveal" party the next day. Abbey was nearly 20 weeks pregnant.
"It's a little girl," the ultrasound technician said. Abbey started crying. "You're having a daughter!" she said to Kyle. Abbey texted her mother: healthy baby girl. Kyle noticed that the poker-faced technician didn't offer any reassurance about the baby's health.
The doctor walked in. "I'm very concerned," he said, and Abbey's tears turned to sobs. He referred the couple to a high-risk fetal-medicine specialist, who did a more sophisticated ultrasound and found that the fetus's brain was failing to divide and was growing outside the skull, a chamber was missing from the heart, and there was a problem with the kidneys.
"Is there any chance of the baby surviving?" asked Kyle, an Air Force pilot. "No. This baby will not survive to term" was the response.
The newlyweds were devastated. The baby's kicks now felt like a torturous reminder that they would never be parents to this child. She was dying. The right thing to do, the moral thing to do, Abbey and Kyle believed, was to terminate the pregnancy. A suction abortion this late in pregnancy could have damaged 29-year-old Abbey's cervix, so four days after the second ultrasound, a doctor injected the baby with a heart-stopping drug.
And then they waited. For nine days, they barely left the house. Abbey spent most of the time curled up in bed. She felt what she thought were contractions and went to the hospital, but was told to come back the following day. Ten days after the injection, Abbey checked into the maternity ward. She was barely showing, unlike all the other fully distended mothers around her.
She was given a drug to accelerate the contractions and an epidural for the pain during labor. In contrast to the cries she and Kyle heard down the hall, their stillborn baby was silent. They held the 8-ounce infant wrapped in a pink blanket and cried. They were asked if they wanted a picture or handprint. No, thank you, they said, heading home to grieve.
Her name was Amelia. The date was August 3, 2012.
Seven months later, the Arkansas Legislature banned women from getting abortions after 20 weeks of pregnancy. Abbey had been a day or two over that line when her pregnancy ended. The law includes exceptions for rape and incest victims and for health emergencies involving the woman, but not for fetal abnormalities.
Had the law been in place last year, Abbey would have had to continue an agonizing pregnancy, possibly for weeks, and any doctor willing to end it would have risked a felony charge. An early ultrasound and a blood test had detected nothing wrong. Abbey had asked for the second scan at 19 weeks, excited to find out the baby's gender, but the doctor's office urged her to wait a few days. Ultrasounds are typically done at 20 weeks to get a clear look at developing organs, especially the heart. It can take several days, even weeks, to schedule additional tests, weigh the results, and arrange for an abortion. There's only one clinic in Arkansas that provides second-trimester abortions, aside from some private hospitals.
Abbey, a nurse who comes from a conservative Christian family in Oklahoma, never labeled herself "pro-choice" or "pro-life." Now she pictures thrusting her sonogram and medical files at the lawmakers who voted for the abortion ban. "Would you let your own baby die slowly like that?" she would ask them. "If your wife was in these circumstances, would you force her to carry that baby?" She adds now, "I don't think I could have gone on any longer, and any woman who was forced to would have lost her mind."
Twelve states, as well as the House of Representatives, have voted to outlaw abortion after 20 weeks—the exact moment when some parents are just learning about severe or even fatal defects. Only Georgia, Louisiana, and Texas include exceptions for fetal impairment. And while these 20-week bans affect a tiny fraction of abortions—only 1.3 percent occur after 21 weeks, the benchmark used by the federal government—they predominantly target women who are carrying gravely impaired babies or whose pregnancies are putting their own health at risk. With very few exceptions, these are women who had every intent to carry their babies to term until forced, at five months pregnant, to make a swift and excruciating decision.
"Our experience has been that parents who have gone through this don't talk about it," Kyle says. "We wanted to tell our story for the people who didn't feel like they could. A family friend said it was like joining a secret club that no one wants to join."
Banning abortions after 20 weeks represents the new frontier of the antiabortion movement, aimed at pushing past the boundaries set by the Supreme Court in 1973. The Roe v. Wade decision legalized abortions until a fetus is viable outside the womb, around 24 weeks. The antiabortion movement's case for earlier restrictions is that a fetus can feel pain at 20 weeks, but the ultimate goal is much more sweeping: to send a legal challenge to the Supreme Court that would overturn Roe. 
The constitutional implications aren't lost on Abbey, who emphasizes that she lives in Arkansas only because her husband is stationed there. She's also seen him through deployments to Iraq and Afghanistan. "I would have had to leave the state as a military spouse to get an abortion," Abbey says. "That seems unfair when I don't have a choice about where I live. I think it's unconstitutional, and my husband supports and defends the Constitution on a daily basis."
There are also public-policy consequences. Half of the dozen states that have passed 20-week abortion bans—Alabama, Arkansas, Georgia, Louisiana, Oklahoma, and Texas—are in the South, which has the highest poverty and uninsured rates and the lowest median incomes in the country, according to the Census Bureau. That means families in these states are among the most disadvantaged when it comes to caring for unwanted and disabled children. Arkansas, for example, ranks near the bottom in unintended and teen pregnancy rates (46th), number of doctors per resident (44th), and public health as measured by obesity, smoking, and diabetes (48th), according to data from nonprofit organizations and the federal government. Nearly one in five people in Arkansas have no health insurance. About the same proportion are living below the federal poverty line.
"The very same folks who are adamant about women not having choice [on abortion] are not equally as adamant about making sure the safety nets are in place for the parents and the children," says Democratic state Rep. Joyce Elliott, who represents a predominantly low-income, black district near Little Rock. "There is a moral imperative to ensure such safety nets are there."
Moving Public Opinion
The genesis of the 20-week ban on abortion was the 2009 murder of one of the only late-term abortion providers in the country, Dr. George Tiller. He was working as an usher Sunday morning at his church in Wichita, Kan., when an antiabortion activist shot him in the head. A friend and colleague who assisted him part time in Wichita, LeRoy Carhart, vowed to pick up the torch by performing late-term abortions at his own clinic in suburban Omaha, Neb. Ground zero of the abortion battle moved one state to the north, as conservative lawmakers feared Nebraska was becoming the late-term abortion capital of the Midwest.
Enter Mary Spaulding Balch, a soft-spoken, Pepperdine-trained lawyer who has worked at National Right to Life for 25 years. After hearing about the concerns in Nebraska, Balch drafted a bill called the Pain-Capable, Unborn Child Protection Act. To abortion-rights activists, the bill was particularly dangerous because it moved the needle toward overturning Roe v. Wade by tapping into popular discomfort with late abortions. A United Technologies/National JournalCongressional Connection Poll in July found that a plurality, 48 percent, of Americans, supported a ban on abortions after 20 weeks, except in cases of rape and incest. Recent surveys by Quinnipiac University and ABC News/Washington Post found even higher, majority support for cutting off abortions after 20 weeks.
"The idea of the unborn child's pain was something we knew the American people could embrace," says Balch, hailed as the architect of the 20-week strategy. "My job is to humanize the unborn child, and if this is the tool that does that, I'm happy to be part of it." 
Her model legislation was circulated around the country, and three years later, 12 states have adopted bans on abortions after 20 weeks. Court challenges have blocked the restrictions in Arizona, Georgia, and Idaho. (A court has also blocked an Arkansas law that bans abortion after just 12 weeks of pregnancy, passed in the same legislative session as the 20-week ban, which still stands.) In Arizona, Maricopa County Attorney Bill Montgomery has asked the U.S. Supreme Court to consider a federal Appeals Court ruling that struck down that state's 20-week ban. The antiabortion establishment welcomes the legal battles. "We are open to a challenge because we think it's one we can win," Balch says.
While stymied at the federal level by the Democratic Party's control of the White House and the Senate, antiabortion activists have staked out friendly turf within state capitals since the Republican wave of 2010. In Arkansas, Republicans netted a number of legislative seats that year, and in 2012 won control of both chambers for the first time since Reconstruction.
The impact was dramatic and immediate. In 2011, 10 of 11 antiabortion bills failed, many of them blocked by the Democratic chairwoman of the House Public Health Committee, Linda Tyler. She lost a state Senate bid the following year to a fiddle-playing, Tea Party conservative, Jason Rapert. Two weeks after the start of the 2013 legislative session, the newly minted state senator introduced a bill making it a crime to perform an abortion if a fetal heartbeat could be detected. That threshold can come as early as six weeks into a pregnancy.
Rapert, an ordained minister and the owner of a financial-services company, doesn't sugarcoat his view of women's motives in seeking abortion. "America, quit using abortion as birth control," he admonished during an interview in his legislative office.
The 41-year-old father of two daughters, who has a buzz cut and favors dark, pin-striped suits, wielded incendiary comparisons to make his case. Abortion opponents are like abolitionists, he said. Roe v. Wade is like the 1857 Supreme Court's Dred Scott decision, which denied citizenship to African-Americans. Abortion is one of the worst atrocities in human history, comparable to the recent gassing of innocent civilians by Syrian President Bashar al-Assad.
"When you think of tragedies, you think of genocide, of the Holocaust … you think of Rwanda, you think of 9/11, but what about us?" Rapert demands. "What about inserting a device into a woman to suck and tear apart a fetus in her womb? Who's the monsters? We are legally taking the lives of innocent children."
By the time Rapert's bill passed, the deadline was amended from detection of a heartbeat to 12 weeks, still leaving it one of the most restrictive in the country. Democratic Governor Mike Beebe vetoed that bill as well as the 20-week ban, arguing that their unconstitutionality would cost the state in legal fees; the legislature overturned both vetoes. In one of the most successful legislative sessions ever for antiabortion activists, Arkansas also banned insurers in the exchange created by the new health care law from covering abortion, required abortion clinics to report child abuse and to preserve fetal tissue from abortions on minors under 14, gave pregnant women the right to use deadly force to defend their unborn child, and expanded the fetal-homicide law to cover an entire pregnancy (so that a drunk driver, for example, who kills a pregnant women could also be charged with killing a fetus less than 12 weeks old).
"Over the last 20 years, we've seen Arkansas become one of the most pro-life states in the nation," says Jerry Cox, founder of the Arkansas Family Council, a leading antiabortion group. "It took a lot of hard work, going up to the Capitol year after year, time after time."
The native Arkansan in a short-sleeved plaid shirt pointed to mementos of his achievements in his small, wood-paneled office: the pen former Republican Governor Mike Huckabee used to sign a law requiring women to get information about the medical risks of abortion; a letter signed by former Democratic Governor Bill Clinton supporting a law requiring minors to notify their parents. Cox's earliest victory was a 1988 amendment to the state constitution that bans public funding for abortion and declares: "The policy of Arkansas is to protect the life of every unborn child from conception until birth, to the extent permitted by the Federal Constitution." That means Arkansas is well positioned to enact even stricter abortion limits if Roe v. Wade is reversed, says Cox, who backed both the 12-week and 20-week bans passed by the Legislature. "Let's throw whatever we can against the wall and see what sticks," he says.
Bettina Brownstein is on the other side of that fight. The Southern California native looks the part of a progressive activist with dark-framed glasses and silvery spiky hair. She's the American Civil Liberties Union lawyer representing the state's lone surgical abortion clinic in challenging the 12-week ban, which has been temporarily blocked.
"It is such a no-brainer that this is not constitutional," Brownstein says over a burger and fries, betraying the weariness she feels from 25 years of fighting for abortion rights in Arkansas. She's confident that the 20-week ban is also unconstitutional but conceded, "It's more sensitive in terms of the messaging." That law has not been yet challenged in court.
The 12-week ban would have a much larger impact than the 20-week ban. Of the 3,782 abortions reported to the Arkansas Health Department last year, the vast majority—3,148—occurred in the first trimester. Only 64 came at 20 weeks of pregnancy or later.
"It's like a wave across the country with all of these Republican legislatures moving into that thin edge of the wedge," Brownstein says. "I don't think they can overturn Roe v. Wade, but they will drive out the abortion providers. There's the legal—and then there's the practical."
Case in point: Nebraska's law banning abortion after 20 weeks worked according to plan, eventually forcing LeRoy Carhart to begin seeing patients instead in Maryland, a state far more protective of abortion rights, and leaving women in the Midwest seeking second- and third-trimester abortions in the lurch.
Among the disorders that can go undetected until 20 weeks or afterward, according to the American Congress of Obstetricians and Gynecologists, are anencephaly, a fatal condition in which the brain is missing; renal agenesis, in which missing kidneys also cause death before or shortly after birth; limb-body wall complex, in which the organs are outside the body cavity; hydrocephaly, in which excessive fluid accumulates within the brain; and other severe brain and heart defects.
To abortion opponents like Cox, exceptions for women such as Abbey Sanders who resort to a late-term abortion because of unforeseen complications are not justified. "The difficulty with fetal abnormalities is that there's a slippery slope for the medical community and parents," he said. "Is Down syndrome an abnormality? Spina bifida? Doesn't that create a search-and-destroy system where only the perfect children get to be born, and the imperfect babies are aborted?"
Cox concedes, however, that the safety net for women who would be forced to carry unwanted or disabled babies is "very limited." An annual review by the Annie E. Casey Foundation that examines economic prosperity, education, health, and family stability ranked Arkansas children 40th in the country. The costs of raising a disabled child—including direct, out-of-pocket costs and the indirect impact on the family's earning potential—can run as much as $30,500 a year, according to a study published by a collaboration between the Brookings Institution and the Woodrow Wilson School of Public and International Affairs at Princeton University. The costs vary widely depending on the type of disability and the public resources available for disadvantaged children.
Yet the overlap between states with tougher abortion restrictions and lower standards of living is rarely mentioned in the well-worn debate that pits women's reproductive freedom against the rights of the unborn. One study cited by the Guttmacher Institute, a research group that supports abortion rights, estimated that more than 4,000 women were denied abortions in 2008 because of gestational age limits and were forced to carry unwanted pregnancies to term. Most of the women said they were delayed by the costs of abortion, insurance problems, and lack of access to medical care.
The 20-week abortion ban that passed the House in June did not include an exception for fetal abnormalities. Three months later, the House voted to slash $40 billion over the next decade from the food-stamp program; nearly half of the program's recipients are children.
"However you feel about abortion, you can anticipate higher costs if you prevent it, and I don't think states are prepared to deal with that," says Dean Baker, cofounder of the nonpartisan Center for Economic and Policy Research. "If these states aren't prepared to increase funding for Medicaid and for children with disabilities, someone is going to suffer."
Another Path
Arkansas lawmakers never got to hear Abbey Sanders's story before they passed the 20-week ban. She wasn't ready to speak publicly earlier this year. Legislators heard an equally emotional story, however, from the bill's sponsor, state Rep. Andy Mayberry, and his wife, Julie, at a key House committee meeting—a story that had a profoundly different outcome.
Julie Mayberry described herself as a former abortion-rights supporter who became a born-again Christian after marrying Andy 16 years ago. "I had a husband who prayed for me," explained the attractive former television broadcaster in an interview. She was 19 weeks pregnant when they were told their baby had spina bifida, an opening in the spinal cord that can cause severe physical and mental disabilities. As the doctor explained their options, Andy and Julie stopped him before he got to abortion. They wouldn't consider it.
"Without challenges, we don't have champions, and if you abort these babies before they even have the right to life, you have not given the opportunity for all of us to see what God had planned for this child," Julie tearfully told the House committee in January. "Some of those, unfortunately, it will end up that that child may die, but that's when God says I'm ready to take this child home with me. It gives closure to those families when they give birth to these babies and they see them and they can hold them and they can have a proper burial for them."
The couple held a joint press conference one month ago to announce his campaign for lieutenant governor and her campaign to succeed him in the Senate. She runs a nonprofit that offers dance and music classes for kids with disabilities, while he serves on the board of Arkansas Right to Life.
Their daughter Katie is now 11. She's in a wheelchair and faces myriad health problems that have warranted 16 surgeries. She's also a former Little Miss Wheelchair Arkansas, a straight-A student, and a member of her church youth choir. They have three other daughters, ages 14, 9, and 7.
"I think every life has value, and I believe it is the government's responsibility to stand up for the most defenseless and innocent among us," says Rep. Mayberry, sitting next to his wife in a booth in the state Capitol's cafeteria. He said the government also has an obligation to provide a safety net for poor and disabled children once they are born; he's working on placing a nurse in every public school.
Unlike the Sanderses, the Mayberrys were never told that their baby was going to die. Still, after hearing the story of Abbey Sanders's pregnancy, they maintained that abortion is never the right choice, adding that doctors are sometimes mistaken about a baby's prognosis. " 'Value life and the moments that you have with them, and make the most of it.' That's what I would be telling that mother," Julie says. " 'Turn this around. Are we going to look at a glass and say it's half empty or half full? I like to expect miracles.' "
The Sanderses are just as certain about the choice they made as the Mayberrys. Abbey and Kyle are looking forward to having another baby, and there's little chance of another rare, chromosomal defect. But Abbey is clear about one thing: She will not get pregnant again in Arkansas. The couple won't try again until Kyle's reassignment to Colorado goes through. Starting a family will have to wait.