Why Congress Sometimes Can't Even Pass Moderate, Bipartisan Bills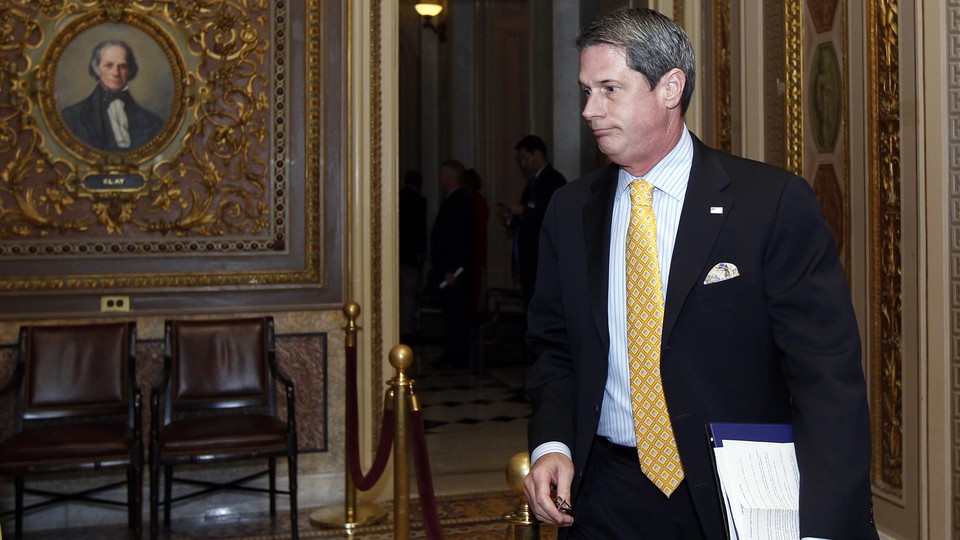 With the debate over Syria on hold, the Senate's return to business began simply enough last week with a moderate energy bill, the first in six years. Surely, Congress could work on a piece of legislation that has been hammered out over two years and enjoys wide, bipartisan support.
But by week's end, work on the bill came to a halt as one lawmaker insisted on a vote over an unrelated, political divisive issue: Obamacare.
The energy bill's fate demonstrates that even when lawmakers can overcome the difficult politics of any particular issue — in this case, energy policy — it isn't always enough to pass legislation through regular order.
"Things are so bad right now that even a bill that has been radically watered down can't get through the Senate without getting wrapped up in procedural shenanigans," says Jim Manley, former top aide to Senate Majority Leader Harry Reid.
In this case, Sen. David Vitter, R-La., insisted on a vote on his amendment to require lawmakers and staff to purchase insurance through the new health care exchanges created in the Affordable Care Act, and not get the usual subsidies they receive for federal health insurance.
Republicans maintain that their staunch opposition to Obamacare is justified because the law is unpopular. According to a poll from the Kaiser Family Foundation, 42 percent of Americans have an unfavorable view of the law.
Observers also say that the legislative process and lack of productivity is to blame. With so few bills moving through regular order — meaning via the committee process and traditional rules — many lawmakers jump on any vehicle to address their issues.
"Part of the difficulty is, so few bills come to the floor that everybody views each bill as the last lifeboat getting ready to sail off into the horizon," said McKie Campbell, a partner at BlueWater Strategies and former staff director for Sen. Lisa Murkowski, R-Alaska. "You end up with all the folks in the water, desperately trying to get aboard and all the people in the boat already trying to beat them off with the oars, and it just doesn't function well."
When the Senate uses regular order, things get less desperate, Campbell said. "Regular order works more like a train station. One comes in and people get on to where they're going, but the other people in the station know that another train is coming along in 10 minutes," he said.
As the Senate floor debate dragged on last week, a number of lawmakers expressed their exasperation over what was happening to the energy bill.
Sen. Jeanne Shaheen, D-N.H., who sponsored the bill with Sen. Rob Portman, R-Ohio, even offered to go with Vitter to leadership to secure an agreement on when the Obamacare amendment could be addressed. Vitter rejected the offer and wanted nothing short of a guarantee of a vote on his amendment before Oct. 1, when enrollment in the health exchanges begins.
"All I'm asking for is for a vote on a very important issue," Vitter said. "There is no hostage-taking here, there is no holding anything up."
Said Shaheen: "He's talking about wanting to get a vote on his legislation. Sen. Portman and I have been waiting for three years to get a vote on our legislation, and for something that has overwhelming support."
The Shaheen-Portman bill was designed to be uncontroversial. Unlike the last energy bill in 2007, which contained a number of federal mandates, Shaheen-Portman relies on a host of voluntary measures. The only provision of the legislation which must be carried out is increased energy-efficiency standards for the federal government.
This has made the bill more palatable to lawmakers who have become wary of mandates like the renewable-fuel standard, a federal program requiring refiners to blend biofuels with gasoline. "We've gone out of our way to make this a voluntary bill, not a mandate bill," Portman said on the Senate floor Thursday.
The bill also won approval from organizations that don't typically agree on policy issues. The U.S. Chamber of Commerce and environmental groups such as the Natural Resources Defense Council back the underlying bill.
Indeed, getting legislation to the floor by eliminating controversial elements can have some drawbacks.
"They've been working on this for a long time, and they've gone in and, frankly, removed everything that could be conceivably objectionable to people," Campbell says. "Part of the problem of removing everything that could conceivably be objectionable is you've probably lost some fierce advocacy."
More than 80 amendments already have been submitted on the energy bill, including the Energy Savings through Public-Private Partnerships Act from Sen. Christopher Coons, D-Del. It's part of a broader legislative package put together by the No Labels Problem Solvers coalition, a bipartisan group of lawmakers from the Senate and the House who are calling for an end to the sharp partisan divide that has become a standard feature of the 113th Congress.
But that amendment, like all of the others, can't move ahead because of Vitter's call for an Obamacare vote. No Labels cofounder and Brookings Institution senior fellow Bill Galston calls the Vitter holdup on an unrelated "matter of intractable disagreement" another example of partisan gridlock.
"That's an indication that there are some people who are more interested in scoring political points [than] in solving specific problems, and that's very regrettable because we all pay for that," he said.
Galston says there is plenty of support among the American public for placing problem-solving at the root of any legislative work. And despite the energy bill's holdup, which stalled a piece of the Problem Solvers coalition's legislative package, members of the coalition are "not discouraged in any way."
"They think this fight is just the beginning, and they're convinced that the people are behind them," Galston says. "What keeps me going every day is the belief that ultimately, in a democracy, you can't keep on doing what the people don't like indefinitely without generating a real, popular backlash to your refusal to listen to them."