White House Peace Vigil Taken Down After 32 Years
Police removed the encampment early Thursday morning after it was left unattended. But the activists restored the vigil later that day.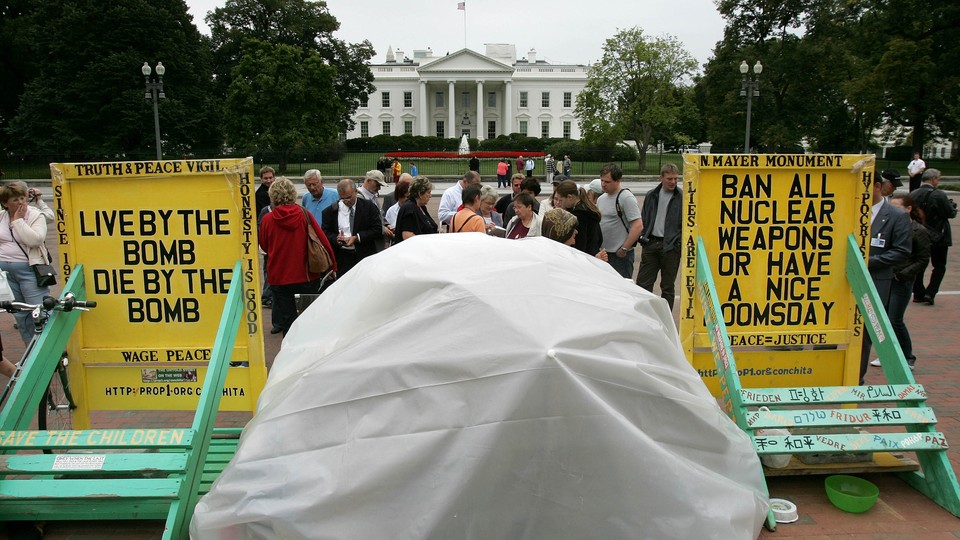 Anyone who's ever walked or rode a bike by the White House on Pennsylvania Avenue has noticed an addition to Lafayette Park that city designers hadn't envisioned: a small tent, sandwiched between two yellow signs calling for an end to nuclear proliferation.
"Live by the bomb die by the bomb" and "Ban all nuclear weapons or have a nice doomsday" were painted on the signs.
It has stood there since 1981. But at around 1:45 a.m. Thursday, it was taken down.
Officials are allowed to remove these kinds of encampments that are left unattended. Early Thursday morning, one of the people sitting in the tent walked away. Noticing this, U.S. Park Police dismantled the tent, ending three decades of being one of the president's closest neighbors.
It's unclear why the man left.
In recent years, Concepcion Picciotto, the Spanish-born woman who started the encampment, has had the help of volunteers to staff the tent and represent her ideals. They all live in a home in Northwest D.C. called the "Peace House."
But later that day, the activists were able to restore the peace vigil back to its original location. Jeffrey Olson, a spokesman for the National Park Service, confirmed that the vigil had been restored and said the Park Service was justified in removing the encampment in the first place.
"While a 24-hour vigil site generally does not require a permit, it must be continuously attended," Olson said in a statement.
The materials were taken to a Park Service station in Anacostia "for safe keeping." Members of the Peace House retrieved those items this morning and brought them back to Lafayette Park.
(AP Photo/Charles Dharapak)
---
This post has been updated. contributed to this article