Vitter Demands Ethics Inquiry After Dems Float Obamacare-Prostitute Bill
The Louisiana Republican hits back after Democrats suggest a bill that highlights an awkward episode from Vitter's past.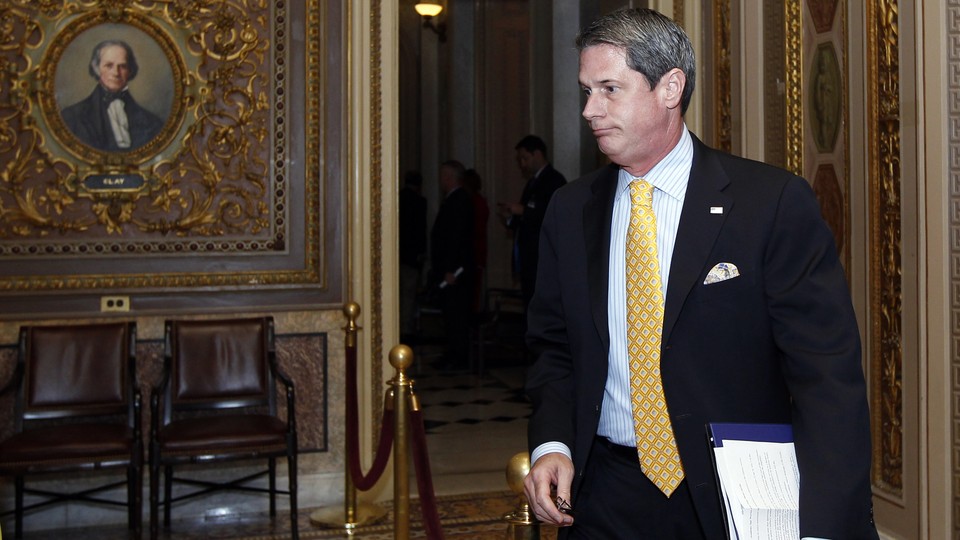 Sen. David Vitter wants the Senate Ethics Committee to launch an investigation of Democrats Harry Reid and Barbara Boxer, saying the two broke the Senate's code of conduct when they floated legislation referencing Vitter's alleged past rendezvous with prostitutes.
Vitter appeal to the Ethics panel is the latest move in a rapidly escalating battle between the Louisiana Republican and his colleagues across the aisle.
Vitter infuriated Democrats this week by hijacking a debate over an energy-efficiency bill with an amendment aimed at Obamacare. Under Vitter's amendment, lawmakers would no longer qualify for federal contributions to help cover their health care costs.
It's a prickly subject for Democrats, and, according to a Friday Politico report, they're considering the hardest of hardball moves in response. The Democrats are reportedly floating legislation that would ban senators from getting government contributions for their health insurance costs if there is "probable cause" they solicited prostitutes. The move is an obvious swipe at Vitter, who has been suspected of involvement with prostitutes since his 2007 entanglement in the "D.C. Madam" scandal.
But in his call for an Ethics investigation, Vitter is ignoring the swipe by focusing on an alternative draft of the legislation. Democrats reportedly floated an alternative version of their bill that would deny coverage contributions to any lawmaker who voted in support of Vitter's amendment. Vitter argues that bill amounts to bribery, with lawmakers offering benefits — in this case, the federal coverage contributions — to lawmakers in exchange for their votes.
"This is attempted bribery, and the exact sort of behavior that the Senate Ethics Committee has previously condemned," he said in a letter to the committee heads.
In his letter, Vitter notes that Boxer is indeed the top Democrat on the Ethics panel. Should she be found complicit in the scheme, Vitter says that Boxer should be stripped of her Ethics Committee membership.
Boxer, for her part, is not backing down either: "Senator Vitter has manufactured a bizarre and phony attack that demeans the Senate," she said later Friday.
Democrats have not yet formally introduced any version of the anti-Vitter bill, and none may ever hit the floor, but its appearance in press reports has put a spotlight on a part of Vitter's career he would prefer remain part of the past.
This post was updated at 5:25 p.m. Friday to include Sen. Boxer's response.