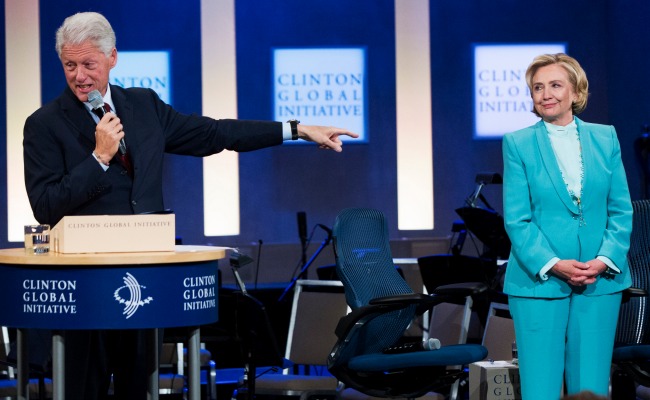 President Obama gave a major foreign-policy address to the UN on Tuesday, and Ted Cruz held the Senate hostage with his symbolic non-filibuster. But the week really belonged to Hillary Clinton.
If this week proved anything, it's that her presidential candidacy is pretty much inevitable, not only because of who she is and what she has done over the past decade, but also because of its historic import. After years of controversy and endless jibes about her hair, clothing, and manner, she has succeeded in becoming a transformational, touchstone figure not only in politics but American culture.
The annual meeting of the Clinton Global Initiative, timed to coincide with the UN General Assembly's opening session, was held in New York this week; after his UN speech, Obama stopped by the convocation to explain the Obamacare rollout in a conversation with Bill Clinton, and the former secretary of state introduced them. The CGI attracted even more important international political and business leaders than the UN, and the Clintons are on a first-name basis with all of them.
Hillary Clinton, who turned out to be the star of the CGI event, outshone both the past and present occupants of the Oval Office. In her remarks she said she plans to spend the next year focusing on empowering women by assessing and fostering global equality. As the world's most visible and well-known icon of women's achievement she is not only poised for the job but a symbol of what remains to be done. Clinton, who lists one of her accomplishments on her Twitter account as "glass ceiling cracker," tweeted in July: "Seneca Falls, 165 years ago today, began a movement that remains the unfinished business of the 21st century." The not-so-subtle message: That unfinished business is electing a woman to the White House -- finally.