The Ted Cruz Media Blackout
Though he got major coverage in Texas, national papers panned his marathon Senate speech.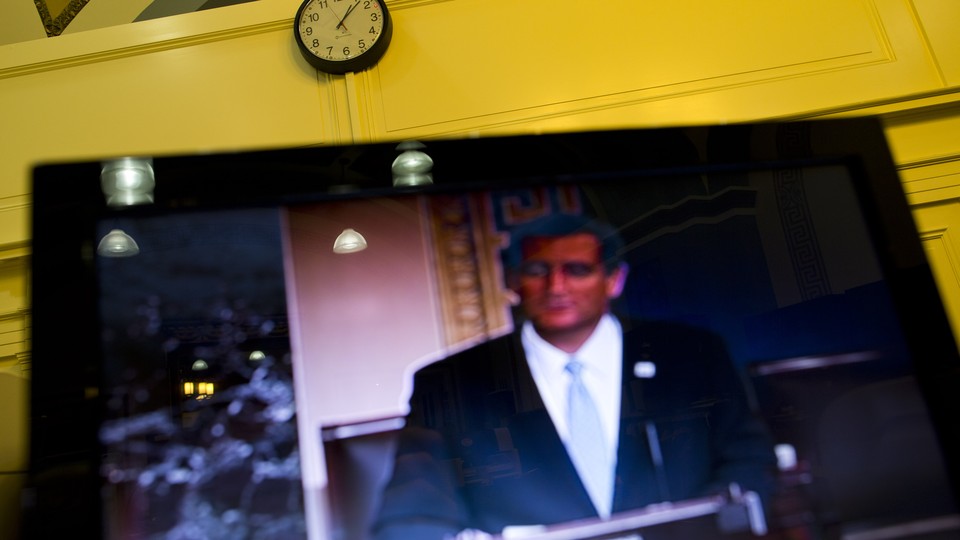 Sen. Ted Cruz, R-Texas, is still talking. But if the point of this long speech is — other than defunding the Affordable Care Act — to get attention for his cause, it doesn't look like it's working that well with the national media.
Most major newspaper front pages from across the country don't mention this speech Wednesday morning, although the junior senator from Texas is getting major play on the front pages of his home state papers.
Here's a look at how newspapers are covering Cruz across the country, courtesy of the Newseum:
Houston Chronicle
Dallas Morning News
The Boston Globe
The Miami Herald
Los Angeles Times
Chicago Tribune
The Wall Street Journal
The New York Times
Pittsburgh Post-Gazette
Mobile Press-Register
Anchorage Daily News
Denver Post
The Atlanta Journal-Constitution
The Indianapolis Star
The New Orleans Times-Picayune
Detroit Free Press
Minneapolis Star Tribune
The Cleveland Plain Dealer
St. Louis Post-Dispatch
The Des Moines Register
The Washington Post
{{ BIZOBJ (video: 4463) }}
The Washington Post
{{ BIZOBJ (video: 4463) }}