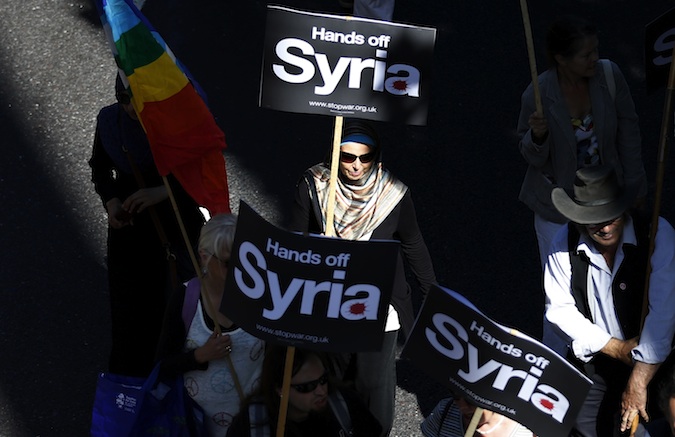 Syria coverage in America's newspapers is the latest example of purportedly neutral, "objective" press coverage that's bursting with contestable assumptions, often without the reporters and editors involved quite realizing their biases. The core news: President Obama asked Congress to vote on intervening in Syria. The way it's being framed in accounts billed as straight news? 
The New York Times casts it as a roll of the dice:
In one of the riskiest gambles of his presidency, Mr. Obama effectively dared lawmakers to either stand by him or, as he put it, allow President Bashar al-Assad of Syria to get away with murdering children with unconventional weapons.
But Obama is a lame duck, few Americans care about Syria, no one is going to take to the streets if the U.S. doesn't intervene, and striking Syria's regime without Congress while flouting public opinion was a far bigger gamble. In fact, you could easily write that Obama averted one of the riskiest gambles of his presidency by postponing a strike and consulting the Congress.
If you're someone who personalizes politics, fetishizes disagreement, and intends to treat a Congressional rejection of a strike on Syria as a "humiliation" for Obama, the Times frame makes some sense, but make no mistake: Its assessment of the Syria debate's impact is self-fulfilling prophecy from an insular, status-obsessed elite. Obama's approach is "a gamble" because and only because other insiders imagine that a president being denied by Congress -- gasp! -- is embarrassing, rather than a healthy manifestation of Madisonian checks.