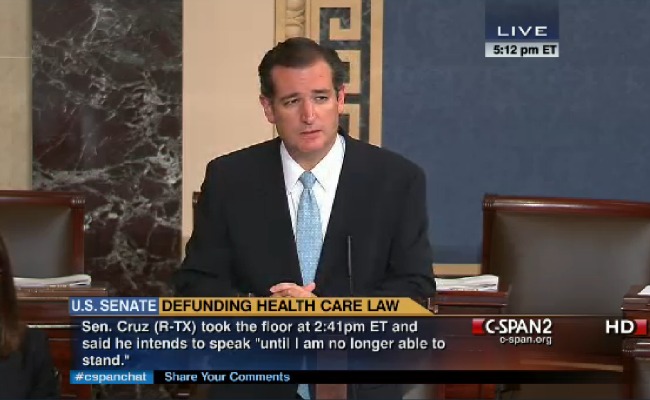 Who says Republicans and Democrats can't agree on anything? These days, they are largely united in their loathing for Ted Cruz, the pugnacious Republican freshman senator from Texas. On Tuesday afternoon, Cruz took the floor of the Senate and vowed to speak as long as he could stand. (His colleague Mike Lee has already taken a turn at the podium.)
For procedural reasons, Cruz's remarks, however long, do not constitute a true filibuster; the vote to move forward with government-funding legislation is scheduled to begin after noon on Wednesday and will go forward regardless. Twitter quickly dubbed his stand a "fauxlibuster" or -- perfect for its invocation of vacuous, feel-good nonsense-speech -- a "Ted Talk." Invoking the Nazis, the Soviet Union, and the Little Engine That Could, Cruz styled himself the lone crusader for right against a formidably equipped enemy.
Nearly to a one, Republicans want to get rid of Obamacare. But most also worry Cruz's defund crusade will lead to a government shutdown that hurts the GOP politically. Leaving aside the policy or even the political advisability of Cruz's undertaking, though, there are a couple of basic logical problems with what he's trying to do, as the conservative writer David Freddoso pointed out on the Conservative Intelligence Briefing website on Sunday.